Welcome to TechRadar's Home Theater Week 2023
Celebrating the world of serious AV enthusiasm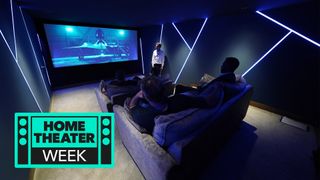 (Image credit: AWE)
While every week is home theater week for us on TechRadar, with the annual CEDIA Expo 2023 set to begin on September 7, this one is officially Home Theater Week 2023. We've prepared a series of articles to help showcase how you can get the most out of your home entertainment setup this week.
For those that aren't familiar with this industry event, it's where more than 20,000 home tech professionals converge in Colorado to showcase and discuss their finest custom installations – think luxury home theaters that cost the same as a house.
We've seen some of the most cutting-edge tech in home entertainment, from the best Dolby Atmos soundbars to luxury Leica projectors, so we're always on the hunt for ways to bring the most spectacular tech home. Not everything will reach the thrills from the likes of a Perlisten/Dirac home theater, but we can all dream together.
What can you expect from this year's Home Theater Week?
We'll be updating this article with all the features from TechRadar's Home Theater Week 2023 so be sure to bookmark this page to find out more about which stories we'll be covering, from advice on getting the perfect audio setup to the merits of giant TVs versus projectors. We'll also be wrapping up the week with a feature of the seven home theaters to die for.
In the meantime, there have already been some exiting new announcements in the world of home theater technologies, including Dolby Atmos' new FlexConnect, which takes the idea of home theater speakers systems in a new direction. We got to try it at IFA and were blown away by how much this will be a game-changer for TV audio.
At the same, DTS unveiled a similar update to its Play-Fi platform to support surround sound formats like Dolby Atmos, DTS:X and IMAX Enhanced wirelessly to speakers. Those updates were both announced just last week and plenty more will likely be on their way in the fast-paced world of tech so stay tuned!
How home theaters have evolved over time
What better way to kick things off then to revisit how far home theaters have come over the years? In this feature, we explore the technological advancements that have helped to transform man caves into media rooms and launch the custom installation industry with it.
We've come a long way from three-tube CRT projectors and LaserDisc players. Today, there's a long list of technologies to power projectors, including DLP, LCD and LCOS, and they can achieve far more brightness than ever before, which means media rooms can finally come out of the darkness.
The streaming system that's as good as 4K Blu-ray
Did you know there's a streaming system especially for hardcore home theaters? It's called Kaleidescape and it offers the ability to download movies at the same level of quality as 4K Blu-ray (rather than the more compressed quality you get from the mainstream streaming services) – and we've just exclusively tried its new hardware.
Kaleidescape's superior quality means that you get even more detail, more realism in colors, and more depth and contrast to the image than other streaming services, while still offering their convenience. One of these systems is the cherry on top of the home theater cake.
What to consider when buying a projector screen
A screen plays a crucial roll in ensuring that you get the absolute best possible picture from your projector, which is why it's important to make sure that you take the extra time to research what's right for your space and the particular type of projector you might have.
That's why we've put together a guide for things to consider when shopping for a projector screen. These include things like the size of the screen, the distance it sits from the projector, whether its fixed frame or retraceable, the aspect ratio, screen grain and whether you need an ambient light rejecting option for an ultra short throw projector.
Five ways to get the most out of your sound system
If you're at the start of your home theater audio journey, then this guide is the perfect companion to help you set up a Dolby Atmos home theater system. From the size of your room to Dolby Atmos configurations, there's a lot that goes into getting the most out of your setup.
To get started, you'll need a few pieces of equipment, including a TV or a projector, AV receiver and cabling. It's also important to consider sound dampening and lighting, which are often forgotten, to make sure you get the best possible quality from the tech inside.
How do 98-inch TVs compare to projectors?
When it comes to big TVs, this year is the year for 98-inch sizes. Not only have we seen new models from Samsung but also from the likes of TCL and Hisense, which have continued to launch new sets.
What does this mean, then, for the original big-screen projector? We take a look at how they now compare from a price, brightness, resolution, design and convenience perspective to find out which is best.
Why AV receivers still matter
Soundbars provide a convenient and cost-effective way to add room-filling Dolby Atmos and DTS:X audio to your TV, but the best home theater audio experience is delivered by an AV receiver paired with a separate speaker system. In our feature, we explain why AV receivers are still the heart of any good home theater, and also bring you up to date on the latest AV receiver developments.
What are those developments? Oh, just 8K video and 4K 120Hz support for gaming, high-res audio streaming, built-in power for 15-speaker systems, room EQ processing using the cutting-edge technologies from Audyssey and Dirac... the list goes on. Far from being irrelevant, AV receivers are now more powerful and feature-packed than ever.
The secret to high spec home theater setups
Custom home theater installers are increasingly adding more subwoofers to ultra high-end setups and the reason comes down to a lot more than just bass. Because low frequency sound waves aren't absorbable, there can be a real difference in the sound you hear from one seat to the next.
The solution to this problem? More subwoofers. In this next feature, we explain why your dream home theater isn't complete without multiple subwoofers, detailing the impact that it has not just from a technical point of view but how it creates a more immersive listening experience.
The ultimate movies to show off Dolby Atmos
There are plenty of Dolby Atmos ready movies to choose from these days but which make the most of your surround sound setup? We're constantly attending home theater demos so are very familiar with the usual reference scenes that tend to get shown.
But we're also regularly testing spatial audio tech ourselves and have our own preferences when it comes to films. We've narrowed these down to 10 movies that will show off what your Dolby Atmos system can do – they're also great films in general too.
Getting the most from Sonos' most elite speakers
We've been testing out Sonos' elite sound system range for the past few weeks and have found the new Era 300 speakers that were launched this early year to be a major step up.
When we tried Sonos' most elite Dolby Atmos home theater speakers, they surprised us in two ways. Not only is the sound better and clearer, but they fit in a small space just as easily. If you're considering making the jump to Sonos or upgrading your system, read our experiential to get an idea of the benefits.
The seven home theaters of our dreams
CEDIA 2023 is almost finished and that means we'll soon be seeing the winners of this year's custom installations. Last year, saw some incredible projects with the likes of Intuitive Designs winning awards for its Cooper House.
It's a project that we've included in our roundup of seven home theaters to die for article, where we look at some of the most incredible movie setups. We've included various custom installations that will suit a variety of tastes but each are ultra high-spec when it comes to AV technology.
Sign up to receive daily breaking news, reviews, opinion, analysis, deals and more from the world of tech.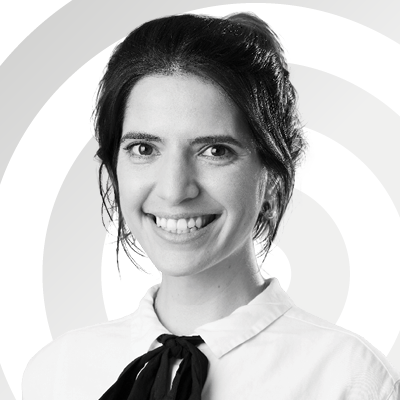 Senior Editor UK, Home Entertainment
Amelia became the Senior Editor for Home Entertainment at TechRadar in the UK in April 2023. With a background of more than eight years in tech and finance publishing, she's now leading our coverage to bring you a fresh perspective on everything to do with TV and audio. When she's not tinkering with the latest gadgets and gizmos in the ever-evolving world of home entertainment, you'll find her watching movies, taking pictures and travelling.