Projector vs 98-inch TV: which does it best?
How big TVs stack up against projectors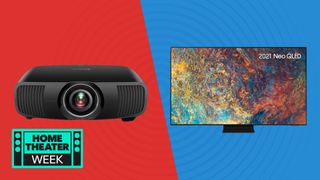 (Image credit: Epson; Samsung)
What's really better for a home theater, one of the best TVs but in a 98-inch size or one of the best 4K projectors with an equivalent image but in a compact size?
There's been a lot of chatter so far in 2023 around super-sized televisions, with a host of 98-inch screens from the biggest TV brands in the world pushed into the limelight. There's a new 98-inch Sony 4K TV, a comparatively cheap 98-inch TCL TV, and an explosively expensive 98-inch 8K Neo QLED from Samsung.
Manufacturers are clearly racing to get their 98-inch TVs in your home, but it's worth asking what you really get with a 98-inch TV and whether a projector might be a better fit for your specific setup – while saving you cash in the process.
98-inch TV vs projector: price difference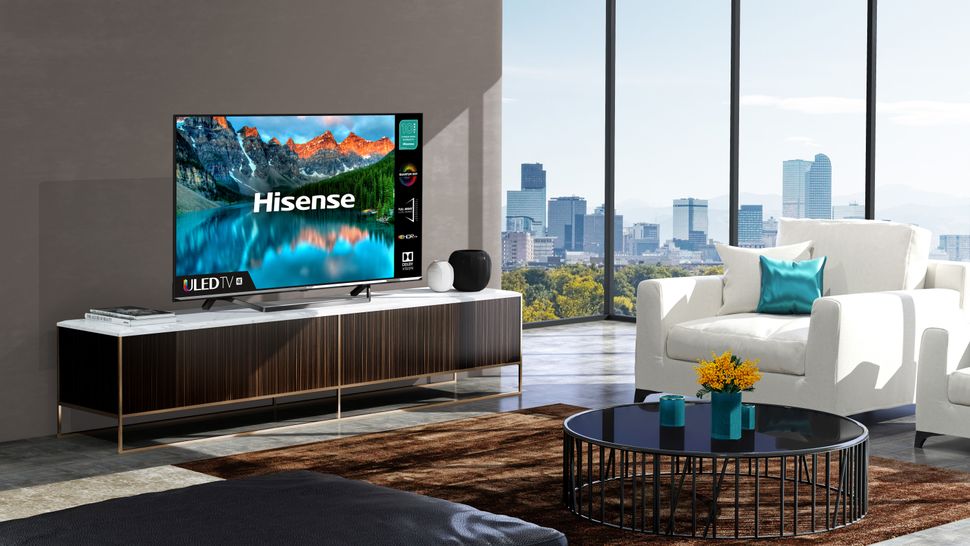 Historically, projectors are an easy way to get a large image on the cheap – compared to a television, at least. A projector worth only a few hundred dollars can often reach a 100-inch image, if not more, while an equivalently-sized television will inevitably set you back thousands.
The new TCL S5 is a 4K TV that comes in at a massive 98-inch size, and retails for $5,000. That's a large price tag for a TV, but a positive steal for one nearing 100-inches. For comparison, the 98-inch Sony X90L retails at $9,999 / £8,999 / AU$9,995, while the flagship Samsung QN990C costs (ouch) $38,100 / £30,000 / AU$58,000 for the same size.
Some premium projectors can cost the same amount a high-end display: the Samsung Premiere LSP9T, an ultra short throw projector, retails for £6,999 / US$6,499 / AU$10,999 and offers a 130-inch image – while the step-down LSP7T model costs $3,499.99 (around £2,730).
There are projectors far cheaper than this, though, which still manage to produce an image at an equivalent size to the high-end televisions above. The XGIMI Halo+ offers a projection range of 30-inches to 300-inches, and retails for $859 / £849 / AU$1,299.
The portable Samsung Freestyle, too, costs a similar $899 / £999 / AU$1,299 and hits a maximum 100-inch projection size, albeit at a Full HD resolution with a quarter of the pixel count of 4K models. The Anker Nebula Solar Portable comes in at just $599 / £599 (around AU$930) for a 120-inch projection image, while some cheap Philips projectors offer a low-resolution 80-inch picture for just £150 (around $190 / AU$290).
As shoppers get a taste for ever-larger televisions and manufacturers figure out how to produce them more cheaply, the price differential between TVs and projectors will likely continue to close. But there's no denying that a projector is, right now, still the cheapest way to get something close to a 98-inch image in your home.
98-inch TV vs projector: brightness and resolution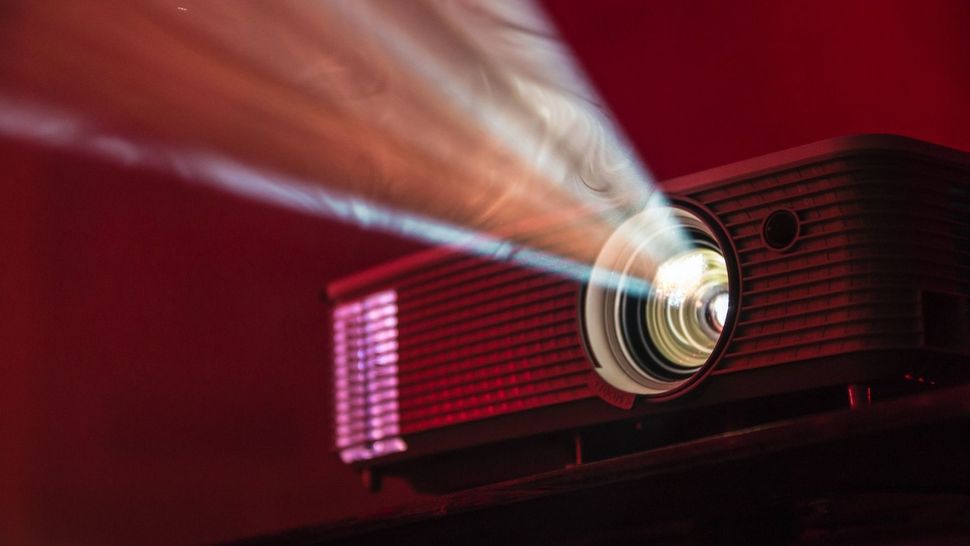 The larger the image, the more important it is to have a decent number of pixels – little digital dots that piece together the level of detail in a screen.
Any 98-inch TV will come with 4K resolution, which is usually the minimum resolution you would want, so you can appreciate the visual detail in today's best Netflix movies or 4K-capable game consoles – and, as massive flagship screens, will inevitably come with the latest picture technologies, such as the 120Hz frame rate and Dolby Vision HDR found in the TCL S5. The Samsung QN990C, meanwhile, uses a Mini LED backlight (read: very bright) and packs in a 120W sound system alongside three-dimensional Dolby Atmos audio.
Pricier screens might even come in 8K resolution, which is generally unnecessary but comes in handy for 75-inch TVs and above as it helps to keep visual detail sharp.
But projectors change the equation a little: you might get a cheap projector that doesn't have 4K resolution, but still offers a massive picture, and it's a trade-off that will work better for some. If you're on a strict budget and tend to watch sports matches with friends or family gathered around, you might be more interested in the size of the image than whether you can make out the thread count on a particular football player's shirt.
Brightness is also a key metric to consider – because of the way that projectors emit light, they have a far lower overall brightness compared to a mid-range television. High-end projectors that hit 3,000 lumens can just about compete in a dark viewing environment – say, for an evening movie, but anyone watching with the lights on, or with the sun still in the sky, will have an easier time with a regular television setup.
98-inch TV vs projector: design and convenience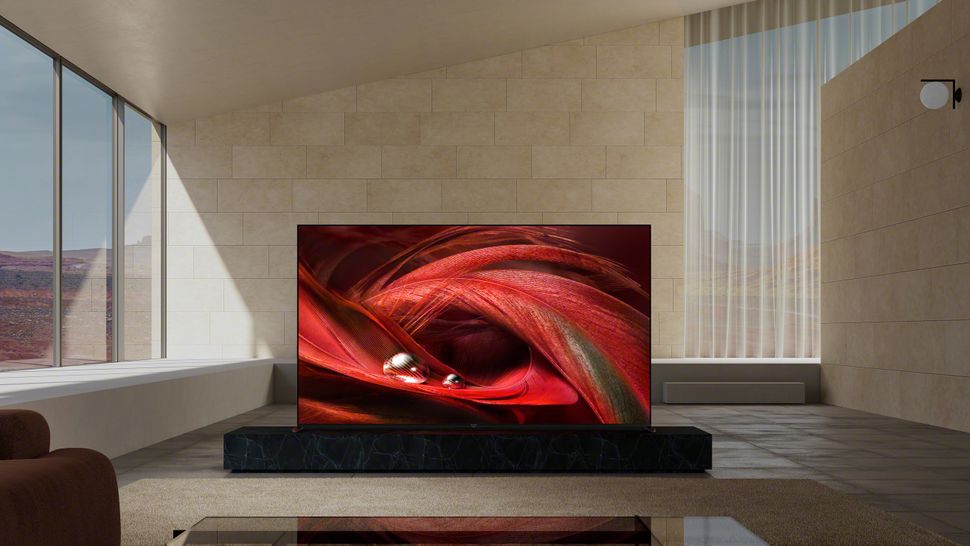 It's worth thinking about how often you'll use your intended screen. A big perk of projectors is the ability to turn the projection off, regaining wall space that would otherwise be permanently occupied by a seismically-large television. If you're usually a power user of your TVs, this may not bother you, though anyone with more sporadic viewing habits may want to consider a screen solution that can go in the cupboard when it's not being used.
This gets more complicated if there's a projection screen in the mix. A dedicated projection screen will provide a smooth, flawless surface to help reflect the projection with more accuracy – compared to the average living room wall – though it will need to take up space somewhere, either as a freestanding screen or something that rolls out of the ceiling.
98-inch TV vs projector: which is best?
The latest fleet of 98-inch TVs are meant to impress: massive screen solutions with high-end resolutions, fancy picture technologies, and the brightness to blow most projectors out of the water. Anyone wanting to experience movies, TV, games or sports in the most breathtakingly-immersive fashion possible would do well to consider these televisions.
But there's no denying how much easier it is to get a projector in the average home. In a literal sense, you could probably carry it by yourself, instead of needing two couriers to help you take it home. And many 100-inch projectors cost a fraction of the 98-inch TVs we discussed above, while offering equivalent or larger images.
The Samsung Freestyle maybe can't compete on image quality, but as a portable model with a maximum 300-inch projection, it wins on a few metrics – and when it comes to watching TV, size certainly does matter.
You might also like
Sign up to receive daily breaking news, reviews, opinion, analysis, deals and more from the world of tech.
Henry is a freelance technology journalist, and former News & Features Editor for TechRadar, where he specialized in home entertainment gadgets such as TVs, projectors, soundbars, and smart speakers. Other bylines include Edge, T3, iMore, GamesRadar, NBC News, Healthline, and The Times.