Best iPhone 15 cases: Protection with style and functionality
The best cases for your new iPhone 15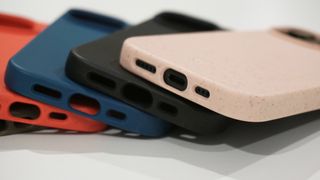 (Image credit: Future | Alex Walker-Todd)
Best iPhone 15 cases: Quick Menu
The iPhone 15 series marks a notable shift in iPhone design, with refined edges across the board that make them more comfortable to hold, not to mention Apple has finally made the jump to USB-C. The back glass on some is now even cheaper to have repaired too. But wouldn't it be nice if you didn't have to worry about your iPhone getting smashed in the first place?
We've contacted our favorite Apple accessory makers to go hands-on with their latest and greatest cases. In this round-up we've picked cases for all four of the new best iPhones: the iPhone 15 and iPhone 15 Plus, alongside the iPhone 15 Pro and iPhone 15 Pro Max. This year, all models feature refined designs, with the Pro models opting for titanium frames over their predecessors' steel. USB-C is now standard, as is the Dynamic Island; all models boast upgraded cameras and chipsets, and the Pros also ditch the classic alert slider for a new Action button.
The cases selected here are chosen based on their style, the design and construction features that help keep your iPhone safe, and – in some cases – connected to the wider accessory ecosystem that they're a part of.
Want more insight into the phones themselves? Check out our full iPhone 15 review, iPhone 15 Plus review, iPhone 15 Pro review and iPhone 15 Pro Max review.
The best iPhone 15 cases
Why you can trust TechRadar We spend hours testing every product or service we review, so you can be sure you're buying the best. Find out more about how we test.
Best iPhone 15 cases for stand-out style
Image 1 of 9
Casetify has built a reputation for offering dependable cases that come in a wealth of fun and frivolous finishes; designed to turn heads while keeping your phone well-protected and, in some cases, offering additional functionality too.
1. Casetify Impact Ring Stand Case
Pictured finish: NMK Plantain Lily
+ Choice of 960 unique designs
+ Integrated kickstand
- Weaker drop protection than standard Impact case
One of Casetify's newer designs, the Impact Ring Case boasts an integrated kickstand that surrounds the phone's camera, adding a 3.6mm lip for added protection, alongside a 1.4mm lip to protect the display. It's also MagSafe-compatible and built in part from recycled phone case pellets.
Pictured finish: Disco Magic
+ Choice of 960 unique designs
+ Astounding drop protection
- Bulkier than the Impact Case
If you're looking for even more flare than Casetify's Impact Ring cases, you can grab its Bounce Case in black or a 'Cotton Candy' gradient (pictured). Bulked-up corner protection and a raised 1.6mm bezel mean it's built to withstand drops up to 21.3ft. Also, it's MagSafe compatible and built partially from recycled phone case pellets.
3. Casetify Ultra Bounce Case
Pictured finish: Black Kingsnake
+ Casetify's best impact protection
+ Integrated camera lens protection
- Pro iPhones-only
If you're accident-prone, this is the Casetify case for you. While it's bigger and bulkier than the company's other cases, those 'ultra bounce' corners help deliver drop protection up to 32.8ft, while integrated camera lens protection collectively makes this the company's strongest case ever. It's only for Pro iPhones, though.
Best iPhone 15 cases for flexibility
Image 1 of 8
On first impressions, Moft's iPhone 15 cases don't appear to stand out from the crowd all that much, with a series of attractive, microfiber-lined covers in tasteful colors. However, the company's ethos of "Work, Create Anywhere," paired with its mastery of origami-inspired MagSafe accessories is what sets them apart.
1. Moft Snap Phone Case MOVAS
Class and protection
+ Attractive vegan leather finish
+ Premium design elements
- Only a slight lip around the display
Moft has updated its case line for the iPhone 15 series, with its new MOVAS vegan leather, designed to retain its color, resist scratches and deliver a comfortable feel. It offers good edge protection around the cameras, a microfiber lining and premium metal buttons too.
2. Moft Snap Phone Case for iPhone 15
Clear and clean
+ Gives phone a clean look
+ Raised lips for camera and display
- Shiny finish won't suit everyone
If you're not a fan of faux leather and aren't against a shinier finish, then Moft's standard Snap Case can be had in Radiant White or Clear. It sports a rather organic-looking MagSafe array, has a subtle lip to lift the screen and camera out of harm's way, and offers a comfortable grip with lightweight protection.
3. Moft Snap Phone Case MOVAS + Snap Phone Tripod Stand MOVAS bundle
Best of both
+ Tripod folds down to just 6.9mm thick
+ Supports additional Moft MagSafe accessories on top
- Limited colors
The real meat of Moft's wares is its assortment of origami-inspired MagSafe accessories and this bundle pairs their iPhone 15-compatible MOVAS case with what we consider their best accessory: the Tripod Stand. Great as a tabletop stand, this sub-7mm accessory unfolds into a full tripod, letting you angle your iPhone in portrait or landscape; great for video calls and hands-free selfies.
Best iPhone 15 cases for sophisticated protection
Image 1 of 11
There's every chance that you've seen Mous' viral videos. Every iPhone launch the company's CEO stands outside an Apple Store on launch day and hurls Apple's newest flagship smartphone in the air, clad in the company's latest compatible case to show off its endurance, with the iPhone consistently coming out unscathed. Mous' cases have grown to feature an impressive array on unique finishes, with the company branching out into Mous Collabs – for some added artistic flare – and IntraLock – for even greater security when mounting your iPhone.
1. Mous Limitless 5.0 Phone Case
Pictured finish: Walnut
+ Microfiber lined & MagSafe compatible
+ Range of eye-catching material inlays
- Chunky design
The latest is Mous' most iconic case line. The Limitless 5.0 case boasts some of the company's best protection, with a string interlocked TPU frame sporting the company's own AiroShock material and microfiber-lined back, along with ridged sides, MagSafe compatibility and a range of attractive finishes: from walnut to Aramid fiber, to bamboo, Silver Pearl and even leather.
2. Mous Collabs Clarity 2.0 Phone Case
Pictured finish: Mous In-House Marbled Sky Blue
+ Mous' AiroShock surround & MagSafe compatible
+ Colorful, unique designs from collaborative artists
- Not available in the US (at time of writing)
If you're looking for a more eye-catching case that still features the company's own AiroShock protective material, its Mous Collab cases are worth considering. At the time of writing, there are designs from four artists (as well as some of Mous' own designs) to choose from. We'd recommend the Clarity 2.0 versions, as those include MagSafe compatibility too. Currently this range is only available in the UK and Europe, not the US.
3. Mous IntraLock Phone Case
Adaptable and secure
+ MageSafe & mechanical mounting system
+ Includes Mous' AiroShock protection
- Only two finishes
While MagSafe is a great technology, magnets alone aren't enough to keep your phone mounted safely and securely when things get bumpy. If you lead an active lifestyle, Mous' IntraLock cases combine MagSafe convenience with a proprietary mechanical locking system, for added peace of mind. Not to mention these cases still feature the company's patented AiroShock shock absorption material and great grip thanks to their ridged sides.
Best iPhone 15 cases for business & luxury
Image 1 of 12