Google Pixel 8's killer feature could be an AI-powered noise eraser
AI-powered features look core to the Google Pixel 8 experience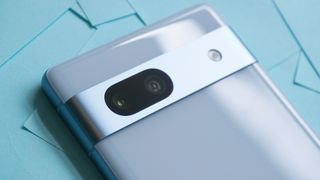 (Image credit: Future | Alex Walker-Todd)
If you've ever tried to capture a tranquil scene on video, say of some ducks milling around a lake, but had it ruined by someone talking loudly in the background, then the Google Pixel 8 could be here to help.
That's because a survey titled "Future of Pixel Sports" was tweeted by tech tipster Mishall Raham noting reference to the Audio Eraser tool, which is reportedly designed to eliminate unwanted sound in videos while also enhancing the audio you want. Previously shown off in a leaked video, the Audio Eraser looks set to be a locked-in feature for the Pixel 8 phones.
Some Pixel Superfans are getting surveys asking them about Team Pixel's sports partnerships. One page asks fans to select scenarios that might be "influential" in deciding what smartphone to buy, and some of the scenarios may hint at upcoming features for the Pixel 8!These… pic.twitter.com/VskXd9j0N9August 23, 2023
The survey was sent to members of the Google Superfans group and cited an example of the Audio Eraser tool being used at a sports match to "eliminate the shouting of the fan in the next seat from your game-winning shot video with your phone's amazing AI video noise removal."
And for people who want particular spectator noise, then Audio Eraser can "Enhance the sound of your friends and family's reactions during a thrilling game, while minimizing the background stadium noise with your phone's amazing AI video noise removal."
I've already been impressed with the Magic Eraser feature on Pixel phones, which removes unwanted objects from images, so I'm cautiously optimistic about the Audio Eraser tool. While improvements in smartphone photography are arguably incremental for phone generation-to-generation at the moment, I feel there are improvements to be made in video capture. And having AI-powered tools to help capture the content you want at source, rather than needing to spend a lot of time editing, is a promising idea.
That being said, I'd also like to see Google improve its video capture on the next Pixel flagship phones. While the Pixel 7 Pro is far from bad at video, I feel it lags behind the likes of the iPhone 14 Pro and Galaxy S23 Ultra.
Clever content capture
An X user by the name of Kamila posted a screenshot of what appears to be the full list of options in the Google survey, and from the looks of it the Pixel 8 phones will once again be leaning heavily on AI-based features.
also, for reference, here's a full list of options in the survey pic.twitter.com/ki99wg3mtiAugust 23, 2023
Not only can we expect to see improvements to the Photo Unblur, Lens and AI photo merging features, but new editing features that use smart processing look to be on the cards, too.
Furthermore, an improvement in how fast the camera shutter works was also tipped; faster shutter speeds are better for capturing fast moving objects – Google has made some headway with this using AI to unblur photos, but having that backed up by hardware will surely help.
An upgraded Tensor chip will likely power these AI-centric features. Rumored to be called the Tensor G3, the chip looks set to have an overall performance boost in addition to improving the responsiveness and effectiveness of smart features.
With camera sensor improvements touted and the addition of satellite communication capabilities, the Google Pixel 8 looks set to be an attention grabbing phone when it launches, likely in October, and a potential contender for our best phones list.
You might also like
Get daily insight, inspiration and deals in your inbox
Get the hottest deals available in your inbox plus news, reviews, opinion, analysis and more from the TechRadar team.
Managing Editor, Mobile Computing
Roland Moore-Colyer a Managing Editor at TechRadar with a focus on phones and tablets, but a general interest in all things tech, especially things with a good story behind them. He can also be found writing about games, computers, and cars when the occasion arrives. And he also supports with the day-to-day running of TechRadar. When not at his desk Roland can be found wandering around London, often with a look of curiosity on his face and a nose for food markets.