Advertisement Feature
The XGIMI MoGo 2 Series continues to reshape the projector industry, showing how great a portable option can be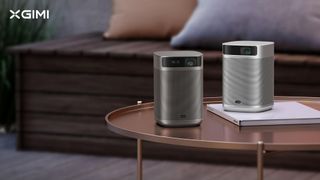 (Image credit: XGIMI)
XGIMI has a whole host of projectors to cover the home theater spectrum, but its MoGo series has been the most affordable and portable from the brand. And now, with the MoGo 2 Series, upgrades have arrived that you can get your hands on now. The pair of projectors has just gone on sale, letting you get a home theater on-the-go upgrade from $400.
The MoGo 2 and MoGo 2 Pro may change your understanding of what a portable projector can do. These compact units are small enough to throw into a bag or backpack, and they've got all the onboard hardware necessary for you to set up and watch content anywhere you want. You'll find capable projection, powerful 8-watt speakers with Dolby Audio, a smart TV platform by way of AndroidTV 11.0, and — crucially — the ability to run off of an external power bank lets these projectors go anywhere with you.
So, turn out the lights or wait until dark and head outside, then get ready to see what the MoGo 2 Series can do. The MoGo 2 Pro will let you tap into standard 2D and even 3D, a rarity for projectors in this price range and even from more expensive models.
XGIMI's projectors offer Hollywood-grade cinematic visuals alongside that support for 3D movies and can project a 100-inch picture, making it easy to set up for movie night at home. These projectors offer brightness up to 400 ISO Lumens and support HDR10. Pair that with their use of the D65 color temperature standard and 90% coverage of the cinematic DCI-P3 color gamut, and the MoGo 2 Series projectors are ready to show you movies and TV closer to how the creators intended.
It's up to you whether that cinematic picture is shining big on a projector screen, cast onto the back of a garage, or stretched across your ceiling is up to you. Wherever you choose to shine the MoGo 2 projector, XGIMI's Intelligent Screen Adaption (ISA) tech is onboard to help make the picture fit with minimal fuss.
ISA provides automatic keystone and focus adjustment, so your picture will be shaped right and in focus in seconds. If you're projecting somewhere with objects in the way, ISA will also avoid those obstacles and shrink the image down to fit in the clear space available. The MoGo 2 Pro upgrades to ISA 2.0, which performs these tasks even faster and can detect when someone or a pet is in front of the projector and dim the projection to protect their eyes.
With Android running on the MoGo 2 Series, you can install streaming apps right onto the projector and access content with just a Wi-Fi or hotspot connection. You can also load up content onto a USB drive. If you want to extend the time you can watch TV and movies away from a power outlet, you can bring as big a USB-C power bank as you want to use with these projectors.
That USB-C port also allows you to pipe in video. With an HDMI 2.0 port as well, you get support for an especially wide variety of video sources, like Blu-ray players, phones, or game consoles.
With all the features and capabilities packed into these projectors, it's all the more impressive how low XGIMI keeps the prices, letting the company offer a strong value to shoppers. If you're ready to see what the XGIMI MoGo 2 Series will do for your home (and away-from-home) entertainment, you can pick up the 720p MoGo 2 or 1080p MoGo 2 Pro here.
Sign up to receive daily breaking news, reviews, opinion, analysis, deals and more from the world of tech.