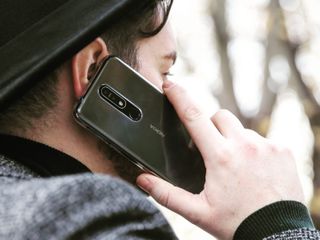 To celebrate the launch of Nokia 7.1, an Android One device, Nokia challenged style blogger Lucas Armitage to switch from iOS to Android. Find out how Lucas got on below.
We spend our lives on our phones. It often seems like the most committed relationship we are in. That's why, when Apple removed the headphone jack from its handsets, a small piece of me went with it.
To give you some context, I'm the kind of person who inevitably loses headphones, so I don't like to spend too much on them. I need a phone that's compatible with whichever pair of inexpensive headphones I have to buy multiple times throughout the year.
The same applies to my phone. Given my track record with headphones and my tendency to be forgetful, I'm hesitant to spend a small fortune on a handset that gets dropped, smashed, lost or broken.
Recently, I asked myself "what do I actually use my phone for?". I listen to a lot of music, take photos, play the odd game and, of course, browse the web and social media. It dawned on me that that perhaps I didn't need a £700 smartphone to do those things, nor did I need be part of the increasingly frustrating Apple ecosystem to access the apps I use everyday.
Making the switch
That's why I'm now the proud owner of a Nokia 7.1, an Android One device. If you had asked me a few years ago, while I was in the height of my love affair with Apple, I'd have laughed at the idea of being a Nokia user again. Sure, I loved playing snake as a teen and the ringtone is as iconic as ever, but switching to Android seemed like a big ask.
Fortunately, the process was painless. It helps that the Nokia 7.1 hardware is great. My first ever phone was a Nokia, a rock-solid brick of a thing that held up to all manner of teenage abuse. Going back to Nokia feels like getting off the train in your home town at Christmas—familiar, safe and warm.
I find the Nokia 7.1 is just as solidly built as its early phones, but with a full set of modern features and a slick design. I reconsidered what I needed from a phone and the Nokia 7.1 delivers.
That includes its depth-sensing rear cameras with ZEISS Optics that allow me to snap stand out Instagram pictures, the luxurious feel of the premium quality materials, or the fact I can charge it to 50 percent in 30 minutes from dead (I always forget to charge my phone at night).
I haven't even mentioned the best bit—the price. Retailing at £299, the Nokia 7.1 is fantastic value and was an absolute no-brainer purchase for me.
Android just works
A month into using the Nokia 7.1 and I've no desire to move back to Apple. My biggest worry was how difficult it would be to move between iOS to Android (it was the main reason I stuck with Apple for so long), but as an avid Google user all I had to do was long in with my Google username for all my mail, contacts and files (via Google Drive) to appear.
I love the fact I can make the home screen work for me, too, creating personalised shortcuts to my most messaged friends in WhatsApp groups or calling my best friend with a single tap. Where other handsets seem to dictate what you can and can't do, the Nokia 7.1 gives me a bespoke user experience that works.
I was also dreading losing my music when I made the switch. I had been an Apple Music user (thanks to a year-long free trial I was given when I complained about my contract), but by simply downloading the Apple Music app for Android, I can listen to all my favourite tunes on my Nokia 7.1 (of course, through my cheap headphones).
This brings me onto my next point. I can't wait to go contract free and get a much more affordable sim-only deal with the Nokia 7.1. I'm currently paying around £100 a month on my contract, which now seems absurd—I just didn't think I had any alternatives when I got the "you can upgrade" text.
I felt locked into a loveless relationship with my handset, but it turns out I did have a choice. I found a phone that meets my needs, connects me with others and comes with a camera that takes pin-sharp pictures at a reasonable price.
I'm now officially in a relationship with Nokia again and I'm so happy I rediscovered my first technological love. Durh du durh duh, durh du durh du... oh how I missed you.
Sign up for Black Friday email alerts!
Get the hottest deals available in your inbox plus news, reviews, opinion, analysis and more from the TechRadar team.