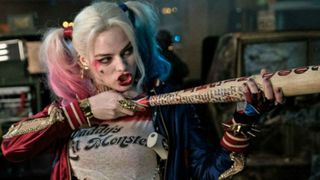 If anyone can stand out in a crowd, it's Harley Quinn. She's funny, wild, completely unstoppable and in 2016's Suicide Squad, she's the star that grabs your attention and never lets go.
It says everything about Margot Robbie's Harley that her theme song in the movie is 'You Don't Own Me' and even though we wouldn't dream of trying, her character definitely makes us want to own Suicide Squad.
Sure, we could rent the movie - with the rise of streaming and digital services, renting movies is far more convenient than it used to be. But buying and downloading a movie to keep is no less convenient and it has some big benefits. The biggest one for us is the freedom. And we think that's something Harley Quinn would approve of.
Download movies, featuring unstoppable women, to keep forever, on Amazon
Play by your own rules
By downloading Suicide Squad you'll be able to watch it as often as you like. On your first viewing you might be blown over by the action and Harley's loud brashness, but on repeat viewings you'll get the chance to pick up on the subtleties of her character development and all of the references to her history in the DC Comics.
If you're a big DC movie fan, it makes sense to start building a digital collection that you can dip into whenever the notion takes you. Streaming services may have large libraries you can scroll through, but their constantly-changing lineup means there's no guarantee they'll always have the exact movie you want. Our favorite movies also become our favorite memories and owning all of your DC classics will make them easier to cherish.
Even if you're buying Suicide Squad to watch for the first time, there's no rush to do so right away. When you've bought a film, you don't have to watch it in a designated time like you do with rentals - you make your purchase work for you and watch it when you've got the time to really enjoy it.
Click here for movies with unstoppable women to download on iTunes
Watch on any device
If the only time you have is on a long journey armed with your mobile phone, that's completely fine. The great thing about owning a digital film is that you can watch it on whatever device you want, whether that's on your brand new home TV, your sputtering laptop, or your diminutive smartphone screen. You could watch Suicide Squad in installments, like a series of comics; start it on your home TV and finish it on your morning commute; or watch it on your home cinema set up as part of your next DC marathon. It's completely up to you.
Don't be at the whims of your Wi-Fi
Your home Wi-Fi network may be heroic, but when you're visiting relatives, using public transport or relaxing on holiday you'll find that not all connections are made equal. When you buy a digital download, though, you're not caged by anything, especially not a Wi-Fi connection. Banish buffering and watch Suicide Squad wherever you please.
When it comes to blockbuster anti-hero hits like Suicide Squad, it's always better to buy rather than rent. Especially if you want to be able to play by your own rules like Harley Quinn.
Surf eBay today to download your favourite movies with unstoppable women
Sign up to receive daily breaking news, reviews, opinion, analysis, deals and more from the world of tech.