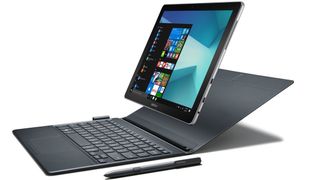 Samsung's new offers the perfect laptop experience so you can get work done while you're away as well as entertain yourself with everything you'd expect from a computing device.
The is a next gen computing device that runs Windows 10 Home software so you get all the benefits of Microsoft's full computing kit, full use of a keyboard and an S Pen stylus that makes this the complete productivity package. ability to snap it out and just use it as a tablet.
If you're just checking email or browsing the internet on your commute you can just use the device with either a beautiful 12-inch Super AMOLED screen with a stunning 2160 x 1440 resolution or a 10.6-inch Full HD screen.
Then when you need to get serious work done, you can snap it into the keyboard dock and be up and running at full steam. It's one of the most versatile and powerful computing devices on the market.
The 12-inch version is running a top of the range 3.1GHz CPU as part of the i5 7th Gen Intel Core processor, which makes it a more reliable device than most other laptops on the market. The 10-inch model comes with an Intel Core m3 Dual 2.6GHz powering the laptop.
One model even comes with 8GB of RAM, which guarantees you can rely on this being able to do everything you need it to.
As well as the keyboard attachment, has also included the advanced S Pen in the box that's not only useful for graphic artists but allows you to scrawl over PDF documents and make notes with ease.
Plus if you own a flagship Samsung Galaxy phone, it can also be used to sign into the and easily tether with the device too. You'll need to download Samsung Flow to your Samsung Galaxy S7/Edge, Galaxy S6/Edge, Galaxy Note 5 or later device, which means this will work if you own the brand new Galaxy S8 or Galaxy S8 Plus.
The 12-inch version of the laptop comes with two USB-C connectors, while the smaller edition comes with one USB-C connector for charging and fast downloads from other devices.
There's also super-fast LTE Cat 6 internet connectivity so you can ensure you get the best download speeds while you're away.
When it comes to battery life, this will offer you up to 11 hours battery life from the 12-inch device and 9.5 hours from a single charge of the 10.6-inch version.
The is available now from . The cheapest version comes with a 10.6-inch display as well as 64GB of storage and 4GB of RAM and costs £649.
If you want the larger 12-inch Super AMOLED display, you can either buy it with 128GB of storage and 4GB of RAM for £1,099 or 256GB of storage and 8GB of RAM for £1269.
This is the perfect solution for those who need to be able to work while on the go, whether you're a student, a professional who needs to be able to work anywhere or even a designer who needs to have a stylus and electronic canvas in their bag.
Sign up to receive daily breaking news, reviews, opinion, analysis, deals and more from the world of tech.