Samsung confirma que el Galaxy Note 20 y el Galaxy Fold 2 llegarán muy pronto
Galaxy Note 20 y Fold 2 en el próximo trimestre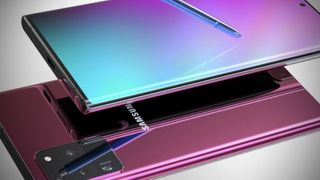 (Image credit: LetsGoDigital/Concept Creator)
Aunque la pandemia global ha retrasado el lanzamiento de varios teléfonos señeros — incluyendo el iPhone SE (2020) y dos modelos del iPhone 12 — parece que dos de los celulares más esperados llegarán según lo planeado: el Samsung Galaxy Fold 2 y el Samsung Galaxy Note 20.
Según el último informe de resultados trimestrales publicado ayer, la propia Samsung ha confirmado que habemus Note 20 y Fold 2: "Mirando al segundo trimestre [de su año fiscal] la compañía continuará ofreciendo productos diferentes en el segmento premium con el lanzamiento de un nuevo [teléfono] plegable y modelos del [Galaxy] Note".
Obviamente, No hay que ser Sherlock Holmes para concluir que estos dos modelos son el Samsung Galaxy Fold 2 y el Galaxy Note 20, cuyas características técnicas y presunto diseño están ya corriendo por los mentideros de internet.
Lo que sorprende es que Samsung tenga el valor de lanzar dos celulares de la gama más alta, con unos precios prohibitivos, en un mercado en recesión. De hecho, el mismo informe de resultados apunta a que la demanda de celulares ha caído y va a seguir cayendo a un nivel espectacular en la mayoría del planeta tierra.
Pero, por otra parte, la gente que compra este tipo de teléfonos de lujo, son precisamente aquellas personas que tienen dinero para quemar y a las que la crisis no les afecta — los millonarios del mundo seguirán gastándose $2.000 en un celular aunque caigan asteroides. Si una cosa sabemos por los análisis de las megaconsultoras es que El mercado del lujo de alto nivel es impermeable a las crisis.
Quizás por esto Samsung ha decidido que tiene mucho que ganar lanzando terminales con precios prohibitivos para el común de los mortales. Un dato: el informe dice que el Samsung Galaxy S20 Ultra se está vendiendo a un nivel mucho más grande del proyectado — los modelos más bajos del S20, sin embargo, se están vendiendo poco, precisamente porque la gente con pesos en la caja fuerte sólo quiere lo mejor de lo mejor. En el mismo informe también dice que el Samsung Galaxy Z Flip también tiene "ventas sólidas" — y eso que es una máquina de la que se han distribuido unidades de forma muy limitada.
En otras noticias, mientras el Titanic se va a pique, la gente con pajarita y relojes de $20.000 sigue comiendo caviar en sus botes salvavidas diseñados por Hermès.
Sign up for Black Friday email alerts!
Get the hottest deals available in your inbox plus news, reviews, opinion, analysis and more from the TechRadar team.