Panasonic refreshes compact range
Includes TZ60 - appealing new travel compact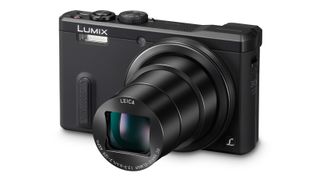 Panasonic has revamped its higher end compact cameras, with particular attention on the highly specced TZ60, an appealing new travel compact camera.
The TZ60 is Panasonic's flagship compact camera, boasting a 30x optical zoom, and interestingly, an electronic viewfinder. It replaces the previous top of the line camera, the TZ40.
It also features a 18.1 million pixel MOS sensor and Light Speed Auto Focus (AF). There's also a manual control ring, for precision framing and control, alongside a selection of creative modes. The camera also offers full manual control for advanced photographers.
Other features include Full HD video recording, Power Optical Image Stablisation and inbuilt Wi-Fi and GPS.
Wait, there's more!
Also announced today is the TZ55, which replaces, the TZ35, the camera below the TZ40 in the range.
It features a 16.1 million pixel MOS sensor, Sonic Speed Auto Focus and a 20x optical zoom lens. It is also the first TZ series to include a tillable LCD screen, which is useful for composing from awkward angles.
Other features include full HD video recoding and integrated Wi-Fi.
Two more cameras are also announced today. The LZ40 features a 42x optical zoom lens in a mini-DSLR styled body. Meanwhile, the SZ8, is an ultra compact camera with a 12x optical zoom, Wi-Fi and several creative effects.
The TZ60 price will be £349.99 / approx US$574/AU$643. Pricing and availability for the other cameras has yet to be confirmed.
Sign up to receive daily breaking news, reviews, opinion, analysis, deals and more from the world of tech.
Amy has been writing about cameras, photography and associated tech since 2009. Amy was once part of the photography testing team for Future Publishing working across TechRadar, Digital Camera, PhotoPlus, N Photo and Photography Week. For her photography, she has won awards and has been exhibited. She often partakes in unusual projects - including one intense year where she used a different camera every single day. Amy is currently the Features Editor at Amateur Photographer magazine, and in her increasingly little spare time works across a number of high-profile publications including Wired, Stuff, Digital Camera World, Expert Reviews, and just a little off-tangent, PetsRadar.