Google IO 2014 kicks off with a 9 a.m. Pacific start time tomorrow, June 25. Coincidentally, 25 is the number of cutting-edge tech companies the search engine giant snapped up since its last conference.
That means intimidating-looking robots, smart home technology and smartwatches are among the rumors for the Google IO keynote. The developer schedule strongly hints at a strong gaming and wearables.
You won't be able to see this year's surprises in person if you missed registration. Google IO tickets were sold in a lottery and exorbitantly priced for average Android user, but cheaper than Apple's WWDC 2014.
Luckily, there will be a Google IO live stream to watch the most popular events on both the June 25 and June 26 dates. Hangout sessions are also scheduled for in-depth developer broadcasts.
Even better for the anxious Android community, we have a list of Google IO rumors and predictions before the event gets underway next month. There's no ticket lottery or registration fee required.
1. It's time for a Google watch
Smartwatches powered by Google's Android Wear platform are expected at the conference, but we don't foresee an official Google watch being announced just yet.
Instead, the square-shaped LG G Watch in stealth black and champagne gold colors is expected to be the first Android Wear device. It'll match the newly launched LG G3 phone quite nicely.
Motorola's even more fashionable circular Moto 360 is also due for its first on-stage appearance at Google IO. Expect it to feature wireless Qi charging and a price around $249 (about £146, AU$265).
The difference between these two Android Wear watches and the equally sophisticated-looking Pebble Steel and Samsung Gear 2 comes down to predictive Google Now-like alerts.
The company's intelligent software delivers relevant information to your wrist - from counting down the stops before you exit a public bus to Jellyfish warnings before entering the ocean.
The rumored Apple iWatch is said to focus on fitness with Nike in tow, so expect Google to tout activity tracking features too. Google Fit may roll heart rate, steps taken and blood glucose data into one platform.
The LG G Watch release date is thought to be July 7, but we'll likely have a hands-on tomorrow at Google IO. Moto 360, meanwhile, is expected later in July, and Samsung, HTC and Fossil are expected to announce Android Wear watches in the near future.
2. Android L to lick iOS
Google is overdue for an L-themed Android 5.0 update, and there's reason to believe its name will be a Google logo-appropriate "lollipop" on a stick or just "L." Google IO happens nine months after KitKat 4.4 was announced, and we're in the mood for something non-chocolatey.
The timing is right. Android updates happen every five to eight months; Ice Cream Sandwich came out eight months after Honeycomb and Jelly Bean 4.1 came out eight months after ICS. Jelly Bean 4.2, 4.3 and KitKat 4.4 averaged five months between them.
New features could include better cross-platform messaging integration and new apps that take into account Google's forthcoming line of smartwatches.
Sure, Google merged SMS and Hangouts into one, but texts still don't appear on computers. Apple pulled it off seamlessly with iMessages on Mac and iOS 7 and is about to perfect SMS on devices with iOS 8.
There needs to be an Android-Chrome equivalent with SMS and Hangouts baked into the mobile app and unifies the two modes for messaging.
Google Voice is also long overdue to be rolled into Google Hangouts, an app that has gobbled up text messaging, instant messaging and video calls into one location in recent months.
The latest Android 4.4.3 update brought a slightly tweaked dialer, but we're ready to be rid of these silent piecemeal changes for something more significant at Google IO.
Just don't expect the pure Android Nexus 6 to appear alongside with these software changes. Google's focusing on its Android Silver launch and it may be doing away with its Nexus program.
3. Updates to Nexus 10, Chromebook Pixel 2
Google likes to introduce Android updates with new hardware. That's perfect because it needs a new larger Nexus tablet to compete with the redesigned 9.7-inch iPad Air.
The Nexus 10 2014 would do the trick, but it may not come from Samsung. The South Korean electronics giant is doing its own 10-inch thing with the Galaxy Tab 10.1.
Asus and LG could easily fill that role and have provided Google with Nexus hardware before. In fact, Asus may already be making a Nexus 8 tab to replace its popular Nexus 7 later this year.
The developer-only Project Tango Tablet, meanwhile, could also act as a Google IO 2014 giveaway. Like the Project Tango phone, this 7-inch slate has multiple cameras and depth sensors to map the 3D world. It's also roughly the price of a Google IO ticket.
New Chrome OS features at Google IO could be delivered through a Chromebook Pixel refresh even though the laptop's existing specs are strong. It's the price that needs to come down.
A Chromebook Pixel 2 could be why the Google Play Store is currently out of stock of select models of Google's premium notebook with a square-shaped screen.
4. More Google Glass, fewer skydiving stunts
Google Glass is perhaps more controversial than it was a year ago, but curious beta testers are still paying its wild $1,500 (about £879, AU$1,593) price now that it's available to everyone in the US.
That's good news for Google, but it doesn't really bode well for its fans who want a Google Glass consumer version at a more affordable price from the conference.
Think about it. It'd be a slap in every Glasshole's geeked-out face if Google encouraged them to buy Glass during Aprils much-hyped one-day sale and May's open enrollment if a newer and cheaper version came out in June.
This only this would work is if Google gave all Explorers the consumer version for free. It would account for the steep built-in price when analysts have pegged the consumer edition at as little as $300 (about £176, AU$319). But that may be wishful thinking among Explorers.
Instead, the international rollout of Google Glass would please the UK and Australia, and it's a distinct possibility now that Google has dropped invites and its silly timed-sale teasing altogether in the US.
We also expect more apps via Google's open Glass API to be announced along with a demo of what the recent Android KitKat upgrade means for the wearable tech's future.
Anything more than a consumer version preview or a release date is unlikely, but a free Explorer Edition as a giveaway to attendees isn't a long shot given the cost of Google IO tickets.
5. Reasons to tune into Chromecast, Android TV
Google has sold a bunch of Chromecast dongles, but it doesn't mean much if there aren't more apps available for the inexpensive media streaming device.
On the higher end of the television spectrum, Google is set to flip the switch on its rebranded Android TV platform within flat-screens and set-top boxes - in case you didn't have enough apps and gaming options.
There's a lot of work to be done here. The company has a long way to go before it catches up to the app lists of the Apple TV, Roku 3 and similarly shaped Roku Streaming Stick.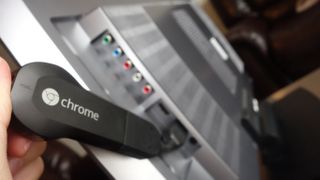 The new Amazon Fire TV set-top box is also hot on its trail thanks to Amazon Instant Video. In fact, all of Google's Android devices lack. We'd also it and Spotify in the US and Sky, iTV and Demand 5 in the UK.
That could happen at Google IO. We fully expect more app announcements and a personalized main menu with the weather and photos to come to the thumb drive-sized smart TV device.
Just don't expect YouTube's Music Pass to be one of its new streaming services. It's reportedly been delayed over licensing issues. Casting the subscription-based Google Music will have to do.
It's also a wonder why Chromecast doesn't fully support Android device mirroring, a trick that makes us love the iOS-projecting Apple TV. We could be in for a true AirPlay rival at Google IO.