Advertisement Feature
Introducing TopScan: The ultimate automotive diagnostic tool for car enthusiasts and technicians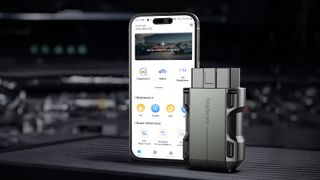 (Image credit: Topdon)
TOPDON, a leading provider of automotive diagnostic solutions, has launched its latest product, TopScan. Designed to meet the needs of both automotive DIYers and professional technicians, TopScan revolutionizes the way car diagnostics are performed. It's a powerful and versatile diagnostic tool that offers an array of features and benefits for car enthusiasts and technicians alike, and thanks to its user-friendly interface and comprehensive functions, it enables users to diagnose and solve vehicle problems with ease.
One of the key features of TopScan is its extensive Repair Data Library, which provides a wealth of maintenance knowledge and guidance. For beginners, the OBD2 DTC Repair Guide offers clear explanations of fault codes and step-by-step repair instructions. Additionally, technicians can access original technical service bulletins specific to each vehicle, ensuring accurate and efficient diagnostics. TopScan's unique advantage lies in its ability to cater to a wide range of users.
For car DIYers, the Lite Version, priced at $59.99, provides an affordable entry point with the option to upgrade to the Pro Version or purchase professional-level features such as IMMO for secure immobilizer features for your vehicle. Professional technicians can benefit from the advanced capabilities of the Pro Version, available at $99.
TopScan has undergone an extensive testing and optimization phase, involving seven months of rigorous evaluation and feedback from over 1,000 beta testers. This meticulous process ensures that the product has been thoroughly validated and refined to deliver the best performance and user experience. The valuable insights and suggestions provided by the dedicated beta testing community have played a pivotal role in shaping the final version of TopScan.
"We are excited to introduce the TopScan to car enthusiasts and technicians worldwide," said Mike Zhou, CEO of TOPDON. "Our goal is to make automotive repair easier and more accessible for everyone, and our TopScan tool embodies that vision. Whether you're a DIYer or a professional, TopScan has the abilities you need to diagnose and repair vehicles effectively."
Additional features
In addition to its comprehensive diagnostic functions, TopScan offers a range of other benefits:
Bi-directional Control: Access vehicle-specific subsystems and component parts to analyze and locate faults accurately.
8 Reset Functions: Perform commonly-used reset functions, including Oil Reset, Throttle Adaptation, EPB Reset, Steering Angle Reset, DPF Regeneration, ABS Bleeding, BMS Reset, and Airbag Resets.
Full Systems Diagnosis for 60+ Brands: Scan all vehicle systems, including engine, transmission, airbag, ABS, ESP, TPMS, immobilizer, gateway, steering, radio, and air conditioning.
Diagnostic Reports: Generate comprehensive diagnostic reports to track repairs and monitor the effectiveness of fault code resolutions.
AutoVIN & AutoScan: Streamline the diagnostic process with automatic vehicle identification and system detection.
Powerful, yet pocket-sized: Compact and lightweight, TopScan is designed for both home garage projects and professional jobs on the go.
Multilingual support: Available in multiple languages, including English, French, German, Spanish, Portuguese, Russian, Japanese, and Italian.
Performance test: Conduct vehicle performance tests and record acceleration data accurately.
Get All the OBD2 Data: Access crucial information on various vehicles with full OBD2 functionalities.
As part of its commitment to customer satisfaction, TOPDON offers extensive customer support and a user-friendly experience.
TOPDON is a leading provider of automotive diagnostic solutions dedicated to making automotive repair easier and more enjoyable. With a focus on persistence, passion, and professionalism, Topdon offers a comprehensive range of diagnostic tools and services, supporting clients from problem identification to resolution.
With TopScan, users can expect reliable and accurate diagnostics to enhance their automotive repair journeys. For more information about TopScan and other TOPDON products, visit www.topdon.com.
Sign up for Black Friday email alerts!
Get the hottest deals available in your inbox plus news, reviews, opinion, analysis and more from the TechRadar team.