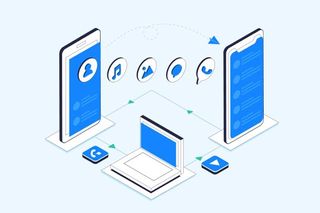 (Image credit: Wondershare)
WhatsApp is one of the most popular messaging applications in the world, and for a good reason: it offers free international calling, messaging services to anywhere in the world, state-of-the-art security, and more. In many ways, WhatsApp has made connecting to other people around the globe significantly easier. However, the one downside to WhatsApp is that it's difficult to transfer your data to a new phone if it's running a different operating system. For instance, the process of transferring your WhatsApp data from an Android to an iPhone can be a bit of a pain.
Thankfully, the software MobileTrans makes this process much easier by making it quick and simple. Here's a guide on why you should use MobileTrans to transfer your WhatsApp data from Android to iPhone, as well as how to do it.
Why use MobileTrans?
The main reason why you should use MobileTrans to transfer your WhatsApp data from Android to iPhone is because of how simple and quick it is. Depending on how much WhatsApp data you need to move, the transfer process can be as quick as a few seconds. This is fantastic, as it will save you tons of time.
Depending on the plan you get, MobileTrans can be used for a lot more than just WhatsApp transfers, too, giving it plenty of bonus value. With MobileTrans, you can transfer all of your phone's data to another device, even if it's on another operating system. Other social apps such as Wechat and Kik are also fully supported by MobileTrans. Additionally, you can also use MobileTrans to back up your phone's data on your Windows or Mac device, which is super convenient.
Finally, MobileTrans is very affordable with a starting price of $30 for yearly licenses, and lifetime licenses are only slightly more costly than that. With how often new phones come out each year, having software like this at the ready is hugely beneficial; thanks to the fact that MobileTrans is easy on the wallet, you'll never be stuck in a situation where you need the software but can't afford to keep it. MobileTrans has a free trial, too, meaning that you can give it a shot before committing to payment. You can download MobileTrans here.
How to use MobileTrans to transfer WhatsApp from Android to iPhone
Using MobileTrans to transfer your WhatsApp from Android to iPhone is a breeze. Follow the steps below, and you'll be done in no time.
1. First, launch the MobileTrans application on your computer and select the "WhatsApp Transfer" feature from the homepage. Then, connect your Android and your iPhone to the computer.
2. On the MobileTrans sidebar to the left, select "WhatsApp" and then select "Transfer WhatsApp Messages" from the available options.
3. MobileTrans will automatically detect your connected phones and will display one of them as "source" and the other one as "destination." Make sure that your Android phone is the source and the iPhone is the destination. If they're not correct, you can press the "Flip" button to switch them.
4. Click the "Start" button to begin the data transfer. Note that if you have WhatsApp on the iPhone you're transferring data to, it will be deleted when the data from your Android phone is transferred.
5. Wait until the MobileTrans software notifies you that the transfer has been finished. Once it does, you can safely disconnect your devices and begin using WhatsApp on your iPhone.
MobileTrans has you covered with just five easy steps
Thanks to how simple, efficient, and quick MobileTrans is, you can transfer your WhatsApp data from Android to iPhone in a fraction of the time it would take you to do so with other methods - and all without any inconveniences. And the best part is, you can use MobileTrans for other types of data too, such as photos, videos, music, and more. It's an awesome way to take care of your data transfer problem in the blink of an eye, so don't be afraid to try it out!
If you don't want to (or can't) use a computer to transfer your WhatsApp data, you can also use Wutsapper, which is an application that allows you to complete an Android-to-iPhone WhatsApp transfer with the use of an OTG cable. Wutsapper is fast, secure, and supports all forms of WhatsApp data just like MobileTrans does, making it a superb alternative.
Get daily insight, inspiration and deals in your inbox
Get the hottest deals available in your inbox plus news, reviews, opinion, analysis and more from the TechRadar team.