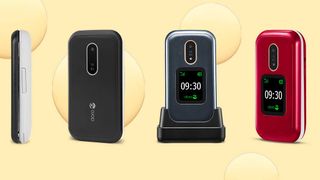 (Image credit: Doro)
Technology has come an incredibly long way — today's easily pocketable smartphones are more powerful than the computers we were using a decade ago. With gargantuan screens, multiple cameras, powerful chips and millions of apps, there's no denying their usefulness. With all that functionality though, comes expense and complication.
For some users, simplicity is key, and overly complicated technology can become more of a hindrance than a help. Seniors, for example, can greatly benefit from the portable communication abilities of a smartphone for both peace of mind and staying in touch with friends and family, but are often put off by the unintuitive nature of large-screened smartphones littered with hundreds of icons and options. That's where Doro comes in.
A Swedish manufacturer that's the market leader in senior-focused mobile phones, Doro's primary focus is helping the older generation live a better life, helping to enrich their day-to-day experiences with useful technology that can help them keep in touch with those that matter most — and all without compromising their experience with complicated, unnecessary, and expensive features.
Nailing the basics
All Doro handsets come with exceptionally loud and clear sound so that calls and notifications can be comfortably heard, every time. Not only that, but each device is hearing aid compatible too, in addition to having built-in HD microphones that improve call quality while reducing any distracting background noise so that phone conversations are clearer than ever.
Reassurance is important to us all, which is why every Doro handset also has a built-in, easy to press assistance button. When pressed, up to five chosen emergency contacts are alerted with an alarm and are also provided with the Doro handset user's location.*
The relative who answers the call/alert is automatically connected to the senior in order to make sure everything is okay, as well as taking appropriate action if required. When the assistance button is pressed, the hands-free speakerphone mode is also automatically activated, so that users can talk to emergency contacts even if they're not holding the phone.
*Location is device dependent.
Doro 7080
One example of a Doro handset is the Doro 7080 - a premium 4G feature flip phone that not only looks great (especially in Curry's exclusive red colour), but is easy to use too, while offering all the previously mentioned call and safety features to boot.
The outside shell has an external screen so that you can see who's calling without having to open it up, and it also handily displays the time and notifications too. Flip it open, and you'll find a large 2.8in screen for a comfortable viewing experience, along with an easy-to-use interface with large, clear keys. There's even a charging cradle which lets you easily slot it in to top up the battery, without messing around with any cable connectors and ports.
In addition to the standard calling and text message features, it also has WhatsApp and Facebook too, offering more options for keeping in touch with family and friends without having to buy a far more expensive and complicated smartphone.
There's even a 5MP camera with flash, along with a selfie and video call cam, so you can share photos with friends and family too.
Available SIM-free (and in red, exclusively available from Curry's) from just £99.99 at Curry's
Doro 6620
The Doro 6620 is another high-quality flip phone which again, offers the same call quality features and assistance button as the Doro 7080 and all other Doro handsets.
A 3G handset that excels at keeping you in touch with others, the Doro 6620 also has a large 2.8in screen for comfortable visibility, along with a 3MP camera for capturing memories.
As with the Doro 7080, the Doro 6620 also comes with an incredibly useful charging cradle for easy, hassle-free charging. Its battery life is very impressive too, offering up to 380 hours of standby time (over 15 days and up to eight hours of talk time per charge), offering extra peace of mind.
With large, high contrast black and white keys that are easy to read and press, interacting with the Doro 6620 is a comfortable, intuitive experience too, while its flip design means that there's no chance of any accidental key presses occurring if it's dropped or in a pocket or bag.
Sign up to receive daily breaking news, reviews, opinion, analysis, deals and more from the world of tech.