If you're after a top deal on superfast full fibre broadband, then we've found something that could be just what you need.
Currently you can get Plusnet's Full Fibre 145 broadband for £27.99 a month on a 24-month contract, without any setup fees. This broadband-only deal offers average download speeds of 145Mbps as well as unlimited data. You'll also get Plusnet's class-leading Hub Two router.
On top of this, Plusnet includes an 80Mbps minimum speed guarantee on this particular package, and for added protection and peace of mind, the company throws in its 'Plusnet SafeGuard and Plusnet Protect' antivirus software that is powered by Norton.
With these superfast speeds, this deal is a great choice for any small to medium sized households with intensive data demands. This means multiple users will be able to stream in UHD, casually browse and play games online all at the same time. The only thing to be aware of here is that as this deal is 'Full Fibre', you can only get it if your property has access to this network. Although you can check this with Plusnet first if you do wish to sign up.
While we think this is a great choice, if you want something even faster, or perhaps a bit slower and cheaper, then check out our guide to the best broadband deals. Otherwise, click through using the links above or below to sign up for this deal on Plusnet's Full Fibre 145 broadband.
OUR PLUSNET BROADBAND DEAL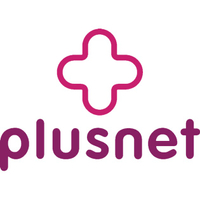 Plusnet Full Fibre 145 | 145Mbps average speeds | £27.99 per month | 24-month contract | No setup fees
This is a broadband-only deal that features Plusnet's superfast Full Fibre 145 package. It's a 24-month contract priced at £27.99 a month and there aren't any activation costs. This deal also includes Plusnet's smart Hub Two router, plus antivirus protection from 'Plusnet SafeGuard' and 'Plusnet Protect'. Small to medium sized households will be able to stream in 4K, browse and online game all at the same time with these speeds. But, you also get an 80Mbps minimum speed guarantee as an extra bonus. The only thing to note is that whether you can access this deal depends on your property's Full Fibre connectivity.
Why choose Plusnet for your broadband?
In addition to offering great deals like our featured one above, there are many other reasons to choose Plusnet as your broadband provider.
One of the biggest draws is its affordability. The packages it offers tend to sit on the cheaper side of the broadband markets and it has even had recognition for this, earning the 'Best Value' award from Expert Review in 2022 and at the 2023 Choose Awards. On top of this, it offers a range of broadband speeds, from an entry-level 10Mbps, through its 36Mbps and 66Mbps fibre choices, as well as its 145Mbps and 500Mbps Full Fibre.
Plusnet uses the Openreach network too, so you can count on a dependable connection, as well as wide reach across the country. Again, it's seen recognition for this by receiving the title of 'Most Reliable Broadband Provider' at the 2023 Choose Awards.
The company's online reviews for its customer service can be mixed, but generally it offers a good level of support across various communication channels. However, it must be doing something right, as if we look back to 2022, it won the 'Best Customer Service' award from Expert Review.
While it's chiefly known for its broadband, you can get additional landlines and mobile phone tariffs, as well as a BT Sport bolt on. Although we should say that these extras do cost more and the TV package isn't as comprehensive as the ones you get from the likes of Sky or Virgin Media.
If you'd like to see what else is on offer from Plusnet near you, or you just want to see what other broadband options you have, enter your postcode into the widget below.
Loading...