Esto es Star Wars: Squadrons, el juego de mis sueños hecho realidad
El trailer del nuevo juego de combate espacial de Star Wars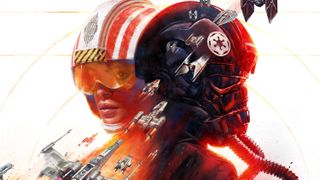 (Image credit: EA Star Wars)
Éste es el trailer del juego de mis sueños: Star Wars: Squadrons, de EA. Un simulador de combate espacial "realista" que promete batallas entre diez jugadores y que saldrá el 2 de octubre para PS4, Xbox y PC — con modo de realidad virtual.
Y la verdad es nunca antes me había planteado montar un PC para gaming y un Oculus Rift hasta ahora. Eso es lo mucho que quiero experimentar este juego, si es que realmente es como dice EA.
¿Qué es Star Wars: Squadrons?
Según EA, Star Wars: Squadrons es una "auténtica experiencia de piloto" donde podrás llegar a ser un maestro del combate espacial. El juego permite administrar la potencia de tu nave entre motores, armas y escudos. También tendrá un sistema que permite progresar en la escala de la Alianza Rebelde o la Armada Imperial.
El juego contará con un modo de campaña para un jugador individual — ya sea rebelde o imperial — que se desarrollará al final de la guerra entre el Imperio y la Rebelión.
Si eso te suena de algo, probablemente hayas jugado alguna vez en tu vida a dos juegos legendarios: X-Wing y TIE FIghter.
Squadrons parece combinar los elementos de estos dos juegos y además añadir el combate en red de X-Wing vs TIE Fighter, el último juego de la trilogía clásica de Star Wars. En Star Wars: Squadrons, EA dice que podrán jugar cinco pilotos rebeldes contra cinco pilotos imperiales usando internet. Las batallas serán de combate entre cazas pero también monumentales batallas espaciales con destructores imperiales y cruceros rebeldes de por medio.
Aquí tenéis el trailer:
El heredero de X-Wing y TIE Fighter
Si realmente es como dicen, Star Wars: Squadrons es el juego de mis sueños.
La razón es que — hace mucho, mucho tiempo, en una galaxia muy lejana — yo fui piloto rebelde. Y también piloto imperial. Como para muchos de los que crecimos en los años 90, los juegos de combate espacial de Lucasarts X-Wing y TIE Fighter ocuparon cientos (¿miles?) de horas de mi tiempo.
Equipado con un PC de Digital con procesador Intel 486, una pantalla de 21 pulgadas, tarjeta Soundblaster y un joystick, luché como rebelde hasta completar todos los tour of duty y llegar a general. Como piloto imperial luché hasta convertirme en la Mano del Emperador y ser el wingman del mismísimo Darth Vader.
Obviamente nunca he disfrutado tanto con un simulador, dos juegos que mezclaban a partes iguales habilidad de piloto y táctica. A pesar de la crudeza de sus gráficos 3D, las batallas que a veces duraban más de una hora y tenían múltiples objetivos capturaban perfectamente la emoción de luchar como piloto dentro del universo de Star Wars.
Ningún juego posterior ha podido jamás capturar esa sensación de realismo de algo que no es real. Quizás porque, al contrario que otros juegos para consolas que intentaban reproducir la experiencia, X-Wing y TIE Fighter fueron creados por el maestro de la simulación Larry Holland y su equipo, que antes habían creado los legendarios simuladores aéreos The Battle of Britain y Secret Weapons of the Luftwaffe.
Pero ahora, por fin, parece que Electronic Arts ha escuchado los deseos de los fans que todavía consideran esos dos juegos el estándar del combate espacial en el universo Star Wars. Squadrons, a primera vista, parece todo lo que había esperado durante años. Un juego de combate espacial con el suficiente realismo y un modo de VR que me permita introducirme en ese mundo de una forma total y completa.
¿Saldrá para Xbox Series X y PS5?
No sabemos si saldrá para Xbox Series X o PS5. EA no ha hecho ningún anuncio al respecto.
Lo único que sabemos es saldrá en octubre por $40 para PS4, Xbox One y PC. Y todo el mundo podrá conectarse a combatir sin importar la plataforma — gracias sean dadas al Hacedor.
EA, más os vale no chingarla esta vez. Contratad a Larry Holland si podéis. Este juego tiene que ser perfecto. Y si no, palizón.
Get daily insight, inspiration and deals in your inbox
Get the hottest deals available in your inbox plus news, reviews, opinion, analysis and more from the TechRadar team.