Summer is a great time of year to find cheap TV deals as retailers love to slash prices while the sun's shining. And when the British rain inevitably arrives, you'll be glad to have shiny new TV at home.
We keep our eye on the latest deals throughout the year, so we're poised to find you the best price whenever the need to replace your old TV arises. And we're fully behind the 4K TV movement seeing as prices have dropped nicely, meaning you're not saving much money at all by opting for a standard HD TV. Take a look at the prices below and you'll see what we mean.
Select highlights for the best cheap TVs this week include wide range of fantastic offers where you can get a massive 60-inch 4K HDR TV from AO.com for £649. Another cheap TV that caught our eye was a 50-inch 4K model for a tiny £349. There's a 43-inch 4K TV starting from as low as just £249 too. Retailers like Currys, Argos, AO and ebuyer are really stepping things up now for the summer sales. These really are the best prices we've seen all year.
Take a look at our carefully curated extensive selection below. We've split the 4K TV deals into different size categories immediately after our pick for cheap TV deal of the week. Whatever your budget, we're sure we can find something for you. If you need a new TV, we'd go for a 4K one as older outdated HD TVs aren't that much cheaper at all nowadays and most stores are clearing them out.
Now's a great time to upgrade with a cheap 4K TV deal, especially with Netflix, Amazon, BBC and Sky TV all increasing their 4K content. Nowadays, pretty much every TV comes with Freeview (no more set-top boxes!) and also Smart TV functionality via your home internet - we'll be sure to mention it if they don't though.
TechRadar's cheap TV deal of the week
Cheap TV deals (40-49 inch)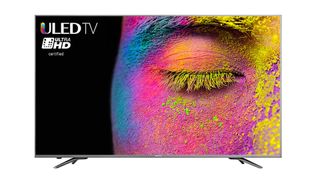 Cheap TV deals (50-59 inch)
Cheap TV deals (60-85 inch)
More large screen 4K TV deals
If you're after more seriously large TV deals, we should warn you, they don't come cheap. However, if you want to see some more large screen TV deals -we're talking about 65 to 85-inch TVs- we'd recommend heading over to John Lewis, Currys and Amazon as they seem to stock more models than most UK retailers.
Extra retailer cheap 4K TV deals links:
Not found the right cheap TV for you today? Or maybe you'd prefer to directly browse the TVs at your favourite retailers instead of our highlights of the best cheap TV deals? We're updating this page on a regular basis, so you may have better look another day. If you want to take a look for yourself now though, here are the direct links to a the full collection of TV deals at multiple stores.