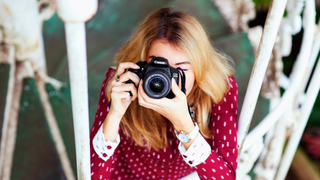 Should you be making the switch from a smartphone to a proper camera? They may be usable for casual snaps, but smartphones get nowhere near the creative control offered by a DSLR camera. Thankfully, Canon UK's Black Friday hub has some huge and exclusive discounts on some of its top-line cameras. But hurry – some of Canon's best offers are limited.

Leading the charge is the Canon EOS 6D Body, a remarkably lightweight enthusiast-focused full-frame DSLR. Already an affordable way into full-frame photography, this Black Friday sees it becomes irresistible. Not only is its price slashed from £1589.99 to just £799.99, but there's more good news about the discounted Canon EOS 6D Body – there's plenty of stock available.
That's not the case for Canon's two other Black Friday bargains, the Canon EOS 750D + 18-55mm lens (down from £544 to £499) and the Canon EOS 1300D + 18-55mm lens (down from £359.99 to £294.99), for which stock is strictly limited. You're going to have to get on Canon's Black Friday hub as soon as possible to grab those discounts.
Canon is also discounting its excellent premium compact camera, the Canon PowerShot G7 X Mark II, which will get a reduction from £529.99 to £449.99.

Canon UK's Black Friday offers run from 19-26 November 2018, but there are more reasons to buy directly from Canon than just to access these exclusive discounts. On Canon's website, you'll also find a massive 40% discount on selected camera bag accessories and exclusive merchandise, as well as incredible Winter Cashback deals that will remain available beyond Black Friday.

That cashback offer is key because Canon's own online store is a great place to come for some of the best camera bargains in the run-up to Christmas, best accessed by signing up to receive the latest promotions from Canon UK via email. Only by shopping at Canon UK this Black Friday – and beyond – can you guarantee free delivery and returns on all orders over £30, a must-have two-year manufacturer's guarantee, and, of course, access to the entire, extensive product range from Canon.
Everything you need to know about Canon's Black Friday deals
Not convinced? Here's everything you need to know about the Canon EOS 6D Body, Canon EOS 750D, Canon EOS 1300D, and Canon PowerShot G7 X Mark II:

Canon EOS 6D Body
Discount: £799.99 (from £1589.99)
One of the most lightweight full-frame DSLR cameras available, and now, easily one of the most affordable, the Canon EOS 6D has a 26.2-megapixel Dual Pixel CMOS AF sensor and ISO 40,000 (expandable to 104,400). That makes it great for low-light photography and night-scapes. Weighing just 765g and with both GPS and remote control via Wi-Fi, it's the perfect first full-frame DSLR.
– Read our full review

Canon EOS 750D
Discount: £499 (from £544)
One of the very best entry-level DSLRs around, this 24-megapixel crop-sensor DSLR features a polished control layout and touchscreen interface that are easy to use for beginners. The three-inch tilting touchscreen is useful, as is the all-round superb image quality and 555g weight.
– Read our full review

Canon EOS 1300D
Discount: £294.99 (from £359.99)
This entry-level crop-sensor DSLR is a great option for beginners, students or anyone new to DSLR photography. Now more affordable than most compact cameras, the EOS 1300D offers an 18-megapixel sensor, a three-inch screen, and weighs just 485g.
– Read our full review

Canon PowerShot G7 X Mark II
Discount: £449.99 (from £529.99)
Compact cameras with a one-inch sensor are all the rage, and ideal for travelling light. Boasting improved image quality, especially in low light conditions, the 319g PowerShot G7 X Mark II's DIGIC 7 processor also brings a faster burst shooting rate. Its 20.1 megapixel CMOS sensor, 4x optical zoom lens, and touch-sensitive tilting screen adds plenty of versatility.
– Read our full review

You can follow Canon UK on Facebook and Twitter
Sign up for Black Friday email alerts!
Get the hottest deals available in your inbox plus news, reviews, opinion, analysis and more from the TechRadar team.