Best monitors for photo editing in 2023
Best
Contributions from
last updated
Find the best monitors for photo editing - from color-accurate screens to displays for professional photography
VERDICT
REASONS TO BUY
REASONS TO AVOID
Quick menu
The quick list
1. Best overall
2. Best on a budget
3. Best 4K
4. Best mini LED
5. Best all-in-one
6. Best for creatives
7. Best for portraits
8. Best for color accuracy
9. Best portable
FAQs
How to choose
How we test
Sharp, crisp, and color accurate - the best monitors for photo editing make sure every image is brought to life in vivid, high-resolution detail.
You can use any monitor to edit photos, but results will vary (we know, we've tried). Top-rated photo editing monitors are designed to display images the same in your software, on the screen, and in print, no matter which of the best graphics design software or the best photo editors you're running. Colors are accurate, distinct, full of depth, professionally calibrated, with a wider coverage of the color space.
Our team of expert reviewers have tested hundreds of displays for the home, office, and studio - so we know what to look out for when it comes to the best monitors for photo editing. We hooked these screens up to some of the best photo editing computers to see what was really on offer. During extensive analysis and comparison, we examined everything from color accuracy and brightness to connectivity, benchmarking output performance and checking resolutions right down to the pixel.
The quick list
Load the next products...
Best for portraits
For the best of both worlds, the LG DualUp is a stellar screen that effortlessly switches between landscape and portrait orientations. Build quality is excellent, and ideal for highly productive pros.
Best for color accuracy
The BenQ PD3205U features a big screen with an intense focus on color accuracy. We found images appeared crisp and life-like, while the BenQ 'hockey puck' made the interface and navigation an absolute breeze.
Best portable
EspressoDisplay Portable Monitor
If you're working across multiple locations, the espressoDisplay portable monitor is the ideal solution. It's thin, lightweight, and robust enough to carry with you day-to-day. An impressively versatile display for photo editors.
Best monitor for photo editing overall
A 6K masterpiece
Specifications
Brightness:
HDR off - 450 nits (SDR) HDR on - 750 nits
Color coverage:
sRGB 100%
Reasons to buy
+
Beautiful 6K display
+
Integrated 4K HDR webcam
+
Thunderbolt 4 connection
+
Great collection of connectivity ports
Reasons to avoid
-
Same stands with low cable passthrough
-
Mic sound is slightly tinny
-
Expensive
Dell's U3224KB UltraSharp 6K Monitor is a brilliant display, boasting a Thunderbolt hub, a 4K webcam, and a soundbar, all built into one clean package.
The only other monitor we have seen that has successfully pulled off having a beautiful display, a beautiful webcam, quality audio, and Thunderbolt ports is the Apple Studio Display. Though the features align with the Studio Display, this screen has more in common with the Apple Pro Display XDR in quality and size. However, it is a lot cheaper and includes a wide array of ports that Apple's flagship monitor does not have.
The Dell UltraSharp 32-inch 6K monitor is the display that we have been waiting for. We love Apple's flagship monitors but don't love the price or the lack of port options - and the Dell U3224KB answers that problem and then some. The picture quality is stunning, the port selection is excellent, the productivity features are lovely, and the camera is crisp. If you're looking for a 6K monitor, this might be the one you find yourself comparing other options to.
Read our full Dell U3224KB UltraSharp 6K monitor review
Best budget photo editing monitor
A near-pro experience without the premium price
Specifications
Color coverage:
99% Adobe RGB, 99% DCI-P3
Reasons to buy
+
Gorgeous 4K IPS panel
+
Very nicely calibrated
+
Excellent value for money
Reasons to avoid
-
Limited HDR support
-
Slightly plasticky build
Professional displays cost serious money. But how close can you get to a proper professional monitor with what you might call a mid-range prosumer panel? Enter the Asus ProArt PA279CRV, a relatively affordable monitor that makes a decent impression of a premium pro panel.
Coming in at 27 inches, it's the real 4K deal and offers excellent color coverage from an IPS panel, factory calibration, including Calman verification, and a robust feature set. The latter includes USB-C connectivity with 96W of power delivery and display daisy chaining.
Whatever you're using to drive the Asus ProArt PA279CRV, you get lovely, accurate colors and plenty of pop thanks to 400 nits of brightness. The viewing angles are great as you'd expect from an IPS panel. But as you'd also expect, the main weakness is contrast. Rated at 1,000:1, the Asus ProArt PA279CRV does have basic DisplayHDR 400 certification.
In an era where everything always seems to cost a bit more than you were expecting, it's great to find Asus bucking the trend with this lovely 27-inch 4K productivity panel. Sure, it lacks true HDR support. But in most other regards, from image quality and color accuracy to features and connectivity, this is a pretty magnificent monitor for the money.
Read our full Asus ProArt PA279CRV review
Best 4K monitor for photo editing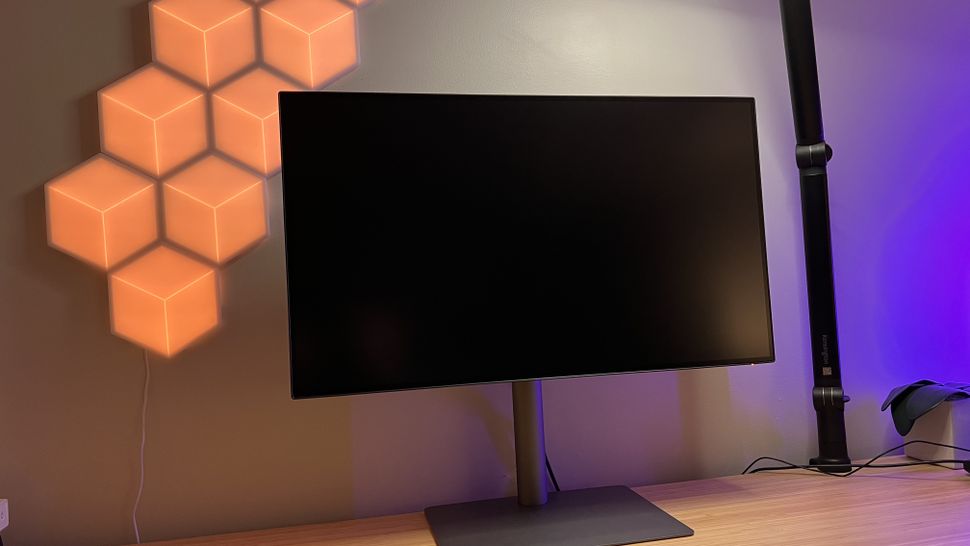 Professional-grade 4K UHD monitor with Thunderbolt 3 connectivity
Specifications
Color coverage:
sRGB 100%, 95% Display P3/DCI-P3
Reasons to buy
+
High-quality build and attractive design
+
Excellent display performance with 4K resolution, high pixel density, and HDR capability
+
Wide range of connectivity option
Reasons to avoid
-
Built-in speakers are not great
The BenQ PD3220U is a 32-inch 4K UHD Thunderbolt 3 monitor that is designed for professionals in a variety of fields, with its large screen size and high resolution make it ideal for tasks such as photo and video editing, with its Thunderbolt 3 port allowing for fast data transfer speeds and easy connectivity to other devices.
The 4K resolution and high pixel density make for an incredibly sharp and detailed display, with text being crisp and easy to read, and images and videos looking stunning. The 100% sRGB color gamut and 10-bit color depth for a vibrant, color-accurate photo editing monitor that's tailor-made for photo and video editing tasks.
The PD3220U's HDR capability is also a standout feature. This allows the monitor to display a greater range of contrast between light and dark areas of the image, which is especially useful when working with images or videos that have a wide color range.
In terms of connectivity, the PD3220U definitely stands out from the competition. Its multiple HDMI and DisplayPort ports allow for easy connectivity to various devices, and the USB-C port is a convenient feature for data transfer and power delivery. The built-in KVM switch is also a handy feature for those who work with multiple computers.
Read our full BenQ PD3220U review
Best mini LED photo editing monitor
A fantastic monitor that will appeal to creatives and content creators
Specifications
Color coverage:
99% DCI-P3, 99% Adobe RGB
Reasons to buy
+
90W Type-C power delivery
+
Superb color reproduction
+
Impressive peak brightness
+
Thoughtful packaging
+
Brightness sensor
Reasons to avoid
-
OSD controls could be better
-
No extra USB ports or KVM features
-
Cheap-looking, plastic finish
-
Lights at the back
What InnoCN has achieved with 27M2U is nothing short of a major breakthrough: a great monitor with Mini LED technology, exceptional visual performance, solid OSD controls and superb build quality with a price tag that's barely believable: One for creative professionals and prosumers with a keen eye for color reproduction.
At the core of what this monitor stands for is the Mini LED technology which, as its name suggests, is all about smaller light emitting diodes that are used to literally shine a light on the LCD panel. This is the same technology used by Apple laptops, garnering a lot of attention across the industry, and is integrated in the 27-inch 4K IPS matte display.
Outside of this headline grabbing feature, the 27M2U sports a built-in automatic lighting sensor which, when turned on, adjusts the screen's brightness depending on the ambient lighting. Another built-in gravity sensor changes the orientation of the screen depending on whether it is in landscape or in portrait mode.
The showstopper is the panel used; it supports 99% Adobe RGB, 99% DCI-P3 and 100% sRGB color gamuts which means that it scores highly on color reproduction and fidelity. That translates into clean, crisp whites, excellent viewing angles and superb color saturation and vibrancy.
Read our full InnoCN 27M2U review
Best all-in-one photo editing monitor
Designed to be your all-in-one workspace solution
Specifications
Color coverage:
100% Rec 709, 100% sRGB, 98% DCI-P3