Memorial Day appliance sales 2023: best deals on air fryers, Instant Pot, and more
Today's top sales - plus our recommendations for appliances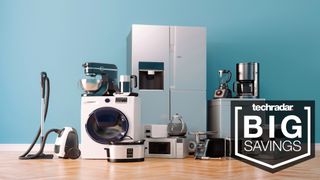 (Image credit: Future)
Regardless of whether you're looking for a cheap air fryer or a brand-new refrigerator, you'll find all of this year's best Memorial day appliance sales neatly lined up right here on this page. We've rounded up today's discounts from Best Buy, Lowes, Samsung, and many other leading retailers into one handy page right here so you can compare all your options and find exactly what you need.
Alongside providing an overview of today's best Memorial Day appliance sales, we're also on the lookout for price cuts on top-rated models here at Techradar. Just below our main sales roundup, you can find recommended deals based on our wealth of content here at TechRadar, such as our best air fryers, best vacuums, and best Instant Pot buyer's guides. We've just updated this page with a fresh batch of recommendations for today and we'll continue to update our listings if we spot any more great bargains.
While you're here, we'd also recommend checking out our main Memorial Day sales page, which covers the event as a whole. It's particularly handy if you're looking for a bargain on tech staples like TVs or laptops as we'll have plenty of recommendations for those too.
The best Memorial Day appliance sales
Today's best deals on small appliances
Is Memorial Day a good time to buy appliances?
Yep! Alongside similar events like President's Day and Labor Day, the Memorial Day sales generally offer the best appliance deals you'll find all year, outside of potentially Black Friday. These weekend-long sales are traditionally where it's at for the retailers where you'd usually find appliances all year round. Lowes, Home Depot, Best Buy, and Samsung are a few of the retailers that hold big Memorial Day appliance sales every year.
Since we're coming up to Memorial Day now we'd highly recommend holding off on purchasing appliances until the sales start arriving. Generally speaking, the Memorial Day sales tend to kick-off around mid-May.
What appliances go on sale on Memorial Day?
We're expecting deals on everything from humble air fryers to bespoke refrigerators and other large items this Memorial Day. Last year's event included massive savings of up to $1,300 on large appliances and around $50 off as the average for smaller items - including things like blenders, coffee makers, and vacuums.
If you're interested, you'll find a few of last year's best Memorial Day appliance deals just down below, which should inform you of what to expect.
When do Memorial Day appliance sales start?
Memorial Day is Monday, May 29 for 2023 but it's likely we'll see deals on appliances cropping up before this date.
If previous events, and similar events like the President's Day sales and the Labor Day sales are anything to go by, we usually see the big appliance retailers start posting deals around a week in advance. This page will be updated with all the best Memorial Day appliance sales as soon as they land so definitely don't hesitate to bookmark and check in regularly from here on in.
Last year's best Memorial Day appliance sales
Major appliances
Air fryers