Get your favorite news, sport, lifestyle and entertainment channels for less with a subscription to Sling TV. The budget-friendly answer to extortionate cable packages has a number of plans available, as well as add-ons and bundles, each at low Sling TV cost that is really competitive in terms of value for money.
It delivers dozens of popular TV networks for the money-saving Sling TV cost, with Sling TV channels including ESPN, the NFL Network, CNN, FX, Bravo and the Disney Channel. That's in addition to on-demand movies and hit TV shows, plus the ability to add a la carte Extras like DVR Plus and Showtime to your lineup.
So, get ready to bid farewell to cable as we explain exactly what you get for the Sling TV cost, and how the platform squares up to IPTV rivals Fubo, Hulu + Live TV and YouTube TV.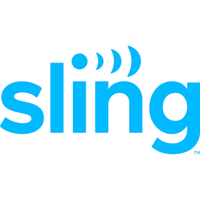 (opens in new tab)
Get 50% off your first month of Sling TV (opens in new tab)
Opt for either its Orange or Blue plan (or both) and new and returning customers can currently save 50% off their first month of Sling TV. That brings the price down from $40 to $20. Or, if you opt for both, it'll cost $27.50 for your first month of both the Blue and Orange packages.
Sling TV cost: how much are packages?
The Sling TV cost increased moderately in October 2022, with all plans going up by $5. More recently, in regions that can get ABC through Sling Blue, you'll be looking at a further $5 increase, up to $45 a month.
There are two core Sling TV packages: Sling Orange and Sling Blue. Both cost from $40 a month (opens in new tab), but they're comprised of slightly different offerings.
Sports fans and those with young children are best served by its Orange plan, which includes ESPN, Motortrend, Nick Jnr. and the Disney Channel among its line-up. But if you're into great TV dramas and documentaries, the Blue plan is ideal, with National Geographic, Discovery, SyFy, A&E and FX readily available.
A third option, if you want a greater number of channels, some local networks, news and expanded sports coverage, is the Sling Orange + Blue package for $60 a month. That's at least a $20 saving on subscribing separately.
After selecting your core package, the below extras can be added for the listed monthly fee:
Total TV - $21
DVR Plus (200 hours) –$5
Sports Extra - $11
Comedy Extra - $6
Kids Extra (Sling Blue only) - $6
News Extra - $6
Lifestyle Extra - $6
Hollywood Extra - $6
Heartland Extra - $6
AMC+ - $7
4 Extras Deal - $13
The Total TV Deal bundles up every extra listed above with the exception of AMC+, guaranteeing big savings for TV aficionados (a $15 dollar discount per month).
Also available are a range of a-la-carte channels and international mini-packages, so you can personalize your line-up with premium channels like Showtime, BET+, and UP Faith and Family, or select Chinese, Brazilian and Italian content, at prices between $3 and $10.
How to watch Sling TV absolutely FREE
While the Sling free trial has been and gone for the time being, there's a small hub of content free to stream all-year round. Sling TV has over 5,000 films and TV shows that you can watch for free (opens in new tab) whenever you want.
OK, so the bulk of content – over 3,000 hours' worth – is rather uninspiring. But from time-to-time Sling adds episodes of quality TV programming such as Rick and Morty, Dexter and American Gods, alongside entire series of bonafide classics like The Walking Dead and 3rd Rock from the Sun.
Plus, with so many films available, there's likely to be something that suits your viewing needs - particularly if you're after some thought-free comfort viewing, because it's riddled with entertainingly dumb action films and hilariously trashy horror movies.
There's no credit card or registration required, you just head to the Sling website (opens in new tab) and start watching.
(opens in new tab)
What other Sling TV package deals are there?
As well as its introductory offers and add-ons, there are some other Sling TV price points to consider depending on the kind of entertainment you want with a whole host of Sling TV deals available (opens in new tab).
Save $15 on your first month and get a free Amazon Fire Stick, or try out Showtime and MGM+ for free for 30 whole days.
Or you can prepay two months of Sling TV up front and get a HD Antenna for free.
How do Sling TV packages compare to Hulu?
Both Hulu and Sling TV have a plethora of live programming at relatively low costs, with Sling Orange providing access to over thirty channels for the tempting price of $35 a month. Meanwhile, Hulu with Live TV's core package is $69.99, but offers almost twice the number of networks, and bundles in ESPN's and Disney's streaming platform.
If bagging an affordable cable alternative is your goal, then the Sling Orange + Blue plan is only $50 a month and will provide a plentiful 50 channels.
But, if your wallet can take the extra strain, Hulu wins as far as value for money is concerned, having thousands of hit OD movies, on top of live TV functionality, sports content from ESPN Plus and exclusive Hulu and Disney Plus originals. You can read more in our Hulu prices guide for further information.
How do Sling TV plans compare to FuboTV?
While Sling TV wows with its trio of affordable subscription plans, a FuboTV (opens in new tab) entry-level subscription is almost twice the price at $69.99. But for that you get a channel line-up nearly three times bigger, and which also exceeds Hulu and YouTube TV's offerings.
The Starter plan provides three streams and a comprehensive selection of over 110 channels, including news, sports, entertainment, and lifestyle coverage, from networks like Fox, ABC News Live, ESPN, MTV, AMC, and VH1. Pay $79.99 for its Elite offering and bump the number of channels up to 160, plus you can share your account with 10 people. Of course, being a "sports first" platform, you'll get immense coverage of live matches too via networks like the NFL, CBS Sports Network, FS1 and the Big Ten Network.
Sling TV doesn't have that level of scope. But you can get a lot for very little if you pick carefully. For instance, a Total TV deal for $21 will bring you oodles more sport, comedy, and general entertainment. When combined with a Sing Blue plan, that means you can enjoy approximately 114 channels for just $56.
How do Sling TV packages compare to YouTube TV?
Along with a whopping 90 channels and ample sports coverage, YouTube TV has unbeatable, unlimited DVR storage that lets you record live programming to your heart's content. In contrast, Sling TV plans max out at 50 channels for $50 and you can only get a total 200 hours storage if you pay a $5 fee.
Should you be looking for a more comprehensive option and don't mind paying nearly double the Sling TV cost, YouTube TV will keep you happy. You can access dozens more channels than the Sling Blue and Orange packages combined, and get one of the best DVR services available, Additionally you have the option to include a clutch of add-on networks like the revered HBO Max, which isn't currently available through Sling TV.
(opens in new tab)
How does the Sling price compare to other streaming services?
With almost 13,000 titles, Amazon Prime Video (opens in new tab) has one of the deepest VOD libraries available. But, in addition to excellent entertainment, a $12.99 Prime Video subscription brings the benefits of music streaming, free delivery, access to Prime Gaming, and much more. Plus, if you're hooked on output of a particular TV network - like Showtime or HBO - there are around a hundred available with Amazon Channels for an additional fee.
Considering you get both live TV and on-demand content, Sling TV holds up remarkably well against the likes of VOD-only platforms such as Netflix. But if you just want the very latest, binge-worthy shows and movies, and no filler, you should explore the below offerings.
Netflix charges $9.99 a month for its Basic plan, which grants subscribers a single stream in SD quality. There are thousands of titles to watch, including Netflix Originals Squid Game, Bridgerton, The Witcher, and The Harder They Fall starring Idris Elba. Pay $19.99 to get the best (UHD) resolution and stream on four devices at once.
If you love Marvel, Disney, Star Wars or Pixar, you'll want to pledge your $7.99 to the Mouse House. A Disney Plus subscription lets you stream hundreds of animated and live-action classics, blockbuster movies and National Geographic documentaries, all in HD and on four devices at once. It's got crowd-pleasing original series like The Book of Boba Fett and Hawkeye too, plus you can bundle it with Hulu and ESPN for the great value price of $13.99.
Compared to the above VOD options, HBO Max is the most expensive – at least, it is if you choose its $14.99 Ad-Free tier, which includes 4K streaming and the ability to download content and watch offline. Those premium features are exempt from the more affordable, $9.99 'With Ads' option. Whichever plan you pick, though, you'll get everything from the HBO hall of fame – Game of Thrones, Euphoria, Mare of Easttown, Boardwalk Empire – plus acclaimed animation from Studio Ghibli, box-office hits from DC Entertainment, excellent picks from the Warner Brother library, and award-nominated Max Originals.
More on this:
You can find more information about how to sign up to Sling here (opens in new tab). If you're still unsure whether it's the ideal choice for you, we've also compared the best TV streaming services currently available in more detail.