Mint Mobile plans: quick links
1. Current Mint Mobile plans
2. Plan pricing explained
FAQ:
1. How much data do I need?
2. Is the unlimited plan really unlimited?
3. Should I buy 3, 6, or 12 months?
4. What other carriers are there?
If you're wondering which of the current Mint Mobile plans are best for you, then you've landed on the right page. Everyone's different in regards to budget and use case so we've rounded up a ton of handy tips as well as our thoughts on the current Mint Mobile plans lineup to help you choose the right one. Surprisingly for a prepaid carrier, there's actually a ton of choices at Mint Mobile - including both cheap and unlimited options.
As a rule of thumb, less data equals cheaper rates with Mint Mobile plans, but of course you'll want to consider how much data you'll actually need. We've included recommendations for each plan based on general usage requirements like browsing, social media, and video streaming.
All Mint Mobile plans feature the carrier's somewhat unique pricing system. In a nutshell, you have the choice between buying your data in allotments of three, six, or twelve months - with the longer plans averaging out to lower monthly plans. With Mint Mobile (opens in new tab) you pay for your plans upfront - so be prepared to spend quite a bit at once to get the best rates overall.
While paying upfront can be a bit of a bummer for some when it comes to Mint Mobile plans. It does come with the advantage of having long periods of service where you literally don't pay anything at all - and all without having a contract too. It's worth it in our eyes, especially since Mint Mobile offers some of the best prepaid plans (opens in new tab) out there right now when it comes to value.
Speaking of value, it's not just price that sets Mint Mobile plans apart from the competition right now. The service also offers free 5G access, mobile hot-spotting, and even free calling to Mexico and Canada on all plans. All GSM-compatible phones work with Mint Mobile too, so there's a wide selection of Mint Mobile phones that simply just need a SIM card to work.
To start, let's have a full breakdown of the Mint Mobile plans currently available including price and who each plan is best for. After that, we'll deep dive into frequently asked questions about this service - which you can also skip to using the handy navigation links at the top of the page.
Mint Mobile plans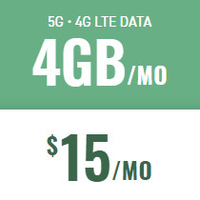 (opens in new tab)
Mint Mobile: 4GB plan from $15/month ($180/year) (opens in new tab)
Mint Mobile plans start with the 4GB data allowance option, which, while the most restrictive in terms of volume, does rock a really manageable monthly cost. If you're a very light user who just does a bit of browsing on the side but tends to use WiFi mostly then this could well be the best option for you. (Prices do not include taxes and fees)
Intro: $15/mo ($45) (opens in new tab) | 12-months: $15/mo ($180) (opens in new tab) | 6-months: $20/mo ($120) (opens in new tab) | 3-months: $25/mo ($75) (opens in new tab)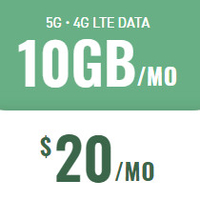 (opens in new tab)
Mint Mobile: 10GB plan from $20/month ($240/year) (opens in new tab)
If you plan on using your phone more often during the commute then the 10GB plan is a good bet. Note, however, that if you're planning on heavily streaming video or video-calling then you'll probably burn through 10GB pretty quickly. (Prices do not include taxes and fees)
Intro: $20/mo ($60) (opens in new tab) | 12-months: $20/mo ($240) (opens in new tab) | 6-months: $25/mo ($150) (opens in new tab) | 3-months: $35/mo ($105) (opens in new tab)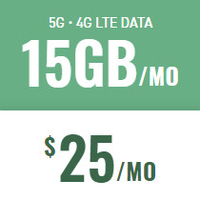 (opens in new tab)
Mint Mobile: 15GB plan from $25/month ($300/year) (opens in new tab)
The 15GB plan is the most generous 'limited' Mint Mobile plan and is a good one if you don't want to spend big but plan on using that Mobile Hotspot regularly. Again, you'll burn through this pretty quickly if you're always watching high-definition streaming content, but if you're careful you can make this allowance go a pretty long way.
Intro: $25/mo ($75) (opens in new tab) | 12-months: $25/mo ($300) (opens in new tab) | 6-months: $35/mo ($210) (opens in new tab) | 3-months: $45/mo ($135) (opens in new tab)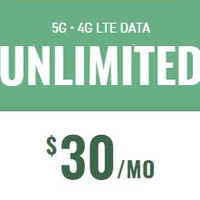 (opens in new tab)
Mint Mobile: Unlimited plan from $30/month ($360/year) (opens in new tab)
Mint Mobile's unlimited plan comes in at a lot cheap than most of the competition and is a great choice if you're going to be streaming and browsing constantly while away from WiFi. Note, however, that there is a pretty strict 5GB data allowance on mobile hotspotting, and data speeds are also capped after 35GB of data usage each month. (Prices do not include taxes and fees)
Intro: $30/mo ($90) (opens in new tab) | 12-months: $30/mo ($360) (opens in new tab) | 6-months: $35/mo ($210) (opens in new tab) | 3-months: $40/mo ($135) (opens in new tab)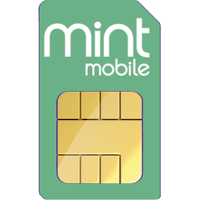 (opens in new tab)
Mint Mobile introductory offer: 3-months at yearly rate (opens in new tab)
If you're new to Mint Mobile, the carrier will automatically enroll you at the best rate possible for your first three months, regardless of which plan you go for. Note - after this, you'll have to buy your plan in a yearly installment to get the same rate as previously, so bear this in mind before you work out your costs.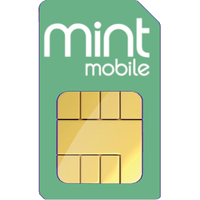 (opens in new tab)
Mint Mobile family plan: up to 5 lines and mix-and-match (opens in new tab)
New for 2022 is Mint Mobile's new family plan setup, which offers the chance to bundle up to 5 lines together on the cheapest rates possible. Simply put, using this family plan you'll essentially pay 'yearly' rates for each line while only having to commit to three months at a time. Even better still, you can mix and match each line and customise your overall plan exactly to your needs without having to pay for any unwanted data.
Mint Mobile plan pricing explained
As you can see from the information above, you've got a choice of 4 data plans, each of which can be bought in chunks of 3, 6, and 12-months respectively with a special one-off introductory offer also available for new customers specifically.
While there's a lot of data to read here the concept is fairly simple - buy your plan in a yearly segment to get the cheapest monthly rate on average. Remember, at Mint Mobile you'll be buying your subscription upfront, even for a yearly plan, so even though you'll be saving more money in the long run expect to pay more upfront for the cheapest plans. The only exception to this rule is if you're buying a family plan of two lines or more - which will always be on the cheapest 'yearly' rate, even though they only run for three months at a time.
If you'd like a bit more advice about which plan to go for, we've covered both how much data you'll need and how many months you should buy in the FAQ section just down below.
What Mint Mobile Plans include
All Mint Mobile plans, regardless of how much data or how many months you buy include the following:
Unlimited talk and text
Free mobile hot spotting (5GB cap on unlimited)
5G and 4G LTE speeds where applicable
Free calling and texts to Canada and Mexico
Unlike other carriers, Mint Mobile plans don't tend to come with an array of freebies or perks like subscription services - which are fairly common bundle item with a lot of cell phone plans. That said, the features Mint Mobile does offer are pretty generous - especially for the money.
For starters, all Mint Mobile plans offer unlimited talk and text as standard, so you don't need to worry about running out when you have those long discussions with the family. You can also call free of charge to Mexico and Canada with all Mint Mobile plans, and they also have free mobile hot-spotting (with a 5GB cap on the unlimited plan). As always, you'll definitely want to make use of those WiFi connections where applicable, and luckily Mint Mobile also supports full WiFI texting and calling.
Another excellent perk is that all Mint Mobile plans offer 5G connectivity. This is definitely becoming more common now across even prepaid carriers, but it's definitely nice to see. So, if you have a 5G smartphone at the ready, get ready for some extremely speedy data.
Mint Mobile plans: frequently asked questions
How much data do you really need?
Good question! This is easily the most important factor to consider when narrowing down which of the Mint Mobile plans is going to be best for you. While data usage differs drastically from user to user, it's luckily quite easy to figure out how much you're using each month and also to plan ahead for the future. Here's what we'd initially recommend for data allowances as a general rule of thumb:
Emailing and messaging - under 5GB of data a month
Web browsing - 5GB a month
Streaming music and social media - 10GB a month
Streaming HD video - 10GB+ a month
To narrow it down further, you'll want to check your data usage via your cell phone settings, which is slightly different for Apple or Android users, but possible on both types of devices. Checking this should tell you how much of your data usage is cellular as opposed to via WiFi - which can really help you determine how much you'll need. Most carriers also offer data usage reports via their websites if you have a login for an account.
If you're someone who's going to be making ready use of a WiFI connection, then you may be surprised at how little cellular data you'll need - especially if you're just going to be checking your emails and messages. For that, the 4GB Mint Mobile plan should suffice, although it's definitely worth bumping it up to the 10GB allowance if you're going to be doing a ton of browsing or a spot of music streaming. If you're going to be streaming video or checking a data-heavy social media feed (like Instagram), then you'll probably want to invest in the 15GB plan. Alternatively, if you're a really heavy user with no access to WiFI, then the unlimited data plan might just be for you.
Does Mint Mobile have family plan options?
Yes. New for early 2022 at Mint Mobile is the option for a family plan of up to five lines (opens in new tab). How it works is like this - you'll mix and match each line according to your data requirements then pay for three months per line upfront. Each line will be on the equivalent 'yearly' price as if you paid for a full year as a single-line user. Essentially the cheapest rate possible with the added benefit of a shorter commitment.
So, let's say you want a three line unlimited plan at Mint Mobile. Under the current setup you'll pay $30 per month, per line, for three months - which equates to $270 upfront. It's quite a bit upfront, but as previously stated, you're basically getting the same price here as if you paid for a full year of each plan separately.
Is the Mint Mint Mobile unlimited plan really unlimited?
As with all Mint Mobile plans, the Mint Mobile unlimited data plan has a few caveats you'll want to be aware of before you jump in and pay for that whole year's worth of data at once.
Firstly, there's a soft-cap on data usage - which means that speeds will begin to be throttled right down to 128KB/s after 35GB of usage. That's still a very, very generous allowance, but compared to the 4G / 5G speeds you'll get initially each month, that 128KB/s isn't much. For context, it's enough to check and send messages and maybe a bit of light browsing, but not much else.
Your mobile hotspot allowance also has a soft cap of only 5GB of 5G/4G speeds as well, and Mint limits your video streaming quality to standard definition only - that's 480p specifically, not 1080p like high-definition.
Being a prepaid carrier, Mint Mobile plans are also subject to 'deprioritization' when the parent network is busy. This will heavily depend on your local area's traffic, but T-Mobile may deem it necessary to slow down your data if there's a lot of congestion to ensure its own customers get the best possible speeds.
Mint Mobile plan add-ons
Mint Mobile doesn't have much in the way of service add-ons, but it does have a couple ways for you to get a little bit more out of your service when you need it.
If you've run out of your high-speed data allotment for a month, Mint offers a way to top up with a data add-on. These will give you the option to add an extra 1GB for $10 or 3GB for $20, and that extra data allotment will be available to you during that current 30-day plan cycle.
If you're planning to go abroad, Mint Mobile can continue to provide you with service, but you'll have to pay extra for it. The rates vary by country. You'll be able to add a international roaming balance to your account with an add-on service called UpRoam, and the unused balance won't expire even if you don't use it all within a month.
Should I get 3-months, 6-months or a year?
It's a little tricky figuring out the best way to pay for service from Mint Mobile because the prices can vary significantly depending on whether you pay for a few months at a time or pay for a year upfront. And, though Mint's monthly prices are low, you'll have to be able to make a larger upfront payment no matter whether you choose a 3, 6, or 12-month plan.
Our advice is to try the initial introductory 3-month period on the lowest rate, then decide whether you're willing to commit to a full year of service. If you're happy after that and decide you're in it for the long haul, then definitely go for a year.
The price advantage is significant by paying for service 12 months at a time. For example, if you choose any 6-month plan and use it for a year (i.e., paid for the 6-month plan twice), you'll end up paying as much or more than you would have paid if you'd selected the next higher tier plan and paid for 12 months upfront. The price you'll pay over the course of a year can almost double if you choose to pay for 3 months at a time instead of annually.
Paying up front may be more difficult financially though, so you might try to start with a smaller plan to lower your mobile bill for three months, and then use what you've saved in that period to help pay for one of the longer, higher value plans.
Mint Mobile plans: other carriers
How do Mint Mobile's plans shape up against the competition?
While excellent, Mint Mobile plans aren't the only cheap prepaid service you should consider if you're weighing up your options. We're always comparing the best cell phone plans (opens in new tab) on the market here at TechRadar, so here are some honorable mentions.
Visible plans (opens in new tab) offer a really, really compelling alternative to Mint if you're looking for a cheap prepaid unlimited plan specifically. While the latest Visible plan comes in at $40 - $10 more expensive than Mint, it offers no soft-caps on speed after data usage and even completely unlimited mobile hot-spotting. Visible also has a really great 'Party Pay' system that'll allow you to bundle up your account with up to three other customers for discounts on each line. This is sort of like a family plan but with the added benefit of being able to party-up with anyone - not just family members.
Metro by T-Mobile is another price-competitive option if you're looking for a network that operates under the main T-Mobile network. At $50 for its unlimited plan, Metro is indeed a little pricier than Mint, but there are no hidden fees or taxes on top and it's still one of the cheaper alternatives out there. With 5G connectivity, 35GB of priority data, 480p video streaming, and 5GB of hotspot data - Metro is pretty much equivalent to Mint in terms of service so it's definitely worth considering. It's also really cheap to add another line (just $20), so it's a great option for couples in particular.
If you're signing up for a family plan with three or more users, then you can also consider T-Mobile's Magenta (opens in new tab) unlimited plan. While bigger carriers don't tend to offer great value, T-Mobile throws in the third line for free on all family plans and offers quite hefty discounts - coming out at just $35/person with four lines or $32 with five lines. This slightly edges out both Verizon's (opens in new tab) and AT&T's (opens in new tab) cheapest unlimited plans since those carriers also charge taxes and fees on top, and you're also getting slightly better streaming service perks with T-Mobile too. As always, the main benefit of going with T-Mobile over Mint is that you'll secure 'priority' 5G access and won't have your connection slowed down when traffic is heavy. Of course, this will depend on your local situation, and most would the lower prices on prepaid plans as more than a worthwhile trade for slower speeds.