Thinking about making the switch to Mint Mobile? Perhaps you've heard of this prepaid carrier but need the low-down before you jump ship. Regardless of whether you're just starting out or already heavily involved in researching cheap phone plans you'll find everything you need to know about Mint Mobile right here.
Simply put, you don't need any prior knowledge of Mint Mobile to make use of this page. We're breaking down what Mint Mobile is exactly, how this company operates, and how much you'll be looking to pay per month - should you sign up. We're also including links to the free trial, information on Mint Mobile's coverage and network, and also a couple of worthy competitors to check out because Mint Mobile isn't the only cheap prepaid carrier in town right now...
Mint Mobile 101
What is Mint Mobile?
Mint Mobile is a prepaid cellular provider
It operates under the larger T-Mobile network
With Mint Mobile plans, you pay upfront for a set amount of months
Three month, six month, and yearly plans are available
The longer the service plan, the cheaper the cost per month on average
There are no service contracts with Mint Mobile
Mint Mobile plans offer 5G, mobile hotspotting, and competitive data allowances
Yes, it's partly owned by Ryan Reynolds...
How much does Mint Mobile cost?
Mint Mobile plans range in price from $15 to $40 per month, depending on how much data you plan to use and how fast you plan to chew through it. Here's a detailed breakdown of what the company's four price package have to offer: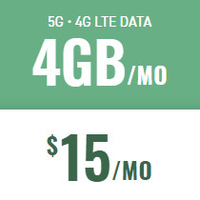 (opens in new tab)
Mint Mobile: 4GB data | Unl. talk & text | $15/month ($180/year) (opens in new tab)
Mint Mobile plans start with the 4GB data allowance option - the most restrictive, but also overall cheapest plan on the service. With unlimited talk and text, plus mobile hotspotting, this is a really great value plan but remember - you'll burn through that 4GB of 5G data in no time if you're using your phone for more than the basics.
Intro: $15/mo ($45) (opens in new tab) | 12-months: $15/mo ($180) (opens in new tab) | 6-months: $20/mo ($120) (opens in new tab) | 3-months: $25/mo ($75) (opens in new tab)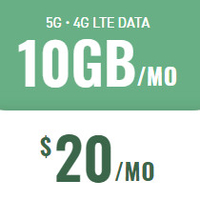 (opens in new tab)
Mint Mobile: 10GB data | Unl. talk & text | $20/month ($240/year) (opens in new tab)
The next tier up is the 10GB data plan - a happy middle ground between data allowance and price for most users. At just $5 more than the basic 4GB plan, we'd definitely recommend upgrading to this one for most users since it's a lot more flexible. That said, 10GB still doesn't go that far if you're planning on streaming a lot of video on your cellular connection.
Intro: $20/mo ($60) (opens in new tab) | 12-months: $20/mo ($240) (opens in new tab) | 6-months: $25/mo ($150) (opens in new tab) | 3-months: $35/mo ($105) (opens in new tab)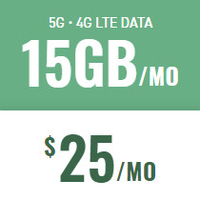 (opens in new tab)
Mint Mobile: 15GB data | Unl. talk & text | $25/month ($300/year) (opens in new tab)
Even more generous still is the 15GB data allowance tier, which is the largest amount you can get at Mint Mobile without committing to the unlimited data plan. 15GB is a healthy amount for most people but if you're a really heavy user you may want to consider upgrading to the unlimited plan.
Intro: $25/mo ($75) (opens in new tab) | 12-months: $25/mo ($300) (opens in new tab) | 6-months: $35/mo ($210) (opens in new tab) | 3-months: $45/mo ($135) (opens in new tab)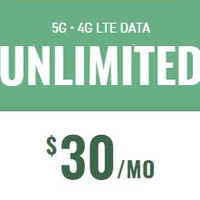 (opens in new tab)
Mint Mobile: Unlimited data from $30/month ($360/year) (opens in new tab)
Mint Mobile's final plan is the unlimited plan - which is fantastic value and about half the price of the plans offered at most of the bigger carriers. Note, however, that you do only get 35GB of data at 5G speeds with this plan though, which might bother some. Still, you have to admit, that's a lot of high-speed data for the price...
Intro: $30/mo ($90) (opens in new tab) | 12-months: $30/mo ($360) (opens in new tab) | 6-months: $35/mo ($210) (opens in new tab) | 3-months: $40/mo ($135) (opens in new tab)
Is Mint Mobile any good?
Value
Mint Mobile really stands out from the crowd when it comes to value. To put it bluntly, Mint Mobile's plans offer a ton of data for the money - way more than some pay-per-month competitors. To give you some idea of what we're talking about, Mint's unlimited data plan comes in at least around $10 cheaper than equivalent rival prepaid plans, and about half the cost of a postpaid plan at AT&T, T-Mobile, or Verizon. Add in free mobile hot-spotting and 5G data speeds and you're getting a lot for your money at Mint Mobile.
No contracts and simple pricing
Like most prepaid carriers, Mint Mobile has a fairly what-you-see is what-you-get way of operating. All you basically need to do is order a SIM card, activate it in your phone, and you're essentially good to go. There are no contracts to sign, no hidden fees, and if you want out all you have to do is stop paying for the service. Of course, the multi-month payment scheme will mean you'll lose a bit of that initial investment if you decide to jump ship before your months are up - but it's still a much more consumer-friendly setup than having to pay off the huge fee that's often incurred at one of the bigger carriers.
What are the drawbacks to Mint Mobile?
Have to pay upfront for multi-month
Paying upfront for a multi-month plan can be a significant investment, especially if you're looking at signing up for a whole year. For example, sign up for a year of the Mint Mobile unlimited data plan and you'll be looking at paying $360 upfront. Of course, you won't be billed again for the duration of your plan, but that's not exactly chump change for most people. Still, if you do have the cash to pay for a year upfront, we strongly recommend doing so as it'll work out as the cheapest option in the long run should you stick with Mint.
Deprioritization
As with all smaller prepaid carriers (MVNOs, short for mobile virtual network operators), Mint Mobile is subject to something called 'deprioritization'. Put simply, the parent network that Mint Mobile uses - T-Mobile in this case, will slow down smaller network users data speeds when traffic is heavy in favor of their own customer's speeds. This isn't unique to Mint Mobile, in fact nearly all smaller companies have this caveat, but it's worth bearing in mind overall. Your mileage is going to vary wildly based on your local network traffic also.
Mint Mobile: FAQ
Is Mint Mobile owned by T-Mobile?
Not yet, but the carrier announced its intention to buy Mint Mobile in March 2023 (opens in new tab) and the takeover is set to take place sometime later this year. The jury is still out right now in regards to whether this is a good thing or not but both Mint and T-Mobile have released statements saying the prepaid carrier will continue business as usual for the foreseeable future.
As far as we know, that means no plan price increases, no changes to monthly allowances, and no changes to the terms and conditions. If you want a more detailed statement from Mint itself, the company has written up a FAQ post over at the official Mint Mobile subreddit that you can read for yourself.
What network does Mint Mobile use?
Mint Mobile uses the T-Mobile network but operates independently as its own company. Mint Mobile is what's commonly referred to as an 'MVNO', which is a company that provides cellular service but doesn't actually own the infrastructure itself. Simply put, if you happen to get good T-Mobile coverage (opens in new tab) then you'll be good-to-go with Mint Mobile (also see Mint Mobile's coverage page (opens in new tab)).
All phones compatible with the GSM networks (AT&T, T-Mobile) should be fully compatible with Mint Mobile, granted they're unlocked. If you'd like to see whether your phone is compatible, then you can use this handy page (opens in new tab) over at the Mint site.
How is Mint Mobile so cheap?
Unlike traditional carriers, Mint Mobile doesn't operate out of any physical stores nationwide - which probably ensures they can keep those running costs down to a bare minimum. Mint also probably doesn't have to pay upkeep for physical maintenance on the network they use, being essentially a renter on the larger T-Mobile network. The business also historically hasn't paid much to run ads through traditional means - although we know this is of course changing now, with various high-profile TV ads being aired recently.
It's likely the Mint Mobile multi-month pricing structure is a contributing factor to overall price as well. Selling cell phone plans in increments of three, six, or twelve months probably keeps subscribers retained at a higher rate in comparison to the traditional prepaid pay-monthly model, and allows them to have a more consistent revenue stream. While Mint was the first to adopt this setup, in recent years we've seen other carriers, particularly Verizon and AT&T, also offer 'buy upfront' prepaid options.
How can I try Mint Mobile?
The Mint Mobile free trial! Unlike most prepaid carriers, Mint Mobile will allow you to sign up for a free 7-day trial (opens in new tab) to see whether the service is for you. Of course, being only 7-days and with an allowance of 250MB data, 250 minutes, and 250 texts doesn't exactly make it the longest of trials, but hey - it's free and a great way to try your luck.
Note - you will need to provide your credit card details to be eligible for the Mint Mobile free trial, but you won't be charged unless you decide to carry on your trial after your 7-days are up.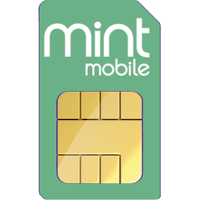 (opens in new tab)
Mint Mobile: 7-day free trial now available (opens in new tab)
Get yourself 250MB of 5G data, 250 minutes, and 250 texts free of charge with the new Mint Mobile free trial. With cell phone plans as little as $15 a month, plus excellent coverage on the T-Mobile network makes Mint Mobile an extremely competitive choice for those on a budget. Previously you had to pay $5 upfront to get yourself a starter kit so this is a great way to try out this excellent prepaid carrier for less this week.
What do customers say about Mint Mobile?
Mint Mobile retains an average user score of 3.7 stars out of 5 on Trust Pilot, which is fairly middling but not bad compared to other mobile carriers. For comparison's sake, users rated Visible 1.6 stars, Verizon 1.3 stars, T-Mobile 1.6 stars, and AT&T 1 star. In short, mobile carriers really get raked over the coals when it comes to customer reviews.
The reason for these poor scores - on Mint as well as other mobile carriers -is generally down to issues with customer service, which operates via a call center. A few reviews also mention mix-ups with activations and poor or slow connections. A few people are also mentioning issues with claiming the free months that Mint often gives away with phone purchases via its store. To be clear, you need to be specifically porting in a number to claim these promotions, which perhaps isn't clear without reading the fine print.
What alternatives to Mint Mobile should I consider?
We'd single out Visible Wireless as the main competitor to Mint Mobile right now when it comes to great value prepaid plans. Visible offers two completely unlimited 5G data plans for either $30 or $45 per month, depending on the tier you want. Overall, it's extremely competitive and doesn't feature the 'soft' data caps you'll find on the Mint Mobile plan (slows down after 35GB of usage). It's also pay per month, so you won't have to pay a big chunk upfront and it's also easier to bail, should you want to try something different. Note, however, that Visible Wireless operates as a subsidiary of Verizon, so coverage may differ depending on your local situation.
For a straight-up alternative to Mint Mobile that uses the same T-Mobile infrastructure for its service, you'll want to check out Metro. This prepaid carrier is a direct subsidiary of T-Mobile and offers a few more options all around for those on a budget - starting with a 'basic' unlimited data plan for $40 per month. In general, Metro's plans are a little more 'premium' than Mint's with things like free streaming service subscriptions and access to the T‑Mobile Tuesdays (opens in new tab) perks program.
If you're looking for another 'buy-in-bulk' prepaid carrier, you could also consider AT&T's prepaid service. While traditionally known for postpaid plans, this carrier does have a prepaid option that starts at just $25 a month (opens in new tab) for a 12GB plan - paying $300 upfront. Generally speaking, this one is fairly light on perks like streaming services or discount perks but it does have rollover data and 4K UHD streaming - just be careful not to eat through all your data. If you do happen to get the best service with AT&T in your area, it's definitely a stronger option if you're on a budget than the traditional postpaid plans.
If you're looking for even more options, we recommend checking out our main best prepaid phone plans page.
Verdict: Is Mint Mobile worth it?
Verdict: Is Mint Mobile worth it?
If you're looking for an inexpensive, no-frills prepaid cell phone plan then the answer is definitely yes - Mint Mobile is absolutely worth it. As a service, it's definitely not the most feature-laden - especially when compared to rival carriers - but for sheer value, it definitely takes some beating.
Mint Mobile is, in our opinion, particularly good value on the set data allowance plans - especially the 10GB/mo (opens in new tab) and 15GB/mo (opens in new tab) plans, which should sit in that Goldilocks zone for most people. If you don't need tons of data, both of these are good options since they generally come in cheaper than the competition and Mint's own unlimited plan.
Speaking of which, the Mint Mobile unlimited plan is also great value coming in at, on average, $10 a month cheaper than the completion. Strict data speed caps after 35GB and limited mobile hotspot allowance (just 5GB) will be a big drawback for some, however, and it's hard to recommend it as a 'true' unlimited data plan like Visible, for example. Still, with a relatively low barrier of entry thanks to the starter kit being so cheap, Mint Mobile is an easy recommendation.
More pages on Mint Mobile to check out
Here at TechRadar, we've got a page covering every aspect of this great prepaid carrier. Our guide to this month's best Mint Mobile plans (opens in new tab) is here to help you decide how much data you need, and also cover basic queries about what's exactly in the fine print. Our page on this month's Mint Mobile deals (opens in new tab) is great if you're all set with Mint and want to check out the best ways to save some cash on a new device. And finally, our guide to the best Mint Mobile phones (opens in new tab) is perfect if you're wanting some handy recommendations on what device to pair up with Mint to make the most of that speedy 5G connection.