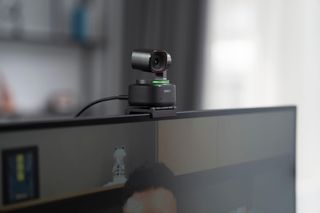 (Image credit: OBSBOT)
In recent years technology was rapidly hurtling toward a future where more and more of our lives are lived online, and this was further accelerated by the COVID-19 pandemic. For many, remote work and virtual schooling became the norm and the need for webcams exploded. Webcam technology has been quite limited with people often settling for low quality or grainy graphics and poor resolution and a lower price point. With the rise of remote work and schooling and the increasing popularity of live streaming, however, there has been a push in the market for better quality webcams.
Auto-Tracking and Auto-Zoom, powered by the magic of AI
In 2020, OBSBOT released the OBSBOT Tiny webcam, a first-of-its-kind AI-powered PTZ webcam product that propelled OBSBOT to the forefront of the smart camera market. Now 3 years later OBSBOT has expanded the Tiny series with the all new Tiny 2. The OBSBOT Tiny 2 utilizes an enhanced, self-developed and patented Deep Neural Learning Network algorithm.
This brand new and enhanced network algorithm improves how the Tiny 2 utilizes gesture support and auto tracking capabilities, allowing the user to control the camera using simple hand gestures. Holding your hand in the shape of an "L", for example, instructs the camera to automatically zoom in and out. The OBSBOT Tiny 2 sits atop a 2-axis gimbal which, when partnered with Deep Learning Neural Network Algorithm, allows the camera to fluently track the subject and keep the person in focus throughout the duration of the video. This is an excellent tool for virtual instructors who often need to move around the room while giving instructions and lectures.
Be your own hands free camera operator with Voice Controls
The Tiny 2's small stature and crystal clear 4K resolution makes it an excellent option for content creators who may want to improve their camera quality without being limited to sitting at a desk. For those who are moving around their recording area but may not have their hands free for gestures, the Tiny 2 can also respond to voice control. Simple commands like "Hi, Tiny" or "Sleep, Tiny" can awaken the Tiny 2 camera or put it back into its privacy protecting sleep mode while pre-set options can allow you to switch between dedicated camera options. Zooming and tracking can also be controlled via voice.
AI-powered auto zoom and auto focus that is fast and accurate
Everybody's seen the Youtube videos or livestream creators who have had to put their hand behind an item they're trying to show the audience to force the camera to focus, but the Tiny 2 wants to make that a thing of the past. The Tiny 2 features a 50-megapixel sensor surface that accurately focuses up to 4x faster while also achieving higher resolutions and high dynamic range even in poor lighting. Not every content creator has the luxury of flawless daylight lighting at all times, and so the Dual native ISOs further improve your camera quality as the Tiny 2 automatically switches to the appropriate ISO for your lighting scenario. This is achievable thanks to the Tiny 2's CMOS which is 1/1.5" larger than the CMOS the Tiny 4K originally shipped with 3 years ago.
Say hello to OBSBOT's tailor made family of webcams and accessories
While the OBSBOT Tiny 2 smart webcam is an excellent and versatile choice for most content creators—including live streamers and unboxers— and general users who want high quality 4K footage for meetings or virtual classrooms and business meetings where the speaker may be moving about the room. OBSBOT has an array of smart webcams that are specifically tailored to satisfy a wide array of camera needs. OBSBOT's Meet4K and Meet1080 are ideal and tailored to the needs of users who are sitting at a desk stationary during virtual meetings or participating in a virtual boardroom where they may be focused on a whiteboard or other visual aids but still want quality, well lit camera footage where they can be seen clearly with beginner-friendly ease of use.
The OBSBOT family of products, including the Tiny, Meet and Me series, will be available on sale with discounts up to 34% off when users clip the coupon beginning July 10 and ending on July 16. The OBSBOT Tiny 2 retails for $329, while the Tiny 4K will be 25% off during Amazon Prime Day at just $179 and the Tiny 1080p will be available for $129. No coupon will be necessary to get a discount on a new smart webcam from OBSBOT on July 11 and 12 during the Amazon Prime Day event.
Get daily insight, inspiration and deals in your inbox
Get the hottest deals available in your inbox plus news, reviews, opinion, analysis and more from the TechRadar team.