UPDATE: LG's fantastic UH950T 4K TV has made it onto our Best TV 2016 list in the 'Best 50 or 55-inch TV' category – read more about it below!
TV technology has come a long way in the past 10 years, and the changes are coming in thicker and faster now.
But with these technological developments comes the questions: What TV technology is best? Which is the best LCD TV? Which screen size is best for your living room? What's the difference between LCD and LED TVs? What exactly is OLED? Why would anyone want a curved TV? Should I get a 4K model?
The answers aren't always obvious. In fact, buying a new TV can be stressful even for the tech-savvy - there are so many brands, so many features, so many screen sizes, colours, technologies and flavours to choose from.
So which one is right for you, your family and your living space? In this guide, we'll walk you through everything you need to know about buying a new TV.
We've figured out the best TVs in a variety of different categories, from Ultra HD to super-sized 75-inch screen, right down to the li'l 32-inchers for that second screen for the bedroom.
But it's not always about the outright best - after all, those can represent some of the most expensive televisual tech you can buy - sometimes you just want the absolute best value screen. And we've got those covered in each category too.
If you want to know what to look out for when buying a new TV check out the second page to arm yourself with all the information you could possibly need.
But first, here's our pick of the best TVs of 2015 - there are some absolute stunners.
Best Ultra HD 4K TV
LG 65EG960T 4K OLED TV
"This is the new benchmark for televisions"
Screen size: 65-inches | Tuner: FreeviewPlus HD | Resolution: 3840 x 2160 | Panel technology: OLED | Smart TV: WebOS 2.0 | Curved: No | Dimensions: 1447mm x 884mm x 236mm
Amazing picture quality
WebOS is great for Smart TVs
You can't afford it
Lack of 4K content
LG's last 4K OLED held onto this slot comfortably when it was launched last year. But the 65EG960T was curved, and the 950T is flat, and that makes all the difference in the world.
Sure, you also get support for HDR content via an upgraded HDMI port, but the real difference is the stunning flat screen. This is easily the best TV we've ever seen, and if you can afford it, you should buy it.
With that said, LG has a new 4K OLED TV range out in Australia which it claims has the "most impressive LG OLED TVs ever seen."
The G6T Signature series features support for both HDR10 and the technically superior Dolby Vision formats, a third generation WebOS interface, and a built-in soundbar. We will review the G6T as soon as possible.
Read the full review: LG 65EG950T
Best value Ultra HD 4K TV:

Best 60, 65 or 75-inch TV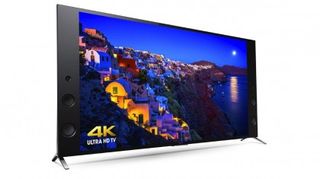 Sony KD-75X9400C
"If there's one thing the Sony 75X9400C is not, it's shy."
Screen size: 75-inch | Tuner: Freeview HD | Resolution: 3840 x 2160 | Panel technology: LED | Smart TV: Android TV | Curved: No | Dimensions: 1041 x 1929 x 322mm
Sensational picture quality
Equally sensational sound quality
Space-consuming chassis design
Upscaling can cause noise
The 75X9400C's pictures boast gorgeous colours and one of the best contrast performances in the LCD TV world. Its sound quality is equally stellar, and some aspects of its smart TV features are well thought through.
Aside from its headline Android TV smart platform failing to convince everyone it's the future of smart television, the 75X9400C is an unmitigated success. Its picture quality is even better than anything Sony managed to produce with the highlight models from its 2014 4K TV range, and its incredibly powerful and dynamic audio is literally music to your ears.
Read the full review: Sony KD-75X9405C
Best value 60, 65 or 75-inch TV:

Best 50 or 55-inch TV
LG 55UH950T
"...stands at the forefront of the HDR revolution."
Screen size: 55-inch | Tuner: Freeview HD | Resolution: 3840 x 2160 | Panel technology: LED | Smart TV: webOS | Curved: No | Dimensions: 1232mm x 709mm x 54mm
Supports Dolby Vision / HDR10
Attractive flat design
Not OLED
Odd curved stand
With support for both HDR10 and Dolby Vision content, the UH950T is a beautiful television that's capable of producing some truly sensational and vibrant images (even if there isn't a whole lot of Dolby Vision content out there at the moment, save for a couple shows on Netflix).
That said, Dolby Vision content is undeniably more impressive than standard HDR10 material, boasting truly gorgeous colours and amazing contrast for a non-OLED television set. If you want a TV that's at the forefront of the HDR revolution, the LG Super UHD 55UH950T (and its bigger but identically-specced 65-inch version, the 65UH950T) will not disappoint.
Read the full review: LG 55UH950T
Best value 50 or 55-inch TV:

Best 40 or 42-inch TV
Samsung UA40JU6400W
"One of Australia's best value smart TVs"
Screen size: 40-inch | Tuner: Freeview HD | Resolution: 1920 x 1080 | Panel technology: LED | Smart TV: Smart Hub | Curved: No | Dimensions: 617 x 928 x 265
200Hz Processing
TouchPad remote
Poor voice activation
Soft standard def
It may not have all the shinies of Samsung's latest smart TVs, but it's still a quality full HD screen and now available for almost half the price that it launched at, making it fantastic value in 2015.
It's not the best upscaler, nor the slimmest TV, but we're quite taken by the Samsung UA40JU6400. Packed with apps within a reasonably polished Smart Hub system, there's plenty of contrast, colour and detail to compete with pricier options. We're also big fans of the Smart Touch remote and of its integration with Samsung Galaxy gadgets, though it does stutter occasionally.
Read the full review: Samsung UA40JU6400
Best value 40 or 42-inch TV:

Best 32-inch TV
Samsung UE32J6300
"Samsung has created the finest 32-inch TV at a canter."
Screen size: 32-inch | Tuner: Freeview HD | Resolution: 1920 x 1080 | Panel technology: LED | Smart TV: Smart Hub | Curved: Yes | Dimensions: 730 x 428 x 79mm
4 HDMI inputs
Sharp HD images
Plasticky build quality
Slow to navigate
What are curved TVs for, exactly? They might be 'curved like your eyes', but lend a bend to a flat-panel TV and a more immersive image isn't the result. In fact, it actually makes very little difference.
Stylistically though this feature-packed 32-incher just about gets away with it, but a plasticky build quality detracts from an otherwise thoroughly polished performance. Add awesome Full HD pictures and unexpectedly excellent audio though and the UE32J6300 is quite a package for a bedroom or second room.
Read the full review: Samsung UE32J6300
Best value 32-inch: