We've rounded up all the best iPhone 14 deals in the UK right here so you can find an excellent value contract on the latest flagship device from Apple or pick it up SIM-free for less.
Now that the iPhone 14 is a good few months old, there are better deals than ever that can drastically reduce both the upfront and monthly costs. On some networks, you can actually get the phone completely for free with small amounts of data, or pay a small upfront fee to get unlimited data.
If you want more information before making a purchase, you can read our iPhone 14 review for our thoughts on the latest handset. Our overall conclusion is that it's a slick and solid phone, but it only offers minor upgrades over the previous generation model. If you're jumping up from a much older phone, though, you'll appreciate the good cameras, screen improvements and performance-boosting new CPU.
The cost of the iPhone 14 initially stung, too, as it launched at £849 in the UK. That's a considerable price hike of £70 when compared to the iPhone 13 and was mostly a result of the weaker British Pound compared to the US Dollar.
However, now that some time has passed, you can save some cash with a number of these iPhone 14 deals. That's both under contract or if you buy the handset separately and pair it with one of today's best SIM-only deals.
If you're still undecided about whether you want the base iPhone 14 or one of the more premium models you can also check out the best iPhone 14 Plus deals, iPhone 14 Pro deals and iPhone 14 Pro Max deals.
Or if you're looking to save money on an older yet still very good handset you can check out more options on our best iPhone deals and best mobile phone deals hubs.
iPhone 14 deals comparison
What's new about the iPhone 14?
iPhone 14: specs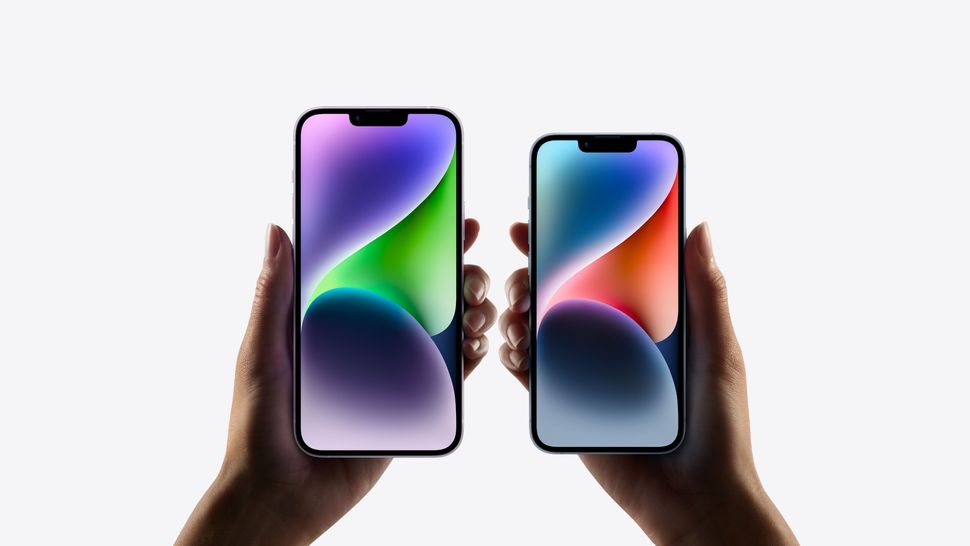 OS: iOS 15 | Screen size: 6.1-inch Retina XDR (60Hz)| Resolution: 2532 x 1170 | CPU: Apple A15 | Memory: N/A | Weight: 174g |Storage: 128 / 256 / 512GB | Battery: N/A | Rear camera: 12MP wide, 12MP ultrawide| Front camera: 12MP
For yet another year Apple has made incremental rather than drastic improvements to iPhone 14. And considering the iPhone 13 was an excellent device then who would blame them?
Apple's iPhone 14 sticks with the A15 Bionic from last year's iPhone 13 Pro as well as the same basic design as the iPhone 13. The camera is where the main improvements are, with a new 12MP main camera and larger sensor providing an improvement in low-light performance.
The device also features a new Gimbal-like stabilisation to make in-movement video more stable.
Satellite SOS calling support is available on the new iPhone 14. However, it's worth noting that Apple has stated that this will be included for free for the first two years of service, but will incur a subscription fee afterwards - and unfortunately it's only available in the US for now.
Read more in our iPhone 14 review.
Should I buy the iPhone 14?
If you are switching to iPhone for the first time or haven't changed your device for a while, the iPhone 14 is a brilliant handset and is worth the investment. You'll find the improvements make a big difference and will have the latest model in your hands which might mean it will last a little longer too.
Another point of view is if you're someone who already owns an iPhone 12 or 13 looking to upgrade to an even better device - iPhone 14 isn't the biggest upgrade you can find. If that is your case, you might find investing some more money into getting an iPhone 14 Pro or Pro Max is a more suitable option.
If you're interested in any of those upgraded and more expensive handsets, you can check out our iPhone 14 Plus review, iPhone 14 Pro review or iPhone 14 Pro Max review for even more information.