I found 5 great Black Friday TV deals under £500, from a big 4K QLED to a cheap 32-incher
Beat the Black Friday rush with these deals on Hisense, Samsung, Philips and Roku TVs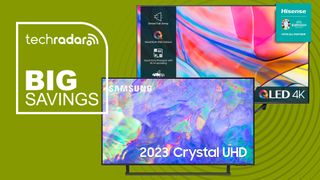 (Image credit: Samsung / Hisense)
Looking for a serious bargain among the best Black Friday TV deals? There are already lots of high-quality TVs that have fallen under the £500 mark, and not just smaller sets. We've found five offers that we think are good value, ranging from a super-cheap 32-inch TV up to a 65-inch option.
At the big-screen end, we recommend the 65-inch Hisense A6K for £449 at Currys (down from £799), because it has the kind of cheaper LED screen that actually looks good at big sizes. And we rate the 55-inch Hisense A7K for £478 at Currys (was £699) if you'd like to focus more on image quality, because it's similar to the A6K but adds QLED and better processing for richer pictures.
At 43 inches, we think the 43-inch Philips PUS8807 for £499 at Currys (was £599) is ideal for next-gen gamers thanks to its 4K 120Hz support, or for anyone who wishes they could have a bigger TV, because its Ambilight makes the picture feel larger. However, if you value having better sound, we recommend the 43-inch Samsung CU8500 for £389 at Very (was £649) because you can also get a soundbar to match it for half price – see below for our suggestion on which one matches it perfectly for £99, meaning you get both for under £500.
Finally, if you just want something small and inexpensive, but with the latest streaming options in an easy-to-understand interface, we like the 32-inch JVC CR230 32-inch Roku TV for £139 at Currys (was £249). We're sure there will be more sub-£500 TV offers among the best Black Friday deals as November progresses, but we think all of these deals are good enough to consider right now.
Today's great Black Friday TV deals under £500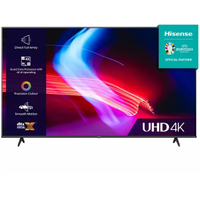 Hisense A6K 65-inch 4K TV: was £799 now £449 at Currys
This big-screen TV has a direct LED screen, which is exactly what we recommend for cheaper large TVs, so you get a more evenly lit picture. Hisense always delivers a lot of bang for your buck, though we should note that this isn't isn't a new discount for Black Friday – it's been this price for a while. But it's still a great price for a 65-inch TV with this level of specification.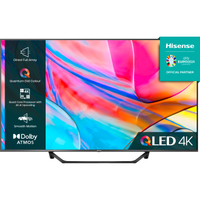 Hisense A7K 55-inch QLED TV: was £699 now £478 at Currys
A great-size TV for most living rooms, with the punchy colours and brightness of QLED. This is also nice for gaming, thanks to support for variable refresh rate tech on next-gen consoles. This is a great price for any QLED TV at this size, but Hisense always over-delivers on rich picture quality on cheaper TVs.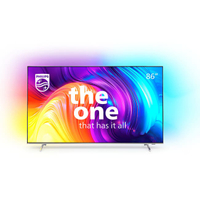 Philips PUS8807 'The One' 43-inch 4K TV: was £599 now £499 at Currys
This is another TV that already fell to this price earlier in the year, but the price went up over the last couple of months and has fallen again now. If you want a smaller TV that's packed with higher-end features, this is it: it's ideal for gaming thanks to 4K 120Hz and VRR support, it supports HDR10+ and Dolby Vision advanced HDR formats, and it has Philips' awesome unique Ambilight feature that spreads light matching what's on-screen onto the wall behind, making the TV feel much larger than it is, and easing eye strain.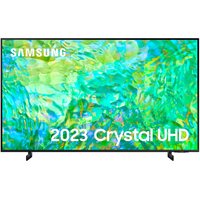 Samsung CU8500 43-inch 4K TV: was £649 now £389 with half-price soundbar offer at Very
This TV is essentially the same as the Samsung CU8000, which got a positive review from us for its rich colours and excellent 4K detail, plus its strong smart TV software. The really juicy deal here is not only the TV, but that Very is offering a half-price Samsung soundbar with it. We'd recommend the Samsung HT-C430 (£199 at Very), which is the right size for this 43-inch TV, and would cost just £99 with this deal, so you'd pay under £500 for both the TV and a big, powerful audio upgrade. Details of this offer are in the TV's description page on Very.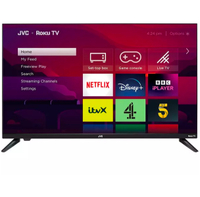 JVC CR230 32-inch Roku TV: was £249 now £139 at Currys
We are about to review a JVC 32-inch Roku TV, though we'll say up front that you shouldn't expect a cinematic wonderland from an HD TV at this size and price (although it does support HDR, which is nice) – but what we really rate here is the smart TV software. Roku TV is excellent: it's easy to use, it's intuitive, and it supports all the key streaming services. This TV also has three HDMI ports, which not all cheap TVs do at this size; many just have two. So if you want a small TV that's won't give you connection headaches and has all the smart viewing options you could want, here you go!
More of today's best Black Friday deals
Get daily insight, inspiration and deals in your inbox
Get the hottest deals available in your inbox plus news, reviews, opinion, analysis and more from the TechRadar team.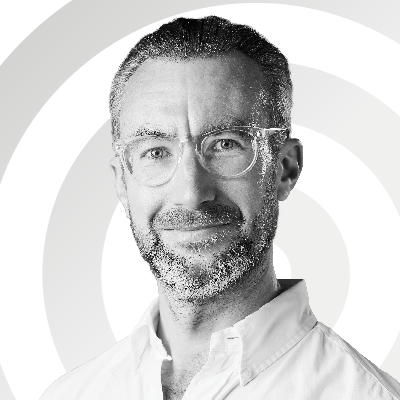 Managing Editor, Entertainment
Matt is TechRadar's Managing Editor for Entertainment, meaning he's in charge of persuading our team of writers and reviewers to watch the latest TV shows and movies on gorgeous TVs and listen to fantastic speakers and headphones. It's a tough task, as you can imagine. Matt has over a decade of experience in tech publishing, and previously ran the TV & audio coverage for our colleagues at T3.com, and before that he edited T3 magazine. During his career, he's also contributed to places as varied as Creative Bloq, PC Gamer, PetsRadar, MacLife, and Edge. TV and movie nerdism is his speciality, and he goes to the cinema three times a week. He's always happy to explain the virtues of Dolby Vision over a drink, but he might need to use props, like he's explaining the offside rule.