Benchmarks
Here's how the Surface Pro performed in our suite of benchmark tests:
3DMark Sky Diver: 6,431; Time Spy: 607; Fire Strike: 1,342
Cinebench CPU: 414 points; Graphics: 68 fps
Geekbench 4 Single-Core: 4,656; Multi-Core: 9,296
PCMark 8 Home: 2,874 points
PCMark 8 Battery Life: 4 hours and 3 minutes
TechRadar Battery Life Test: 6 hours and 58 minutes
Expectedly, the new Surface Pro performs beautifully when tackling every task in this editor's workload. That includes web browsing with multiple tabs open at a time while also word processing, as well as downloading and uploading lots of media files. In addition, it performs more than sufficiently for light photo editing through Lightroom.
As for gaming, anything beyond indies or tablet-friendly games is most likely going to result in a poor, choppy experience, as to be expected. On the other hand, touch-friendly games, like Hearthstone, are simply enjoyable to play on the sharp and vibrant 12.3-inch screen.
Of course, with media creation being the main reason of this device, the 3:2 display will make for larger black boxes than you might be used to when viewing 16:9 and 21:9 video content.
On the benchmarks, the new Surface Pro is on par with the latest iPad Pro on Geekbench 4, one of the few tests that can measure both systems. The Surface Pro's average multi-core processor score of 9,296 is within spitting distance of the iPad Pro's 9,290-point ranking.
Keep in mind that this is the Surface Pro with a 2.4GHz Intel Core i7 processor, the most powerful version of the chip that it can be configured with. Meanwhile, the iPad Pro is just as powerful no matter which configuration or model you choose. (Oh, and we'll just say the Galaxy Book we reviewed doesn't hold up to this configuration.)
To be fair to the Surface Pro, however, its Ultrabook-grade processor powers a deliberately more complete PC experience, with an operating system that lets you to download apps from multiple sources and dig into system files deeper – things that the iOS 12 will never be able to do.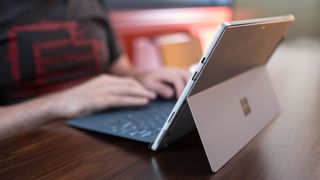 Battery life
One part where Microsoft has improved every year that the competing MacBook and iPad Pro refreshes have not is battery life. With the Surface Pro 2019, the firm was able to shrink its motherboard design, making space for a 20% bigger battery inside.
Combined with power consumption optimizations that the 7th generation (Kaby Lake) Intel processor design delivers, Microsoft promises up to 13 hours and 30 minutes of local video playback from the new Surface Pro.
That's a lofty claim that, unfortunately, doesn't hold up during our tests. That's unsurprising since this has been the case with its earlier products, much less all of its rivals.
The upside, though, is that, based on our tests on the previous model's battery, we undeniably see a discernible improvement. PCMark 8 Battery Life and TechRadar Movie Test resulted in 24% and 32% longer running times than the previous model at 4 hours and 3 minutes, and 6 hours and 58 minutes, respectively.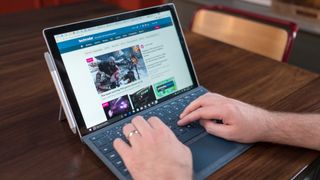 Meanwhile, the iPad Pro was assessed for between 6 and 7 hours of use, and the Galaxy Book lasted longer at 7 hours and 32 minutes playing back local video yet ran nearly an hour shorter in the more intense PCMark 8 test.
These numbers are lower than what Microsoft claimed, but again that's not too surprising. The point is that we're seeing substantial improvements based on our own results, and that's enough for us to applaud Microsoft's team of engineers and designers for getting the job done. You shouldn't have to carry the Surface Pro charger with you everywhere you go, and they're getting closer to that goal.
Final verdict
The degree of how much improved the Surface Pro 2017 is over its precursor and how it keeps its lead over competing 2-in-1 laptops or tablets is not completely surprising. Still, it is more than worth talking about. From the accessories meant to make the Surface Pro 2017 feel even more of a worthy laptop substitute, to its longer battery life, every one of our past concerns have been addressed.
Unfortunately, Microsoft has degraded the Surface Pro's value proposition by pulling out crucial parts of the deal. It made its case weaker, instead of stronger, for example, by pulling the new Surface Pen from every box. It's not a very consumer-friendly move, and it only makes arriving at the decision to purchase harder for potential buyers who might be considering the Surface Pro.
If you're willing to drop a little more for its latest accessories, the new Surface Pro is still the ultimate 2-in-1 laptop and productivity tablet. So much so that, in spite of Microsoft's decision to pull the Surface Pen from the box, it still earns our Recommended accolade.