Benchmarks
Here's how the Surface Pro performed in our suite of benchmark tests:
3DMark Sky Diver: 6,431; Time Spy: 607; Fire Strike: 1,342
Cinebench CPU: 414 points; Graphics: 68 fps
Geekbench 4 Single-Core: 4,656; Multi-Core: 9,296
PCMark 8 Home: 2,874 points
PCMark 8 Battery Life: 4 hours and 3 minutes
TechRadar Battery Life Test: 6 hours and 58 minutes
Unsurprisingly, the new Surface Pro performs admirably for every task in this editor's workload, including web browsing with several tabs at a time while word processing, plus download and uploading lots of media files. Not to mention it works just fine for basic photo editing through Lightroom.
As for gaming, again, anything beyond Hearthstone is going to result in a poor experience. Luckily, touch-friendly games, like Hearthstone, are just delightful to play on the sharp and colorful, 12.3-inch display.
Of course, with media creation being the primary purpose of this device, the 3:2 screen will make for larger black boxes than either you're used to or are far too familiar with when viewing 16:9 and 21:9 videos and films.
On the benchmarks, the new Surface Pro contends with the latest iPad Pro on Geekbench 4, one of the few tests that can measure both systems. The Surface Pro's average multi-core processor score of 9,296 is within a hair of the iPad Pro's 9,290-point ranking.
Mind, that this is the Surface Pro containing a 2.4GHz Intel Core i7 processor, the strongest version of the chip that it can be configured with, starting the cost at $1,599 (£1,549, AU$2,449). Meanwhile, the iPad Pro remains just as powerful regardless of which configuration or model you choose. (Oh, and we'll just say the Galaxy Book reviewed doesn't compare to this configuration.)
That said, the processor inside the Surface Pro powers a more deliberately open PC experience with an operating system that allows users to install apps from multiple sources and dig into system files deeper than even will.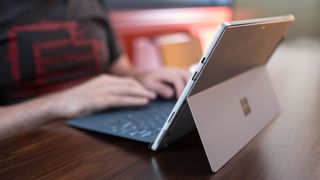 Battery life
One area in which Microsoft has improved year-over-year where the competing MacBook and iPad Pro refreshes have not is longevity. This year, The firm managed to shrink its motherboard design, allowing for a 20% larger battery inside.
Coupled with power consumption optimizations the 7th generation (Kaby Lake) Intel processor design brings, Microsoft promises up to 13 hours and 30 minutes of local video playback from the new Surface Pro. That's a lofty claim.
Of course, we're not surprised to see its claim not come anywhere close to being true in our testing, as has been the case with its previous products much less all of its rivals.
However, based on our tests of the previous model's battery, we no doubt see a marked improvement.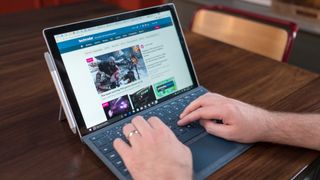 PCMark 8 Battery Life and TechRadar Movie Test results came in 24% and 32% longer than the previous model at 4 hours and 3 minutes, and 6 hours and 58 minutes, respectively. The iPad Pro was rated for between 6 and 7 hours of use, while the Galaxy Book lasted a longer 7 hours and 32 minutes playing back local video but nearly an hour shorter in the more intense PCMark 8 test.
While the numbers are far below Microsoft's promise either way, the point is that we're seeing a sizable improvement based on our own results, and that's enough for us to commend Microsoft's designers and engineers for making it happen.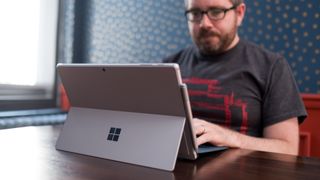 We liked
Microsoft has improved just about every facet of the Surface Pro 4's design while addressing complaints of battery life and even issues some might not have even noticed – like a hinge that could have titled even further. Frankly, with this much improvement inside and out, we're surprised that Microsoft has refrained from calling this the Surface Pro 5.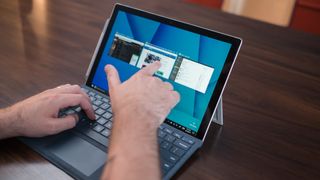 We disliked
Vastly improved or not, taking away the Surface Pen from the package is a tough sell. Not providing any sort of bundling incentive for any of the Surface Pro accessories is now a bigger issue than just refusing to include the Type Cover, and Microsoft is only making it more difficult for newcomers to jump that fence.
Final verdict
While it should come as no surprise, to just the extent of how deeply improved this Surface Pro is over the previous model and how it maintains its lead over competing 2-in-1 laptops or tablets is worth reiterating. From the accessories designed to make Surface Pro feel like an even more worthy laptop-and-tablet replacement to its improved battery life, every one of our concerns have been addressed.
That said, Microsoft has again stumbled on the Surface Pro's value proposition by pulling out parts of the deal. Microsoft didn't manage to make its case any stronger with the Surface Pro, but rather weaker by removing the new Surface Pen from every box. Again, it's not very consumer-friendly and only makes arriving at the decision to buy more difficult for would-be Surface owners.
In short, if you're willing to pay a bit more for the latest accessories than even before, the new Surface Pro remains the ultimate 2-in-1 laptop and productivity tablet. So much so that, despite Microsoft's decision to pull the Surface Pen from the box, it remains worthy of our Recommended award.