TechRadar Deals: DualShock 4, tablets, cameras, laptops and more!
Pick up a great deal on tech before Christmas.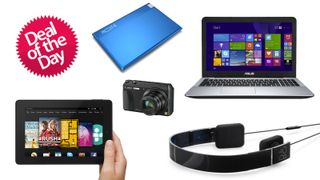 Saving you money is what TechRadar Deals is all about, and we've got some more bargains for you to consider here.
Whether you're after Christmas presents for the family or simply looking for bargains for your own good self, we've got some deals for you!
First up we've got a great deal for you on the PS4's DualShock 4 controller. The standard price for this is £44.99 but you can currently get one for £33.85 using the secret code Gift40 at Rakuten.
That secret code Gift40 can also be used to grab a next-gen copy of GTA V for £34.95 - down from £44.95.
Today's big deals
If you're after a new home device that's ideal for reading books on, watching videos, streaming music and surfing the web, a tablet is what you're after. And Amazon's Kindle Fire HD 7 tablet is currently available with 8GB storage for just £99. The 16GB version is available for just a tenner more at £109.
If a tablet isn't for you and you're after a good value laptop, how about this for a good deal? Currys has the Asus X555LA 15-inch laptop for just £329 at the moment, down from £499. It's powered by an Intel Core i5 CPU, has a 1TB hard drive and 4GB memory.
Compact cameras are always a popular Christmas present request and there's currently a great deal going on the Panasonic DMC-TZ55. It has a 20x optical zoom, records full HD video and packs a 16MP sensor. And you can get all that for just £129 at Currys!
If you're always finding your phone is low on power, you need a portable backup charger for emergencies. The MOTA charge card features a fitted built-in Micro-USB cable so you don't have to worry about carrying any extra cables and it cam be secretly stashed in your pocket, purse, or even your wallet. Currently just £7.99 at Zavvi.
Currently discounted to £49.99 at Zavvi, they're designed for out and about listening.
MORE DEALS
Samsung M3 1TB USB 3.0 Portable Hard Drive - £45.99
Omaker iPhone 6 Case - £7.99
Veho 360 Portable Bluetooth Speaker - £39.99
Sign up to receive daily breaking news, reviews, opinion, analysis, deals and more from the world of tech.