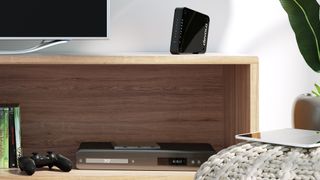 For many, a strong and steady Wi-Fi signal throughout their entire home is the dream. Achieving this with just a standard Wi-Fi router can be very unreliable, though. This is because there are so many factors that can impinge Wi-Fi signal - from the size of your house to the placement (and thickness) of walls and doors. With every house built in such a different way, it can give even the most tech savvy of us a headache.
This is where devolo can help. It's got two fantastic solutions to extend Wi-Fi through your house: Powerline and GigaGate.
Both of these solutions tackle the issue of Wi-Fi signal loss but in slightly different ways. devolo Powerline adapters are the ultimate 'whole home' Wi-Fi solution. devolo's flagship dLAN 1200+ WiFi ac Powerline adapters make use of your home's electrical circuit to provide new Wi-Fi spots and connection speeds of up to 1200Mbps.
It works by simply connecting one of the adapters to your router, then placing another adapter into a socket in a room with poor Wi-Fi signal. As the adapter receives the Wi-Fi signal from your existing power line, the signal isn't stretched but extended so it stays strong.
And you don't have to worry about the loss of a socket, either. The adapters come equipped with their own integrated socket to plug whatever you want into - the bonus being that this won't have any effect on your internet signal.
The great thing about devolo's Powerline solution is that multiple adapters can be added and you can extend the signal all the way out to your shed or basement.
There is also the GigaGate WiFi Bridge. This alternative solution extends your Wi-Fi signal in a slightly different way, because it is not based on Powerline technology, but on a very powerful Wi-Fi technology. It is designed to deliver a fast, point-to-point connection exactly where it's needed in the home.
For instance, if your living room has a strong signal but your office is somewhat lacking in Wi-Fi, then you can connect up the GigaGate WiFi Bridge and it will carry your router's signal over a lightning-fast (up to) 2Gbps connection. You simply plug the base unit into your router and place the satellite unit where a powerful connection is needed for connected devices such as smart TVs, games consoles and media centres.
The GigaGate WiFi Bridge is a powerful piece of kit and one that can be extended thanks to devolo GigaGate Satellite units. The main unit uses 4x4 Quantenna Technology to provide an effective, targeted wireless connection via the 5GHz Wi-Fi band.
Each satellite unit (you can have eight connected to expand to a complete home network) has four Ethernet ports offering 2.4GHz WiFi at up to 300Mbps and a fifth high-speed Gigabit LAN port for even more connectivity options.
devolo has made things nice and simple with its and solutions, offering starter kits for them both.
devolo also produce Home Control, a smart home system designed to improve comfort levels, energy savings and safety. Find out more .
Sign up to receive daily breaking news, reviews, opinion, analysis, deals and more from the world of tech.