We can't get no satisfaction, but do T-Mobile and AT&T give some hope?
The wireless business needs to make some adjustments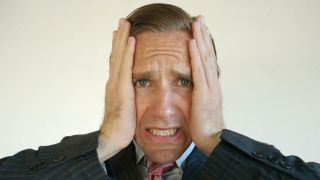 We are a nation unsatisfied with our wireless service providers.
You may have a personal carrier horror story (I have a few), but that's the word coming from the American Customer Satisfaction Index and David VanAmburg, managing director at the independent benchmark that measures customer satisfaction with the quality of products and services available to U.S. consumers.
"It's not among the very worst that ASCI has seen but it's definitely below average in terms of customer satisfaction," VanAmburg said about the wireless biz.
TechRadar spoke with him on the heels of AT&T's Next announcement and less than week after T-Mobile unleashed Jump, wanting to know where customer demand for upgrade flexibility stood in ACSI's estimation.
We also asked VanAmburg to forecast what impact the carriers' moves may have on an industry that, as he put it, most are "mildly dissatisfied all the time" with yet not so disgruntled that they are willing to put up with the hassle of switching providers.
His answers led us to believe we won't see relief from hair-pulling, phone-chucking frustration tomorrow, but there is a sliver of a chance that actual industry improvements are possible.
In a hole
ASCI annually surveys about 1,500 wireless customers, VanAmburg explained, and the index's May report found that the wireless industry saw a satisfaction jump of 2.9 percent to a score of 72 out of 100.
The improvement marked the reversal of a 2-year declining trend, according to the report, and matched the industry's 10-year high.
The carriers' ACSI survey scores

Good news for the whole, but the big four carriers - Verizon, AT&T, Sprint and T-Mobile - were trounced by "all others," a category encompassing the aggregate of the smaller wireless providers, VanAmburg said.
Carriers like Cricket, Tracfone and a pre-sold MetroPCS scored a 78, while Verizon, first among the major names, hit 73. Sprint earned a 71, AT&T a 70 and T-Mobile a 68.
"A lot of those smaller companies are typically pay as you go companies," VanAmburg said. "Generally speaking, we see that no contract customers are already more satisfied in general than the contract customers."
He and the ASCI report cited barriers to switching services, "via contracts with cancellation penalties," as a contributor to lower satisfaction.
Or out?
Now, T-Mobile is taking on customers sans contracts and offering up to two upgrades a year and AT&T is pushing out Next, a program that will let customers upgrade their phones or tablets once a year.
VanAmburg said that the T-Mobile and Ma Bell changes should boost customer satisfaction. The impact could reach even deeper into an industry with a "so mediocre" track record.
"[These moves] suggest that there could be better things ahead in the wireless industry," he noted.
But, back up, are more frequent upgrades something ACSI has witnessed wireless customers asking for?
"We haven't really seen that," VanAmburg said. "I don't know that it is primarily being driven by customers. There probably has been some customer input while wireless companies are saying, 'Wouldn't this be nice to have?'
"It's a way to draw you in, giving you this option to update more frequently. But you are paying more as you go and upfront, versus the great deal afforded to you by the contract."
How the industry scored in different customer satisfaction categories
How "great" the deal afforded to customers when they opt into contracts is up for debate, but VanAmburg's point is well taken.
With Jump, T-Mobile customers pay a down payment on their device ($149.99 for an iPhone 5, $49.99 for a Lumia 925), monthly payments on the phone, a monthly service fee and $10 a month that acts like phone insurance.
After six months, Jump customers can upgrade handsets up to two times a year.
With AT&T Next, customers have no down payment but pay installments amounting to the full, no-contract price of the phone or tablet. The installments are broken down by 20 months, but after 12 customers can upgrade devices.
Service plans stay the same (around $100 a month), and while there are no early termination fees, customers are still responsible for the remaining balance of their installment plan if they want out of Next.
As VanAmburg put it, savvy customers will do the math to see whether it's worth entering into these or any other agreement, but research is key to a more - relatively speaking - satisfied outcome.
Damned for good?
Disdain for contracts came up again and again in our conversation with VanAmburg, and while AT&T is certainly not doing away with them, it is offering an option to non-committal phone ownership – after paying off a device completely, of course.
It's perhaps too wishful to think wireless carriers will ever abolish service agreements, but we had to ask VanAmburg how far he thinks the wireless industry could go in doing away with them.
"So often in a lot of industries, once someone starts something, everyone jumps on the bandwagon," he said. "Who's to say that, within a couple of years, it won't become an irresistible trend.
"It's not going to happen overnight or in six months or a year, but we may be seeing the beginnings of a significant sea change in the way the wireless industry does its business where they don't do contracts and everything is a la cart and pay as you go."
We can only hope.
Sign up for Black Friday email alerts!
Get the hottest deals available in your inbox plus news, reviews, opinion, analysis and more from the TechRadar team.
Michelle was previously a news editor at TechRadar, leading consumer tech news and reviews. Michelle is now a Content Strategist at Facebook. A versatile, highly effective content writer and skilled editor with a keen eye for detail, Michelle is a collaborative problem solver and covered everything from smartwatches and microprocessors to VR and self-driving cars.