AT&T Next says 'me too,' annual device upgrades coming July 26
Carrier unveils answer to T-Mobile's new device upgrade program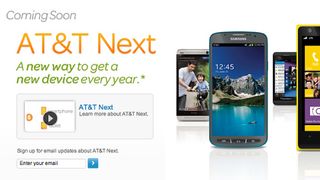 T-Mobile's twice per year Jump upgrades may be a call to arms for U.S. carriers: Amidst rumors Verizon is planning a similar concept in August, AT&T will begin serving up annual upgrades for smartphones and tablets later this month.
AT&T today announced a new initiative called AT&T Next, which allows customers to buy a new device every 12 months without paying the typical activation or upgrade fees that go along with a purchase - or putting any money down.
Launching nationwide on July 26, AT&T Next aims to make it easier to purchase the newest smartphones or tablets with financing-free annual upgrades for both new and existing customers who are currently upgrade eligible.
After 12 months, AT&T Next customers can trade in their current handset for a brand-new model free of the $36 upgrade fee and once again with no money down. AT&T said that no monthly installments will be charged for the original device, and payments will start over with an upgrade.
Upgrade fever
The monthly cost of an AT&T Next device can be tabulated by dividing the full, no-contract price of the device by 20 - the number of months you'll need to pay to own it outright.
For example, the 16GB iPhone 5 would cost $32.50 per month; Nokia Lumia 1020 $33 per month; Samsung Galaxy S4, $32 per month; and a 16GB Wi-Fi + 4G iPad 4 would cost $31.50 per month.
AT&T told TechRadar a phone can be paid off earlier than 20 months, and after the phone is paid off it "is yours and you have no formal commitment to us." However, if you decide to cancel your participation in AT&T Next, you will be responsible for the remaining balance on your installment plan. There are no early termination fees, the carrier noted.
AT&T Next costs nothing extra, and works with all existing data plans, including grandfathered unlimited data customers who are eligible for an upgrade.
Sounds too good...
Now the gaping hole for AT&T with Next is found in service fees. Whereas T-Mobile implemented new, less costly service plans when it made its UN-carrier moves earlier this year, AT&T's service plans and associated fees show no sign of changing.
T-Mobile CEO John Legere chimed in on this element with a tweet: "Did AT&T really just start charging full price for devices without discounting their rate plans? OMG. Really? #asktheschoolkids."
AT&T Next will roll out nationwide on July 26, but the carrier is launching a pilot program today in Las Vegas for those who want to roll the dice early - or place bets on those rumors that a similar offering from Verizon will be arriving next month.
Sign up to receive daily breaking news, reviews, opinion, analysis, deals and more from the world of tech.