Update: An LG Wear OS-powered smartwatch has been listed by the FCC, suggesting that it's on the way soon, though interestingly this is the second LG watch we've seen listed in less than a month.
LG has a new watch on the way and this one's apparently analog. Wait! Don't go! It's also digital, with both a Wear OS-powered screen and mechanical hands.
The upshot is you should be able to get full smartwatch functionality and, when the battery inevitably dies, still know what time it is.
We've also heard rumors about some of the other specs and features, all of which you'll find below, along with information on the likely-imminent release date.
We've also heard that LG may be set to unveil another smartwatch alongside this, although rumors for that one are a lot more limited. Plus, we've come up with a list of all the things we want from LG's upcoming wearable.
Cut to the chase
What is it? LG's next smartwatch
When is it out? Probably very soon, maybe even by the end of July
What will it cost? Maybe around $300 / £300 / AU$400
LG Watch Timepiece release date and price
LG's last Android Wear devices (the LG Watch Style and LG Watch Sport) both landed over a year ago, so we're due a new one.
It was previously rumored that the LG Watch Timepiece would launch on April 30. That, of course, didn't happen, but if there was any truth to that rumor it suggests that the wearable is coming very soon.
We also thought Google IO 2018 was a possibility for the launch on May 8, but Google didn't unveil it there. We've also since heard word from one source that it may be ready for a July release this year.
However, two LG smartwatch models have recently passed through the FCC (US Federal Communications Commission) and that suggests the Timepiece - or some kind of wearable - is coming very soon.
We have less idea about the price, but based on the rumored specs and features it might land somewhere between the LG Watch style, which launched at $249/£229, and the LG Watch Sport, which started at $349, so perhaps the LG Watch Timepiece will be roughly $300/£300 (around AU$400)?
There's also another LG Watch that's rumored to come alongside the Timepiece, although we don't currently know any specific specs for that smartwatch.
LG Watch Timepiece news and rumors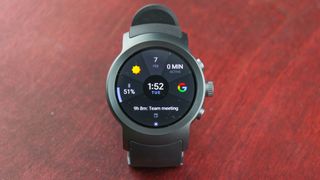 The first leak for the LG Watch Timepiece was a big one, detailing most of the specs and features.
According to Android Headlines, the Timepiece will run Wear OS, but as well as a screen it will have mechanical hands. That will allow it to keep telling the time for much longer between charges, with its apparently 240mAh battery said to keep the clock ticking for up to 100 days in its most basic time-telling mode, apparently dubbed 'Watch Mode'.
Use the LG Watch Timepiece as a proper smartwatch and it can still supposedly keep telling the time for up to 100 hours once its main battery has died.
We've seen a similar combination of real hands and a smartwatch display on the MyKronoz ZeTime, but it's interesting to see a big brand like LG embracing the idea of fusing the two technologies.
The same source says that the LG Watch Timepiece will have a 1.2-inch 360 x 360 screen, 768MB of RAM, 4GB of storage and dimensions of 45.5 x 45.4 x 12.9mm, and will be available in New Aurora Black and Cloud Silver. All of which is a fairly standard assortment of specs for a Wear OS device.
It also says the watch will come with a Snapdragon Wear 2100 chipset inside. That's what we've seen power a variety of Wear OS watches over the last two years, but Qualcomm has revealed it's hard at work on an upgraded processor for top-end watches.
Qualcomm has yet to reveal this technology though, so it may be the internals for the LG Watch Timepiece are using the older tech because the newer chipset won't be ready in time.
All of this sounds very similar to the LG Watch Style from a specs perspective, but with 50% more RAM and a thicker build. Like its stylish predecessor, the LG Watch Timepiece will also apparently lack GPS and NFC though.
One FCC filing we've seen calls the device the LM-W315, which makes sense considering the last two watches from LG were both called the LM-W280 and LM-W270.
That same FCC document also suggests LG is working on a major UI change for upcoming watches that will give it a circular carousel app list rather than the vertical scroll on most Android Wear / Wear OS watches.
It'll mean the apps on your watch work in a similar way to the Samsung Gear Sport or Gear S3, and this may be an introduction for the LG Watch Timepiece when it launches.
The testing from the FCC was for both Bluetooth and Wi-Fi, but there's no sign of LTE on this particular model. It may be LG plans to have a separate device with mobile internet capabilities, but we've yet to see that in an FCC filing if so.
Interestingly, we have actually now seen a second filing, this time for a watch dubbed the LM-W319, but this one makes no mention of LTE either, so it's not clear what the difference between the two will be.
What we want to see
The LG Watch Timepiece might be landing soon, and when it does we hope it has the following features.
1. Decent battery life
One of the biggest problems with smartwatches in general and with the LG Watch Style specifically is battery life, and we mention the Style because the LG Watch Timepiece is rumored to have a battery of the same size. That's a worry.
While we may be able to keep using it as a watch for far longer, thanks to the rumored mechanical hands, we really want to get more than a day's use out of the smartwatch functions, so hopefully that will be possible here.
2. GPS and NFC
Rumors suggest the LG Watch Timepiece won't have GPS or NFC, but we hope they're wrong, as without them its 'smart' functionality will be limited.
NFC is needed for contactless payments, while GPS is necessary to track runs and other excursions. Sure, you can use your phone for both, but that can be less convenient and means having to carry your phone with you even when you're out on a jog.
3. A stylish design
One thing we don't know much about yet is the design of the LG Watch Timepiece, though the rumored dimensions of 45.5 x 45.4 x 12.9mm put its size somewhere between the LG Watch Style and LG Watch Sport.
That's acceptable, even impressive given that the company is apparently squeezing mechanical hands in there too, but hopefully it looks and feels stylish and expensive. With mechanical hands this could almost pass for an analog watch and we don't want it to look like a cheap one.
4. Full waterproofing
The LG Watch Style has IP67 certification and the LG Watch Sport has it beat with IP68 certification, but neither of them are really designed to be taken swimming, which is what we want from the LG Watch Timepiece – especially if it also has the tools to track us while we're in the pool.
Given that it's rumored to lack GPS and NFC we doubt we'll get this, as it's probably going to be a fairly basic smartwatch, but we live in hope.
5. Standout features
A major problem faced by Wear OS devices is the lack of a standout feature. Many of them are very similar and arguably few if any are anywhere near essential – rather, they're luxury items that can add a little convenience to your life.
What we'd really like is for the LG Watch Timepiece to truly justify its existence. If it has mechanical hands as rumored that could be a big step in the right direction, and certainly help it stand out from most Wear OS watches, but ultimately all that would do is make it a match for a conventional watch (with smart features on top), so we'd like to see something more from it.