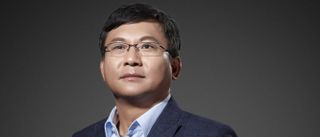 Written by Lixin Cheng, CEO of ZTE Mobile Devices
10 years ago, an ingenious, elegant design and revolutionary execution displaced the then-current standard for mobile communications and ushered in the smartphone era.
Smartphones succeeded because they provided more opportunities for consumers to access and interact with content than existing mobile phones. But since the first smartphones came to market, device development has now slowed to a crawl.
Take a look at the first iPhone or any early smartphone; they don't look much different from models announced recently other than small changes in screen size, material and thickness. Today, hardware breakthroughs have devolved from major new concepts to minor iterations, such as screen resolution, camera quality, and memory. And while prices continue to climb to unreachable new heights, the overall experience has not changed much.
Are the best minds our industry has to offer reduced to pondering inconsequential updates, such as whether the latest models have headphone jacks or a 0.01mm bezel difference? Is this what we're satisfied to call innovation? I, for one, am not.
Smartphone manufacturers have been content to rest on their laurels and too-often pursue the easy path of minor hardware and software improvements. At the same time, over the past few years the technology industry as a whole has been responding to the evolution of consumer needs.
Carriers have developed ever-faster networks with spotless coverage around the world, enabling their consumers to do more with their smartphones: stream HD content, share high-quality pictures, and stay connected to the world around them instantaneously no matter where they are.
Hardware continues to evolve helping deliver more powerful devices that are thinner and faster. The problem is that the smartphone industry has been relying on the next iteration of chipsets or a bigger screen to increase prices while the overall experience only slightly varies.
Software has also evolved with the popularity of such apps as YouTube, Facebook, Instagram, WhatsApp, and others. Consumers want to interact constantly and simultaneously with content yet the ability of the current generation of smartphones to make that experience easy, seamless, and efficient has not kept pace with their needs and expectations.
While the smartphone has not changed much over the past few years, consumer habits have evolved significantly. The ability to stream HD content, connect via social media, and perform a host of other activities has given us a glimpse of our future; a connected world with no barriers in how we consume content at any moment, all at the same time. However, there is now a major disconnect between what this future holds and the decade-old design of smartphones, limiting the ability of consumers to do more.
The one device that is most important in our lives is holding us back. It is time the current generation of smartphones evolved in order to create new ways for consumers to engage with the experience the technology industry overall is making possible.
As a smartphone industry we must put the consumer experience first and come up with new revolutionary concepts that enable them to go beyond what seems possible today. To do so, bigger strides must be taken. If the industry does not transform itself, a new, disruptive technology will look to supplant it.
Now is the time to step up and provide consumers with a new mobile experience. ZTE will forge a new path, taking a ten year old assumption of how smartphones should look and function, and turn it on its head. ZTE will lead the way, transforming the mobile experience, and beginning a new decade of innovation.
Mr. Lixin Cheng is the CEO of ZTE Mobile Devices. Mr. Cheng joined ZTE in June 2010 as President of North America Region of ZTE Corporation and CEO of ZTE USA, Inc. Since that time, Cheng has grown the ZTE North America handset business from near zero to the fourth largest smartphone vendor.
Sign up to receive daily breaking news, reviews, opinion, analysis, deals and more from the world of tech.