Almost everyone has a tablet nowadays, so why not pick one up for the person in your life who doesn't have one?
Tablets are more portable and lightweight than laptops, but provide the extra screen surface a smartphone can't. Our holiday gift guide wouldn't be complete without the bus load of new tablets that came out this year, especially since they all seem to be better than the next one - specs-wise and price-wise (we wouldn't be surprised if you got one for yourself).
New Nexus 7 - $299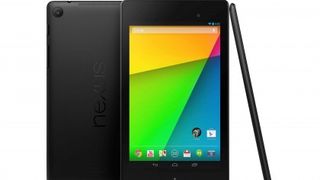 Google's earlier Asus-made Nexus 7 was already an amazing compact tablet so it's no wonder the new Nexus 7 is also a dream.
With a low starting price, great battery life, powerful performance and beautiful HD screen it hurdles right over the expensive less impressive iPad mini.
The 16GB or 32GB go for a mere $299 and $339 respectively, with an LTE version selling for $439.
iPad mini 2 with Retina display - $479
The iPad mini was missing one little thing to really compete with Google's Nexus 7 powerhouse, and with the newest iteration from Apple, it looks like the search engine giant will have a worthy Cupertino 7-incher.
Actually, the iPad mini 2 measures in at 7.9-inches, exactly the same size as the year-old iPad mini, but the display comes with a resolution boost of 2048 x 1536 meaning that it has a Full HD display. This doubles the original iPad mini's 163ppi to 326ppi.
With the Retina technology on board, the new iPad mini comes with a resolution of 2048 x 1536 meaning that it has a Full HD display. This doubles the original iPad mini's 163ppi to 326ppi.
Surface Pro 2 - $1,019
Microsoft's latest tablet seems pretty much the same as the previous iteration, but in actuality, the 10.6-inch Surface Pro 2 is much more powerful.
The added upgrades really can't be ignored especially if you're looking to get a Windows 8.1 device. Running Intel's latest i5 Haswell chip gives it some appreciated speed and battery life making it almost as quick as an Ultrabook.
The $1,019 price is steep, especially for a tab, but someone in your life would probably greatly appreciate this well-made machine over its bulkier, even more expensive counterparts.
Sony Xperia Tablet Z - $539
Sleek, powerful, iconic - these are all words used to describe the impressive tablet from Sony.
With a super slim chassis, impressive screen and whole glut of Sony extras on board, Sony has surpassed expectation with this and delivered a tablet that wouldn't look out of place in a business class lounge or at the center of a home entertainment network.
It's light, really light, yet looks premium, all the while being waterproof too - sure, you might not use that feature a whole lot, but it gives it an air of ruggedness that puts your mind at ease when manhandling something that costs so much.
iPad Air - $598
Apple hater or Apple lover, you know the iPad Air is going to be a major seller this year, which is why it's definitely on our holiday gift guide.
We really can't blame the Apple fans in your life for desperately wanting an iPad Air tablet though - it's 20% thinner at just 7.5mm, which is a whopping 2.2mm thinner than the outgoing iPad 4 and more than a millimeter thinner than Google's Nexus 10 or Nokia's 2520.
You can pick up this faster, lighter, slim-bezeled beauty from a variety of places starting at $598 for a 16BG Wi-Fi only model, where 32GB costs $699, 64GB is $799 and the 128GB for a hefty $899.
If you want a little cellular data with your Wi-Fi connection, you'll have to dish up to $749 for 16GB, $849 for 32GB, $949 for 64GB and $1049 for 128GB.