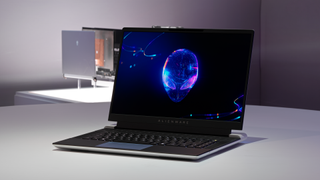 (Image credit: Dell)
What's more luxurious than a gaming laptop with the best possible specs? A laptop that uses those specs for much more than just gaming.
From its grown-up aesthetic and sleek chassis to a preposterous amount of power under the bonnet, Alienware's new 2023 x16 laptop is gunning for the title of most luxurious laptop ever to crash-land on Earth from Alienware's extraterrestrial labs. Here's how it takes… well, just about everything to the next level.
1. RGB, but not as you know it
It's basically the law now: all hardware intended for the purposes of gaming must henceforth feature the drippiest of RGB lighting. Multicoloured light shows are on every peripheral and component, so it takes a hell of a lot for any product to stand out with the sheer quality of RGB lighting on display.
And that's exactly what the lighting zones around Alienware's x16 achieve. Alienware calls this tech 'AlienFX' and it's achieved by using an incredibly high density of micro LEDs to create lighting zones that blend together in amazing fidelity.
The RGB zone running along the rear edge of the x16 uses 100 micro LEDs that make this laptop really stand out from the crowd.
And just in case that wasn't luxurious enough, the x16 also features an animated light zone touchpad. To clarify: even the damn touchpad is decadent.
2. The specs you'd expect from a 17-inch laptop… in a 16-inch laptop
The conventional wisdom around gaming laptops has long been that if you want the best performance, you go for the biggest model. Not only do you get a larger panel size to enjoy all those meticulously traced rays and the deepest of learning supersamples on, you also benefit from the increased airflow and cooling that a bigger chassis offers.
And that's all still true. But the x16's able to devote up to 175W towards graphics performance, meaning you can spec it with an RTX 4090 - something you'd typically only expect to see on larger laptops. The 2023 x16 follows on from the 17-inch Alienware x17 gaming laptop with a form factor that's 2.4mm thinner but doesn't compromise on cooling or performance. The battery within's capable of 90Wh, but sits in a super-thin and sleek chassis.
That means it's more mobile, and thus better suited to use as an all-rounder laptop, ready for gaming but also for video editing, music, content production, or whatever work you need to get done on the move.
3. A grown-up look that suits tasks beyond gaming
On that note: the visual design of the x16 strikes a fine balance between some stealthy gaming touches - like that aforementioned stunning RGB lighting - and a sophisticated look that wouldn't look out of place in an editing suite or a recording studio.
It's all built around a nanobead-blasted anodized aluminium exterior that gives a sophisticated look and feel to the x16, and despite the high specs (more on that below), it retains a thinness that gaming laptops traditionally haven't been able to offer. Gone are the chunky, wheezing portable behemoths of yesteryear.
4. As high-spec as it gets
How many desktop machines can compete with the spec sheet on the x16's £3429 starting price build? An Nvidia RTX 4080 laptop GPU, 32GB(!) of LPDDR5 RAM, 1TB of M.2 storage, and all 14 cores of Intel's Core i9 13900HK CPU clocked at up to 5.4GHz at Turbo frequency.
Not only does that componentry slay the most gorgeous and demanding games, but it's also a formidable workstation, editing PC, or music production base. The number of CPU cores and a huge amount of available RAM is especially handy when you're rendering videos full of complex transitions and animations, and in the audio world, RAM will keep your DAW responsive even when you've gone way past the sensible limit of plugins.
The speaker array's impressive too - six speakers with Dolby Atmos support give you a nice wide, immersive sound space.
5. A 240Hz panel ready for competitive gaming
All those specs wouldn't count for much if the x16's screen wasn't up to the job. But this is the most luxurious laptop ever, remember? So obviously it's running at a 240Hz refresh rate at 2560x1600 native resolution. Obviously, it's G-Sync enabled. This shows off all the graphical heft that the RTX 4080 can achieve on a spacious 16-inch display. It also carries Alienware's ComfortView Plus technology which filters out blue light without impacting performance or image quality.
Discover more about Alienware's all-new x16 gaming laptop, with an NVIDIA 4080 config at £3429, at the official Alienware store.
Sign up for Black Friday email alerts!
Get the hottest deals available in your inbox plus news, reviews, opinion, analysis and more from the TechRadar team.