The best photo printers will produce high-quality prints of your high-resolution images. While just about any printer can reproduce hard copies of your photos, it's only these photo printers that are up to the task, delivering prints that practically photo lab quality.
Whether you want to print out photos for your photo books, to put them up on your walls, or as gifts to family and friends, only the best photo printers can see you through your needs. And, unlike photo labs that typically charge a premium for prints, they're cost-effective as well, saving you a few bucks.
There's a variety of the best photo printers out there. Some photo printers, much like the best all-in-one printers and home printers, are quite multifunctional, allowing you to also print, copy, and scan documents. Others are made solely to meet all your photo printing needs, from wireless printers meant to be used with a smartphone to professional photo printers that make studio-quality prints. So let us help you choose the one that best meets your needs and budget.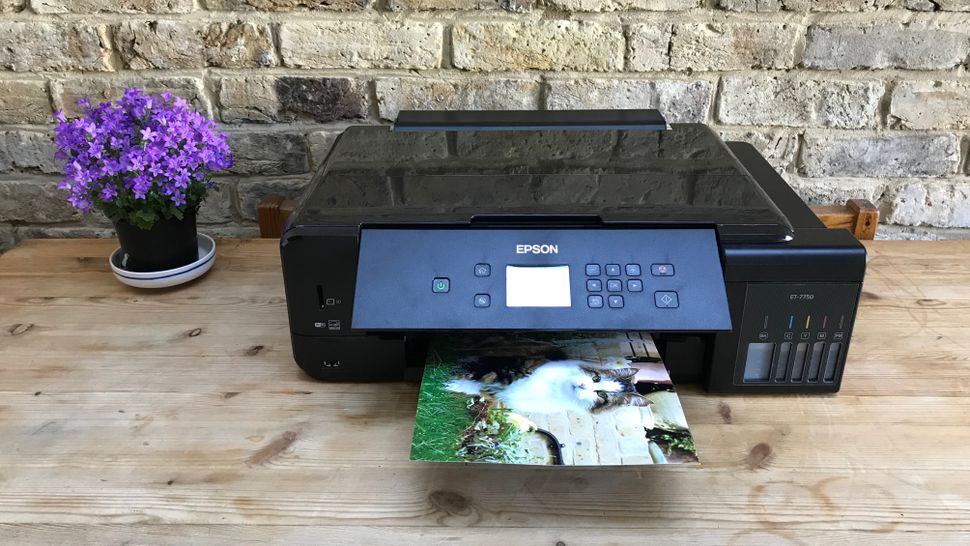 It looks a little ungainly with the refillable ink tanks ruining the symmetry of this otherwise compact all-in-one, but it's the refined EcoTank system that sets this model apart from the competition. If you can swallow the high price tag, your ongoing ink costs will be very low and Epson's five-colour printing guarantees excellent image quality, especially with photos on photo paper.
Read the full review: Epson EcoTank ET-7750
Instead of the usual four inkjet cartridges, the Canon PIXMA iX6850 uses five inks to create naturally colored photos and crisp text documents. Being able to replace each one individually makes economic sense too. It can't print both sides of a page automatically (duplex), but this machine is well connected with an Ethernet port, Wi-Fi and AirPrint compatibility. The most significant feature, however, is its ability to print on any size paper up to A3+ (329 x 483mm) making it perfect for printing large spreadsheets and photos.
The Epson Expression Photo HD XP-15000 uses six high-quality Claria ink cartridges to achieve a more lifelike color palette when it comes to printing photos. It also has the ability to handle A3+ sized paper for printing super-sized images or large spreadsheets. It also functions very well as a regular A4 printer thanks to a surprisingly fast output of 29 black and white pages per minute and the ability to print on both sides of the paper (auto duplex).
The Canon Pixma Pro-100 is a monster of a photo printer. Its 8-ink dye system called ChromaLife 100+ provides excellent color accuracy and a wide range of colors for vivid prints that you would want to hang in a museum. Its large format allows you to print up to 13" x 19" prints and, with its two paper trays, you're able to cover just about any paper stock you can think of, making this printer incredibly versatile.
Despite its sleek dimensions, this smooth 3-in-1 inkjet device is able to print on A3-size paper and uses not four, but six inkjet cartridges to achieve superior colour accuracy. It means your ink costs are rather high, but it's worth it for the beautifully shaded results. The scanner is only A4-size, but it makes very high resolution scans and combined with the high print resolution, you can make near identical colour copies. There's no fax and print speeds are slow, but in all other respects, the Epson Expression Photo XP-970 is hard to beat. For an idea of its performance you can read our review of the almost identical Epson Expression Photo XP-960.
This humble all-in-one can scan and copy, but its real strength is in printing photos. Frustratingly, there's no Ethernet port, or USB port for printing from a flash drive and it churns very slowly, but the results are surprisingly good for such an affordable inkjet. The supplied starter cartridges are rather light on ink, but if you replace them with high-capacity carts, then the running cost is competitive too.
Sitting at the top of Canon's Pixma range, the TS9150 looks like a premium product as you might expect, with a giant touchscreen display nestling up-front. It also boasts a high-resolution printing and scanning and Canon's excellent six-ink system. By using black pigment ink alongside dye-based colours, photographic prints look especially realistic.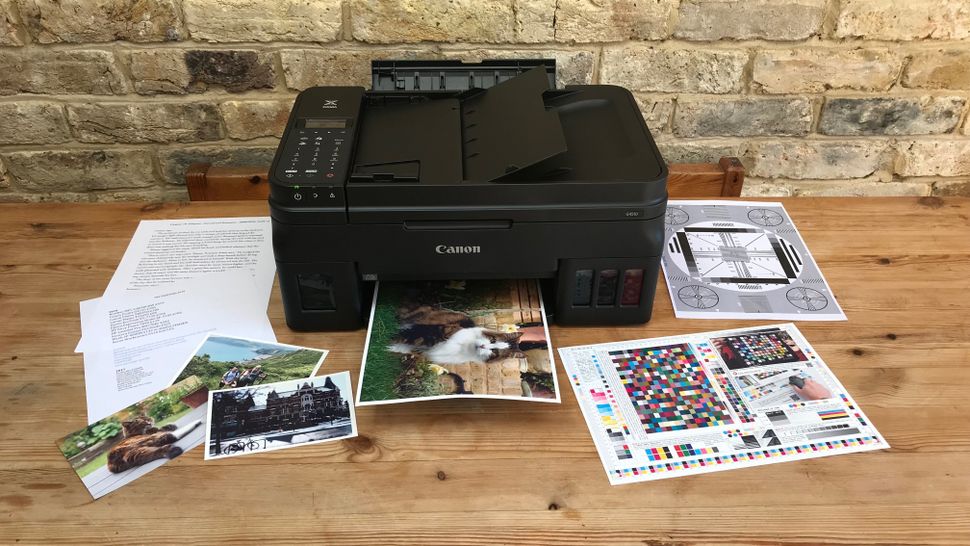 Canon's most affordable printer to include ink tanks instead of cartridges is a modest 4-in-1 that could work well in a small office that needs to run out lots of colour documents. It prints very slowly and cannot print on both sides of the page, but in all other respects, it holds up well. The cartridge-less system is very economical and the box includes enough ink for 6,000 mono and 7,000 colour pages.
Read the full review: Canon Pixma G4510
The Epson EcoTank ET-2720, known as the Epson EcoTank ET-2715 in UK, is the most affordable of the color Supertank printers and probably the most economical way of printing photos too. The unit ships with enough ink in the box to last two years (or 4,500 pages) with bottled ink costs working out around 80% lower than cartridge ink. It also functions very well as an all-in-one for the home office with a surprisingly fast print speed of 33 mono pages per minute.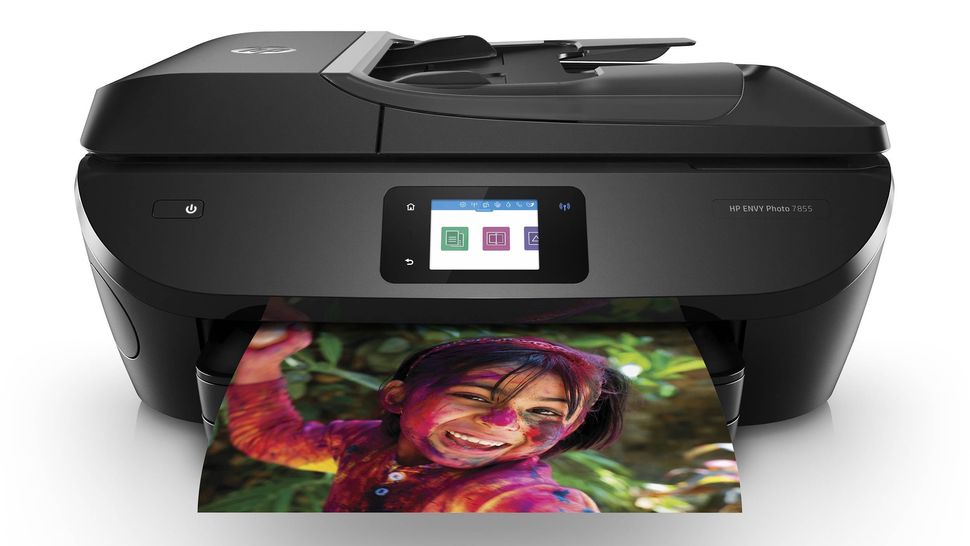 HP's oddly shaped all-in-one includes every feature from a fax facility, to an SD card slot, while giving you easy access to them via a colourful touchscreen interface. The coloured inks are combined in one cartridge and if you subscribe to HP's Instant Ink service, it will be automatically replaced just before you run out. It feels a little flimsy, but photos prints in particular, look vibrant.