Can you get a good mattress for less than $500? We investigate
Does your dream bed need to cost a fortune?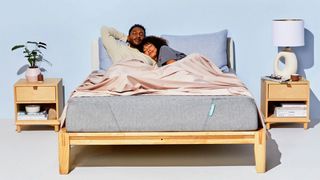 (Image credit: Siena Sleep)
Mattress prices vary widely, stretching from a couple of hundred to several thousand dollars. But do you need to spend a lot of money for a decent night's sleep? Or can you get a good queen-sized mattress for less than $500?
While very few of our best mattress choices are sold for less than $500, the best affordable mattresses deliver reasonable quality at a lower price. Sale season is the best time to shop for comfort on a budget. The Black Friday mattress deals traditionally deliver the lowest prices and you might be able to grab a bargain. Let's look closer at whether you can get a good mattress for less than $500...
Can you get a good mattress for cheap?
It is possible to get a good queen-sized mattress for less than $500, but it's not easy. Even the best budget mattresses tend to sacrifice durability, while the worst choices won't have enough support for an adult body. If you can, we recommend spending a little more to get a mattress that meets your sleep needs.
We recommend spending between $800 and $1,200 on a queen mattress, but we recognize that isn't possible for everyone. You can find a good mattress for less than $800 (and plenty for more than $1,200). If you're trying to set a budget, check out our guide to how much should I spend on a mattress?
How to find a good mattress under $500
A limited budget doesn't mean you have to buy a bad mattress. Our how to choose a mattress guide can show you how to find a mattress for your body type and sleep style. And there are a few other things to keep in mind when choosing a budget mattress:
Pay close attention to the material. Many of the better budget mattresses are made from affordable memory foam, but you can sometimes get a good hybrid model for less. Check out the height of the mattress as well – some of the cheapest models are only six inches deep. That's not enough for an adult.
Read the reviews. We have lots of budget mattress reviews here on TechRadar to get you started. Look at the reviews on the manufacturer's website (or Amazon), for a wide range of user experiences.
Familiarize yourself with the extras. That's the trial period and warranty. You should expect at least a few weeks to try a mattress out before you commit. And while a long warranty doesn't ensure durability, a short warranty can be a bad sign.
Buy a cheap mattress if...
We're not going to tell you that you can't buy a mattress for less than $500. Only you know your needs and your budget, and there are many reasons why a sub-$500 mattress might be the right solution for you. Below, we've covered some of the best reasons to buy a cheaper mattress.
✅ You need a short-term solution
Decreased durability can be a problem with cheaper mattresses. You should aim to replace your mattress every seven to 10 years, but if you're spending under $500, you're likely to find it needs replacing sooner.
But if you only need a stop-gap mattress, a budget buy can be the smart choice. Perhaps you plan on moving soon and you don't want to take a heavy mattress with you. Maybe you need the best mattress for a student room, and will upgrade when your course is complete. A cheaper mattress can keep you comfortable in the short-term, while you save up for a long-term replacement.
✅ You're setting up a guest room
If you spend every night on a bed that doesn't have enough support, you're probably going to start waking up with aches and pains. This can be a big issue with the basic builds of cheaper mattresses. For occasional use, however, a mattress under $500 can be a cost-effective solution. Perfect for a guest room or spare room.
✅ You have an excellent mattress topper
Mattress toppers are cushioned layers that are placed on top of a mattress. They're thicker than both mattress protectors and mattress pads, and can be used to improve the feel of a bad mattress. One of the best mattress toppers combined with a budget mattress isn't a perfect alternative to a premium mattress, but it's a good short-term solution.
✅ You've found a really good deal
It happens, especially around major sales days like Black Friday. When a mattress that is normally mid-range goes on sale, you might be able to grab it for under $500. This requires a bit of luck, and we also recommend bookmarking our mattress deals hub. But if you aren't in a rush to buy, you might want to hand on for a sale, and try to get a better mattress at a lower cost.
The best 3 sub-$500 mattresses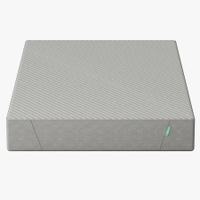 Siena Memory Foam Mattress: was $499 now from $199 at Siena Sleep
We rate the Siena number one in our affordable mattress guide. This is partly thanks to an impressive pedigree: Siena is owned by Resident Home, who also owns Nectar and DreamCloud. This means that Siena has access to the same technology and customer care as some of our favorite brands, and you can see that reflected in the performance.
The Siena is never sold at its MSRP. Right now, the queen is just $399 in the 50% off sale. You also get a 180-night trial period and a 10-year warranty. These are good extras anyway, but they're particularly impressive considering the price of the mattress.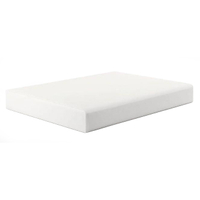 Zinus 10" Green Tea Memory Foam Mattress: was $219 now from $175.20 at Zinus
The Zinus Green Tea is a popular option on Amazon, where you can often find it sold at a sizable discount. A memory foam mattress, the Zinus Green Tea has excellent motion isolation and a medium-firm surface we recommend for back and side sleepers. There are four depths available, but adults should stick with 10-inch or 12-inch.
If budget is a big factor, check both Amazon and Zinus before buying. Often, Amazon sells the Zinus Green Tea at the lower price. However, if you prioritize aftercare and customer service, buy it direct from Zinus. You'll get a 100-night trial as standard, which gives you plenty of time to determine if this budget buy works for you. Right now the 12-inch queen is $503.20.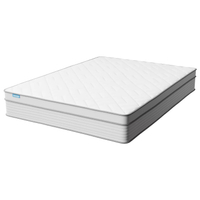 Linenspa 10" Hybrid Mattress: was $199.99 now from $100 at Linenspa
The Linenspa is a budget hybrid mattress. The combination of springs and foam means hybrids typically have better temperature regulation than all-foam models. If you tend to overheat but you're on a tight budget, the Linenspa might be an affordable solution. We haven't had a chance to try the Linenspa, but reviews indicate it's surprisingly comfortable for the low price tag. And there are plenty of reviews to look through as this mattress is a popular choice on both Amazon and Walmart.
The Linenspa is cheap even at MSRP, but deals are still common. Right now, Linenspa is offering a 15% off deal sitewide with code LSBF15. That takes the 10-inch queen down to $272.
If you can push to a slightly higher budget, then we recommend going for it. An investment now should pay off in the long-term. This is our best value for money mattress that we think delivers high quality at an affordable price tag.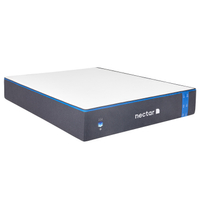 Nectar Memory Foam mattress: now from $359 at Nectar Sleep
The Nectar Memory Foam mattress does stretch the budget if you were aiming to spend $500 or less. Even in the evergreen Nectar mattress sale, the queen is most often sold at $659. However, we rate the Nectar Memory Foam as the best value choice in our best mattress guide thanks to the quality it delivers at a lower mid-range price. It's a medium-firm memory foam that will appeal to most sleep styles, plus the motion isolation is excellent and the temperature regulation is pretty good. If you have a little room in the budget, it's worth upgrading to the Nectar for improved durability and quality.
Get daily insight, inspiration and deals in your inbox
Get the hottest deals available in your inbox plus news, reviews, opinion, analysis and more from the TechRadar team.
Ruth is TechRadar's Sleep Writer. She's here to help you find the perfect sleep setup for your budget and personal preferences. As well as keeping a keen eye on everything that's going on in the world of mattresses, she regularly speaks to experts to help you learn how to improve your sleep habits, whether that's by debunking sleep myths or explaining the science behind it all. Prior to joining the TechRadar team, she wrote features and product guides for new parents hoping to get a decent night's sleep, as well as writing for.a variety of online spaces.