3 signs a mattress deal isn't as good as it seems
Avoid being duped by knowing when a mattress deal is a dud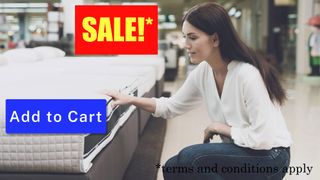 (Image credit: Getty Images)
A mattress is a big ticket purchase so naturally, you'll want to find the best deals. Knowing the best time to buy a mattress is a good start, but you'll also want a deeper understanding of what's behind those shiny sale banners, because they may be hiding something less than ideal.
As a seasoned deal hunter and professional mattress tester, I can tell you that several of the best mattress brands are prone to dressing up mediocre offers as can't-miss bargains. So, how can you spot these duds masquerading as deals? Below are three telltale signs a mattress deal isn't as good as it seems.
Even with Black Friday mattress deals rolling in, you'll want to stay on your toes. Lackluster sales can appear at any time, so equip yourself with the knowledge to avoid them – especially during peak times for massive mattress discounts.
1. Higher discounts might actually cost you more
To ensure you're getting a good deal on a mattress, you'll need to do your homework. Mattress prices fluctuate throughout the year, typically hitting their highest points during the summer. Inflation has led to a gradual creep in MSRPs, as well.
If a stellar discount catches your eye, check the price history. A steep markdown may be masking a recent price hike, which means you could wind up paying the same – or even more – compared to a previous 'lesser' sale.
But don't worry – our team of experts tracks mattress sales year-round. You can either browse our general mattress sales hub or dive into our brand-specific sales pages, which include detailed pricing history to give you the context you need to judge the value of a deal.
Here are our dedicated mattress sales pages featuring some of today's most popular brands:
Alternatively, if you're shopping for the best mattress on Amazon, sites like CamelCamelCamel and Keepa provide a complete price history for items sold at Amazon. For all other retailers, Google Shopping is your best bet, particularly if you want to compare prices across multiple stores.
2. A deal doesn't always extend past the purchase
When shopping for a mattress, it's natural to fixate on upfront costs, but a true deal extends well beyond the initial purchase. Opt for a mattress that comes with both a warranty and a sleep trial – but even then, you'll still want to read the fine print.
A 25-year or lifetime warranty sounds impressive but it's often prorated after the first 10 years. What does that mean? You'll be expected to pay a percentage for any repair costs, and that amount will grow the longer you own the mattress. You'll also want to make sure you don't do anything that could void the warranty outright and possibly cost you even more money.
Mattress trials are a reliable safety net in case a bed isn't as comfy as you'd hoped it would be. Most brands offer free returns, but some charge a transportation fee that'll set you back at least $100. Other companies may withhold your refund until you show proof that you donated the mattress to a local charity.
By the way – if you're considering buying from a third-party seller, keep in mind they often have their own terms in place. We recommend buying directly from a mattress company because they often have longer, more comprehensive warranty and trial periods, with the added benefit of knowing their products better than anyone else.
3. The hype gets in the way of the reality
Mattress brands are keen to tout their 'cutting-edge technology' that'll purportedly help you sleep better. (This is especially common among cooling mattresses and other specialty beds.) While these features might have merit, the hype that surrounds them could steer you toward a purchase that's an ill fit for your needs.
Immediately identifying the differences between fluff and fact is a learned skill, but you can rely on reviews from professional testers – we have a fast-growing library of in-depth mattress reviews – as well as the everyday customers who leave their feedback on product pages. Just remember to take extreme reviews, whether glowing or scathing, with a grain of salt. Most experiences fall somewhere in between.
Understanding how to choose a mattress is key to avoiding buyer's remorse. Being honest about your needs and budget will land you a mattress deal that feels like a dream come true.
Now that you're armed with this valuable knowledge, check out today's best mattress deals below: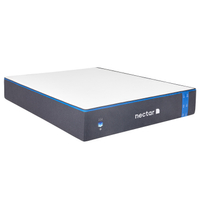 Nectar Memory Foam mattress: was $699 now from $359 at Nectar
The Nectar is a great all-rounder that'll suit most body types and sleep styles, and right now there's a flash sale at Nectar that takes 40% off the price, which means a queen size will cost you $659; that's a little less than Nectar's usual pricing. In our Nectar mattress review we were impressed by its motion isolation and pressure relief.
The Nectar's also available in the UK with 60% off and prices starting at £380; this is standard pricing, and a double will cost you £480.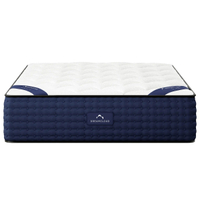 DreamCloud Hybrid mattress: was $839 now from $529 at DreamCloud
For a luxurious hybrid mattress at a surprisingly affordable price, you need to check out the DreamCloud. In our DreamCloud mattress review we found it delivered hotel-style luxury and regulated temperature well. There's 40% off in the DreamCloud Black Friday sale, with a queen size available for $799.
There's a UK version of the DreamCloud too, and there's 57% off in DreamCloud UK's sale, with a free bedding set included. This gets you a double for £710; again, this is pretty much standard pricing.
Get daily insight, inspiration and deals in your inbox
Get the hottest deals available in your inbox plus news, reviews, opinion, analysis and more from the TechRadar team.
Alison is a freelance writer and editor from Philadelphia, USA. She is an expert mattress tester and sleep product reviewer, and has been sharing trusted buying advice and retail news for over a decade. When she isn't reviewing mattresses or hunting for deals, Alison can be found teaching/training in martial arts, fawning over skincare, and indulging in her quarantine-borne hobby: cooking.