What is StandBy in iOS 17?
Your iPhone is about to get more useful when you put it down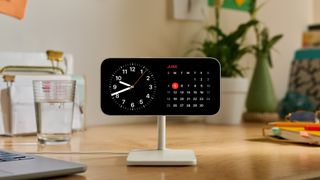 (Image credit: Apple)
If you're like me and you've ditched your bedside clock for an iPhone, you've probably wondered why your smartphone clock isn't doing a lot more.
Thanks to StandBy in iOS 17, your iPhone will be a much more capable desk companion (if you have the right iPhone for the job). StandBy will turn your iPhone into a miniature smart display with weather, widgets, and many more possibilities.
When does StandBy on iOS 17 work?
The new StandBy feature will work when you are charging your phone and your phone is tilted sideways in landscape mode. We haven't tried it yet, so it's unclear if it will work if the phone is laying flat, but Apple says the purpose is to make the StandBy screen visible from a distance.
In addition to your bedside table, Apple suggests StandBy would be useful on the kitchen counter or your home office desk. It's probably best to invest in a MagSafe dock or stand, because StandBy will remember each MagSafe location uniquely.
As we'll explain later, you can set up StandBy in a custom configuration, and your iPhone will remember the different MagSafe charging locations you use so it can switch to your 'kitchen' screen when it's on the kitchen dock, for instance.
What will StandBy for iOS 17 do?
When you start using StandBy with iOS 17 on your iPhone 14 Pro, it will act as a basic clock and digital photo frame. You can swipe up to see a variety of clock style options. Swipe from side-to-side to switch photos.
In addition to the clock and photo album features, StandBy mode will also use widgets. The StandBy screen will show two square widgets at once, side-by-side. You can have more widgets available if you add multiple widgets to the same smart stack.
There will be a weather widget as well as home controls, so your iPhone will act as a real smart display to control the lights and environment. You can also load a selection of third-party widgets.
How will widgets on the StandBy screen work better?
Widgets on the StandBy screen can be arranged in smart stacks. A smart stack is an iOS feature that lets you group widgets by dropping them on top of each other. With StandBy, the smart stack will be intelligent enough to offer you the right widget and information at the right time.
For instance, the StandBy screen will show you your daily schedule if it detects you have an upcoming meeting you need to know about.
StandBy also relies on iOS Live Activities, a widget with more urgent notification and alerts for important things you follow. If there's a football game being played by a team you follow, the StandBy screen will automatically display the score and the amount of time remaining in the game.
If you have a food delivery on the way, StandBy will show you the progress of your delivery and let you know when it's arrived.
How will StandBy make Siri better on iOS 17?
When you ask Siri a question (now just "Siri," instead of the full "Hey, Siri"), you'll get a visual answer if you are using StandBy. If you ask about a local business, Siri will provide an answer and a map, for instance.
Siri will also play music and set timers, like normal, but these will look better on the StandBy screen. Overall, Siri should get a visual upgrade for results shown when you ask a question while your iPhone is in StandBy mode.
Of course, StandBy is also a night time clock
At night, Apple says the StandBy screen will turn into a dim, red clock while the iPhone is charging. It is unclear if you can customize that color, but Apple only mentioned red, which is presumably ideal for not disturbing our eyes too much while we are heading to sleep.
Apple did not show off any specific alarm clock features, but all of your normal alarms will function just fine while the iPhone is in StandBy mode.
What phones will be able to use StandBy in iOS 17?
It's not clear if only the best iPhones will get all of the StandBy benefits. While Apple repeatedly refers to StandBy working with "iPhones" during the preview, at one point the feature is specifically pegged to only one device.
Apple says that StandBy will always be available thanks to the always-on display on iPhone 14 Pro. Every demo photo includes the 14 Pro's signature Dynamic Island cutout. Of course, the iPhone 14 Pro Max will surely be included, but other iPhones, even the iPhone 14, may not make the cut.
That could be because the iPhone 14 Pro and Pro Max use a display with LTPO technology that can slow the refresh rate all the way down to a single refresh per second, or 1 Hz. That's great for power-saving, but StandBy is enabled when you are charging your iPhone, so it's unclear why this limitation would matter. We'll have to see once iOS 17 goes public.
Of course, the next generation of iPhones, the iPhone 15, could have a Dynamic Island on every model from the base model up through the iPhone 15 Ultra. StandBy could be a more exclusive feature designed to draw buyers to the newer devices.
Get daily insight, inspiration and deals in your inbox
Get the hottest deals available in your inbox plus news, reviews, opinion, analysis and more from the TechRadar team.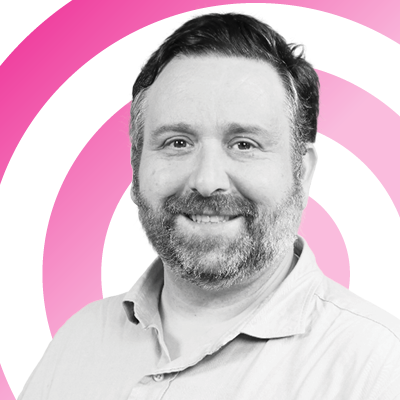 Phil Berne is a preeminent voice in consumer electronics reviews, having reviewed his first device (the Sony D-EJ01 Discman) more than 20 years ago for eTown.com. He has been writing about phones and mobile technology, since before the iPhone, for a variety of sites including PCMag, infoSync, PhoneScoop, and Slashgear. He holds an M.A. in Cultural Theory from Carnegie Mellon University.
Phil was the internal reviewer for Samsung Mobile, writing opinions and review predictions about top secret new devices months before launch. He left in 2017. He worked at an Apple Store near Boston, MA, at the height of iPod popularity. He has been a High School English teacher at Title I schools, and is a certified Lifeguard. His passion is smartphones and wearables, and he is sure that the next big thing will be phones we wear on our faces.