8K TVs: they're damn expensive. Still, if you're fully on board and ready to upgrade from a HD or 4K set to the most premium television technology then now's your chance to get what we think is the best 8K TV for its lowest price yet.
As part of its current Discover Samsung sale, you can get the Samsung QN900B 85-inch Neo QLED 8K TV for $4,799 (was $8,499). Yep, I hear you, that's still pricey for a TV. But there's a whopping $3,700 off the list price for one of the largest display sizes out there. And, again, it's currently our top pick in this category.
Ultimately, affordability when it comes to 8K TVs is all relative, as many of these sets can cost thousands of dollars more than this one – sometimes as much as five figures. So, if you are looking to buy one of these high-end displays for your current viewing – and to future-proof yourself for the years ahead – it's arguably one of today's top TV deals.
Today's best 8K TV deal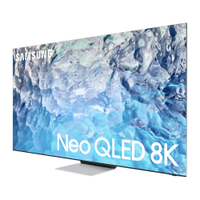 Samsung QN900B 85-inch Neo QLED 8K TV: was $8,499 now $4,799 at Samsung
We've reviewed the Samsung QN900B and think it's the best 8K TV right now, so definitely don't miss your chance to save a massive $3,700 off this enormous and powerful display. Of course, that's still a high price tag, but this TV features some of the most advanced tech available, including the highest resolution images, improved lighting, superior contrast and vibrant colors. Plus, similar 8K TVs of the same size can cost thousands of dollars more, so it's one of the more affordable options around.
In our Samsung QN900B review, we concluded that this TV sets the benchmark for Mini LED television technology to deliver the highest quality picture out there. It also sports Quantum HDR for superior lighting and colors, premium Dolby Atmos sound, and super-fast refresh rates for smooth and responsive performance - especially when gaming on PS5 and Xbox Series X.
So, is now the time to upgrade to an 8K TV?
That brings me to the real question: is an 8K TV really worth it right now?
The main point against is that there isn't a whole lot of content out there today that's able to take full advantage of 8K displays. The highest quality shows and films on streaming services such as Netflix are still 4K, for example. But that's not to say it won't change sooner or later as there are ways Netflix could stream in 8K soon.
Until 8K becomes more mainstream, that's the crux of it, really. This brand-new technology will remain niche and expensive for a while. In the view of our Senior Editor of Home Entertainment, Al Griffin, 8K TVs such as this are for the early adopters who want to get ahead of the rush and future-proof themselves. If that's you, this Samsung QN900B is a solid option at today's price.
For everyone else who's just window shopping or come to look at the price and reeled in fear, you can check out more of the best TV deals right now on a selection of more budget-friendly 4K, OLED and QLED displays.