The best earbuds 2023: wireless and wired buds for all budgets
Best
Contributions from
last updated
The best earbuds from Apple, Sennheiser, Sony and more
VERDICT
REASONS TO BUY
REASONS TO AVOID
BEST EARBUDS: QUICK MENU
1. The list in brief
2. Best earbuds overall
3. Best budget earbuds
4. Best premium earbuds
5. Best for Apple
6. Best for ANC
7. Best for affordable ANC
8. Best for Samsung
9. Best wired earbuds
10. Best mid-range earbuds
11. Best for sports
12. Best for design
13. How to choose
14. How we test
15. Latest updates
The best earbuds are essential for easy-to-fling-in-a-pocket music on the go. Motivational soundtrack to get you through a 10k? Classical music on a long-haul flight? Maybe you just want your favorite podcast for the commute? Earbuds are a top shout – and the best earbuds can immerse you in a cocoon of sound, blocking out the rest of the world.
These days, you don't need to sacrifice on battery life, extra perks or sound performance to get that tiny form factor either. We've tested hundreds of sets of the best true wireless earbuds and best best wireless earphones. We still rate the Sony WF-1000XM4 wireless earbuds as our overall top pick – although actually, the Sennheiser EAH-AZ80 equal them across the board (and even offer triple device multipoint connectivity). Newer Sony WF-1000XM5 buds have since been released, but for us, XM4 are still the best all-rounders if you want to go Sony, despite the fact they're older.
Don't like the intrusive nature of earbuds? Read our best wired headphones or best wireless headphones guides instead. Of course, check out our budget wireless earbuds guide if you like the design and portability, you're just looking for cheaper options.
Becky is a senior TechRadar writer (which she has been assured refers to expertise rather than age) focusing on all things audio. Before joining the team in early 2022, she spent three years at What Hi-Fi? reviewing everything from wallet-friendly wireless earbuds to huge high-end sound systems. Right now, Becky's scouring retailers for the best Black Friday earbuds deals – you can keep up to date with the hot offers for all budgets on that page, updated regularly.
The quick list
Want to cut to the chase and find out which earbuds are the best (ahead of incoming sales events perhaps, you clever thing you)? You'll find a roundup of our top choices here. You can also jump to a more in-depth review for each product, along with our price comparison tool, so you can discover the best deals.
Load the next 5 products…
The best earbuds of 2023
Why you can trust TechRadar We spend hours testing every product or service we review, so you can be sure you're buying the best. Find out more about how we test.
Below you'll find full write-ups for each of the best earbuds in our list. We've tested each one extensively, so you can be sure that our recommendations can be trusted.
The best earbuds overall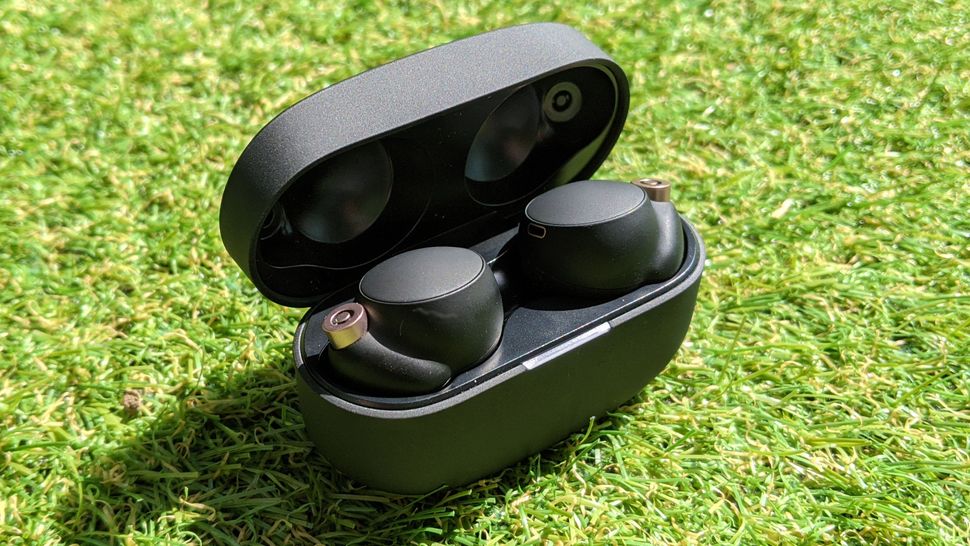 The best earbuds for most people
Specifications
Frequency response:
20-40,000Hz
Battery life :
8 hours (earbuds) 16 hours (charging case)
Reasons to buy
+
Rapid, full-bodied and eloquent sound
+
Truly useful features
+
Impressive call quality
Reasons to avoid
-
Unremarkable battery life
-
No aptX support
BUY THEM IF
✅ You need the best all-round true wireless earbuds:
The WF-1000XM4 can be beaten for sound quality, noise-cancelling and comfort – but only by a combination of rivals.

✅ You know a great control app when you use one:
The Sony Headphone app is a tour de force of stability, functionality and general usefulness.
DON'T BUY THEM IF
❌ Noise-cancelling is more important than sound quality: The WF-1000XM4s cancel noise well. But other true wireless buds (Bose QuietComfort Earbuds 2) do it better.

❌ You think aptX is the pinnacle of wireless sound quality: Sony doesn't agree. LDAC is a good alternative and is supported by most newer Android phones (sorry, iPhone).
The Sony WF-1000XM4 earbuds are our top pick overall. They may lack aptX support, but make up for it with a whole host of features, like active noise cancellation (with polyurethane ear tips to improve passive noise reduction), a 'speak to chat' feature that pauses your music when you make a noise, great call quality and excellent in-app features.
These earbuds immediately impressed us during our testing. In our review, we wrote, "there's vigor and enthusiasm to their presentation, but it's tempered by unarguable control." Listening to Kate Bush's Lake Tahoe, the ability of the WF-1000XM4 to identify and incorporate the tiniest details or the most fleeting transients into a much broader picture was obvious.
The size of the XM4s has been reduced since the previous model, and the charging case is a full 40% smaller, weighing in at 41g. Positioning the buds comfortably took longer than it should have during our testing (we found them fiddly), but once we got used to them, we found them secure and easy to wear.
They're not the cheapest buds, but because Sony has combined performance, ergonomics and build quality so effectively, we think they're excellent value. Other true wireless earbuds may surpass the Sony WF-1000XM4s in particular areas – like noise cancellation – but they don't offer excellent quality across the board. This is even the case after the release of the newer Sony WF-1000XM5 earbuds, which are fantastic, but we still rate the XM4s as the best all-rounders.
Read our full Sony WF-1000XM4 review
The best budget earbuds
The best budget earbuds
Specifications
Weight:
3.7g per earpiece
Frequency response:
20HZ-20kHZ
Battery life (on-board):
32 in total (8 hours from buds)
Reasons to buy
+
Light design with small, comfortable earpieces
+
Reliable on-ear controls
+
Sounds better than anything else at this price
Reasons to avoid
-
Not the last word in sonic brilliance generally
-
Odd fitted charging cable
BUY THEM IF
✅ Your budget maxes out at $20 / £20 / AU$50 and you want true wireless: The JLab Go Air Pop is an incredibly affordable proposition and boasts a spec sheet no other solution to date has managed at this level.

✅ You prioritize a long battery life: 32 hours of playtime, for $20. Let that sink in, while remembering the AirPods Pro will only give you a maximum of 24 hours of listening time
DON'T BUY THEM IF
❌ You really want app support: They do amazing things without a companion app (on-ear volume control, EQ, etc.) but if you want a visual cue of their battery life, no dice.

❌ You want top quality sound and have a stretchier budget: If sound quality is top of your list and you can spend a little more, do that. But this is not audiophile-grade.
The JLab Go Air Pop buds prove it's possible to purchase a fantastic set of true wireless earbuds on a budget. They boast reliable Bluetooth connectivity and battery life here is excellent at eight hours from the earbuds and a whopping 32 hours from the buds and the case combined. On-device volume controls work better than rivals more than double the price, and a triple tap lets you pick from three different EQ profiles.
Any sound comparison between these cheap in-ears and class-leading products. But these JLab buds beat everything in their price range for sound. Our testing proved that vocals are relatively well handled through the mids, the bass is sensibly handled, and the soundstage is relatively expansive.
Design-wise, they're lightweight at just 3.7g per earbud and incredibly small with three different types of eartips, which means they should suit almost everyone and we certainly found them incredibly comfortable to wear during our testing.
They don't beat flagships from the likes of Sony, Apple, or Sennheiser, but they punch above their weight. They sound far better than you'd expect for their cheap price tag and pack in some excellent features that make them fantastic value for money.
Read our full JLab Go Air Pop review
The best earbuds for sound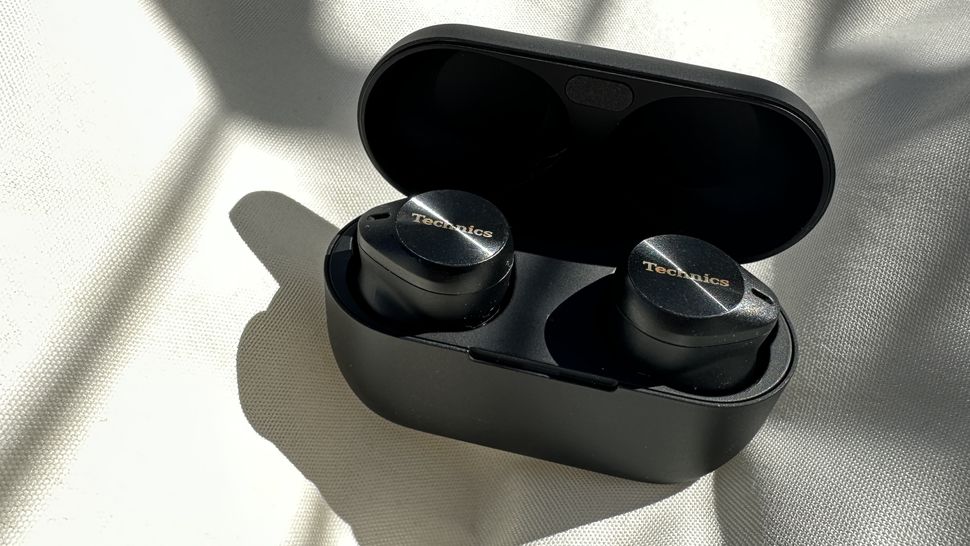 The best earbuds for sound and features
Specifications
Frequency response:
40-20,000Hz
Battery life:
(Up to) 7h (earbuds); (up to) 25h (charging case)