5 back to school essentials that'll make your dorm feel like home
Get into the back to school season!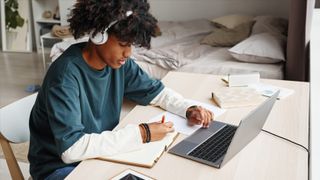 (Image credit: SeventyFour via Shutterstock)
The best thing about back to school 2023 shopping is decorating and setting up your new dorm room. For a lot of people, their dorm room is the first space they can really call their own, and since you'll be spending a lot of time in there, you want to be sure your new home is geared up with the latest and greatest tech.

By the time you're thinking about setting up your space, you'll probably have one of the best student laptops bought and ready to go, and while that may be the most important tech you'll have in your room, there are plenty of other cool gadgets that we think are essential for any modern dorm.

We've listed our top 5 pics for back-to-school tech for your dorm that are not only budget-friendly, but functional and, most importantly, fun. You're going to have to stock up on essentials of course, but who's to say you can't spruce things up and have a little fun?

1. Go wireless and charge more!
When I went to university I was incredibly naive and thought a single long phone charger would have my phone and my Airpods covered, I would just have to decide which device needed charging priority on a daily basis. That flawed system soon crumbled, and once I got myself a smartwatch, I had to invest in a wireless charging station.

Now that wireless charging is a lot more common, with the best wireless chargers often sporting stylish designs that will fit right in with the vibe you're going for A wireless charging station is a must if you're going to be taking a lot of tech on the go, and saves you the hassle of worrying about whether or not your phone, watch or wireless earbuds are juiced up and ready to go. Do keep in mind that wireless charging will be slower than wired.

The Nomad Base Station Pro is simple and can charge multiple devices at once, so you won't have to set up a hierarchy of charging importance with your devices! The padded leather styling is sleek and gives it a premium feel, and will slot into any dorm.
2. Air-fryers are your best friend
I wish I had an air fryer in my dorm when I was in college, to the point that I kind of want to go back into education just to experience the joy of whipping up something yummy without having to leave my room.

Sometimes you'll just want to reheat leftover pizza, rustle up a snack for you and your mates, or enjoy a study day in your room. The best thing about an air fryer is that they require minimal preheating, can cook your meals often in half the times a normal oven would, and only takes up a minuscule amount of space.

Budget air fryers like the Instant Vortex Mini are perfect for late-night munchies and early-morning snacks. The plate is dishwasher safe so you don't have to worry about the cleanup, and the affordable price tag makes this the perfect dorm room investment. It may take a while to get a hang of all the different settings and options, but once you get the hang of things you'll be eating well.

3. A good pair of headphones will take you far
My most-used bit of tech during my studious years was my headphones, and once you're back on campus and crammed into shared student halls you'll probably be wanting a decent pair to get you through the semester. The best noise-canceling headphones aren't just for long and loud commutes but will be your best asset for late-night cramming sessions and long phone calls back home.

Buying tech for the back-to-school season can be expensive, and with everything you'll have on your list, it may feel like headphones shouldn't be a priority, but worry not! Plenty of the best budget headphones are scattered across our list of best student headphones, so don't worry about breaking the bank!

You've probably seen the Sony WH-1000XM5 headphones all over TikTok, and for good reason. They offer excellent noise cancelling that'll hone your focus, while also boasting a comfy design and superb audio performance. However, they are on the spenny side. If you don't want to spend full price for these amazing features, the Sony WH-1000XM4 are the perfect choice. They are brilliant all-rounder wireless headphones and, there's no huge performance jump between the two models, so if headphones are on your list, the Sony WH-1000XM4 are your best bet.

If you're like me and prefer earbuds and you don't want to splurge on Airpods, the JLab Go Air Pop are our top pick, as they come in fun colors, they're comfortable, and for the price point, they offer the best sound quality.
4. Smart Speaker, smart roomie
I truly underestimated how much a smart speaker would improve my life when I added an Alexa-powered device into my shopping basket one faithful Black Friday. I was looking for a speaker for my dorm room to play tunes while I studied and chilled out, and I ended up forming an irrational attachment to my little Echo Dot. The best smart speaker will do more than play music on command - though it is nice to yell at a small machine to start setting the vibes - you can also set alarms, ask questions, listen to audiobooks and more from the comfort of your bed.

The Amazon Echo Dot is the perfect budget smart speaker that offers an incredibly easy setup and has a futuristic design that'll blend into any dorm aesthetic. Its simplicity makes it the perfect way to add Alexa to your life, and from experience, I can definitely attest that you'll have no issues chucking this thing into a box and taking it with you safely when you're ready to move. I've moved with my Alexa Echo Dot seven times (so far) and dropped it even more, so you're guaranteed a sturdy, portable travel partner.

5. Bring the theatre to your dorm room and beyond
Your dormroom is your safe space when you're in college, and is the place where you'll be doing a lot of work, but also a lot of relaxing and socializing. Investing in a projector, rather than a small TV, gives you the freedom of portability without compromising on crisp colors and image quality.

The best projectors on the market offer 4K viewing pleasure and adjustable screen size, and will throw up amazing picture quality whether you're in your dorm, back home, chilling with friends or setting up movie night in the communal area. The Samsung Freestyle projector fits in any tote bag or backpack and has a handy suite of built-in apps that'll make setting it up incredibly easy.

Rather than being confined to the small screen of your laptop, the Freestyle projector brings the smart TV experience to (almost) any free wall. All you'll need is a power connection and access to Wi-Fi, and you're ready to go!
Sign up for Black Friday email alerts!
Get the hottest deals available in your inbox plus news, reviews, opinion, analysis and more from the TechRadar team.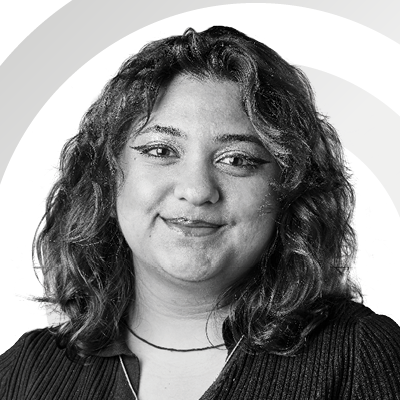 Muskaan is TechRadar's UK-based Computing writer. She has always been a passionate writer and has had her creative work published in several literary journals and magazines. Her debut into the writing world was a poem published in The Times of Zambia, on the subject of sunflowers and the insignificance of human existence in comparison.

Growing up in Zambia, Muskaan was fascinated with technology, especially computers, and she's joined TechRadar to write about the latest GPUs, laptops and recently anything AI related. If you've got questions, moral concerns or just an interest in anything ChatGPT or general AI, you're in the right place.

Muskaan also somehow managed to install a game on her work MacBook's Touch Bar, without the IT department finding out (yet).