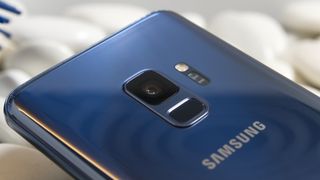 Biometrics
Apple may be trying to kill fingerprint sensors, but Samsung's not buying it. The fingerprint placement here has changed too, thankfully. It's easier to get used to, though it's still tough to discern sometimes. The sensor lies below the dual-camera module on the back, aligned vertically. Medium sized and large hands should reach it easily, but it might take you a few days to adjust to it. When you have adjusted, the sensor never missed a beat.
Samsung also improved the iris scanner this year, using both the IR sensors and an RGB photo of your face to unlock. Given how much Google's built-in face recognition software has improved though, this isn't surprising. The Iris scanner is more usable now, but it's far from being perfect. It still stutters in low light and is slow and unintuitive.
Battery life
When using the S9 Plus without playing games or other heavy use cases (like shooting long videos), it lasts for 10-12 hours quite easily. However, with the screen turned to auto and heavy gaming during the day, the battery life fell to between 12-14 hours. That's up to flagship standards and makes the Galaxy S9 Plus dependable enough. You will get by with a single charge at the end of the day.
The Galaxy S9 Plus does support fast charging, but Samsung's solution feels more like...umm...charging once you've seen OnePlus' Dash Charge in action. That said, we'll be updating our thoughts on fast charging once the phone has been used a bit longer. The Galaxy S9 Plus' battery might need some time to actually settle down. On the upside, it does support fast charging on both wireless and wired connections.
Update: The Galaxy S9 Plus needs a mid-day charge almost every day. The battery life isn't what we would call dependable, but we're still getting about 10 hours a day, on daily use. That is average at best, given that competing flagships like the LG V30+ can do better. This is after spending just under a month on the device. It has about 32GB of data inside (on a 64GB unit) and apps were never intentionally closed when running in the background.
Overall, this is significantly lower battery life than we witnesses on the Galaxy S8 Plus last year.
Our Verdict
The Galaxy S9 Plus is a great phone, but personally, I'm not very impressed. The changing aperture is very cool to look at, but it doesn't make a big difference. The camera can't beat our current favourite, the Pixel 2 and other aspects of the phone are the same as last year. The Galaxy S9 Plus is a good phone, but it's more like a Galaxy S8 2 than a whole new flagship. And that, is disappointing.