Catalyst2 has been in the web hosting since 2000 and is completely UK-based. It was built when their founder, Paul Redpath, was just out of university with only one server, but "we now have our own bank of 300 servers and host tens of thousands of websites, with clients ranging from Virgin and Daylesford Organic to The Royal British Legion," he said in an interview with Management Today.
They use the Telehouse Europe data center in London Docklands and another one in Reading, both of which are Tier 3+, meaning they have a high uptime guarantee. Their platform offers redundant firewalls so you can filter out traffic to suit your needs, cyber security, and physical security at their data center sites. All clients' data is also backed up offsite on a daily basis.
The platform offers a decent range of services at clearly laid out prices, without discounts or later price hikes. Their customer support is one of their biggest advantages, with multiple channels through which users can get the help they need, or even complain directly to the directors.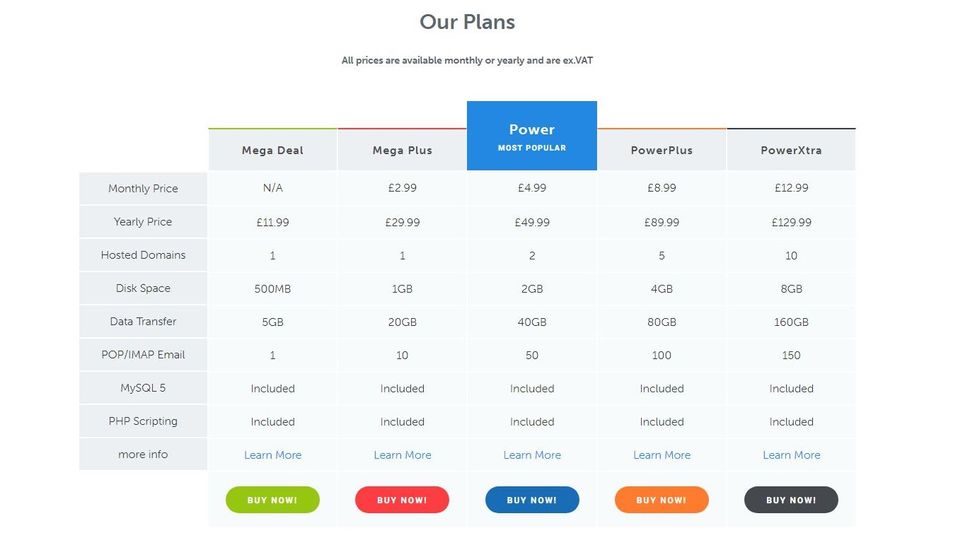 Pricing
Catalyst2's cheapest web hosting plan, Mega Deal, starts at a mere £11.99 ($15.77) annually, no monthly price available, but the features you get are extremely limited, including a mere 5GB data transfer.
Every other plan lets you pay monthly (starting from £2.99 or $3.94) as well as annually, where the latter has a slight discount, but the bandwidth is still strictly limited.
Every package comes with a 30-day money-back guarantee, but they don't offer a free trial. Accepted payment methods include credit/debit cards and PayPal.
Ease of use
After choosing a plan, users are also prompted to choose between Linux hosting or Windows hosting, or just click "Just do it for me!" if they're unsure. During check out, they can add Advanced Spam/Virus filtering for £2.50 a month, billed annually for the cheapest plan, which adds a significant cost to your total, plus VAT. Creating an account means you'll have to provide your full name, address, phone number, and generate a password, as well as a security question.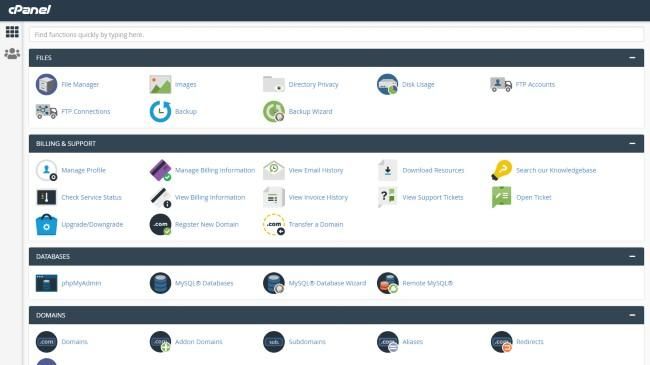 Catalyst2 uses cPanel, making for an intuitive user experience. This means that a WordPress install is only a few clicks away - but if you already have a website, you can upload it through their simple file manager. There is no proprietary website builder that clients could use for dragging and dropping images and widgets, however.
Catalyst2 also offers an extremely simple way to cancel your account and request a refund if eligible: one of the left-hand tabs in your Client Area called Request Cancellation will only ask you to give a short description of why you're cancelling without the need to jump through hoops as is the case with many other providers.
Speed and experience
When it comes to speed, a GTmetrix test on Catalyst2's main site shows that they're pretty average - taking 7.7 seconds to fully load (7.9 seconds being the average), but a slightly higher than usual 116 requests.
The company also claims to have had 99.997% network uptime since May 2007, and adds that their "servers and infrastructure are upgraded regularly with the latest software and security patches, to improve performance and keep your site safe online." The fact that their data centers are Tier 3 means that they must have at least 99.982% uptime with up to 1.6 hours of downtime per year. During our two-week long uptime test, their main website experienced no downtime at all, meaning they are likely to hold up on their promises.
Support
When it comes to support, Catalyst2 offers incredible service - from a live chat that is available 24/7 regardless of whether you're already their customer or not, to a free phone number, to dedicated email addresses depending on your issue, clients are sure to find some way to contact them and have their issues resolved. Interestingly, a "Have we missed the mark?" section lets you contact the directors Paul Redpath and Jacob Colton directly, stating, "If for any reason, you feel that your issue hasn't been resolved to your satisfaction, we want to know about it."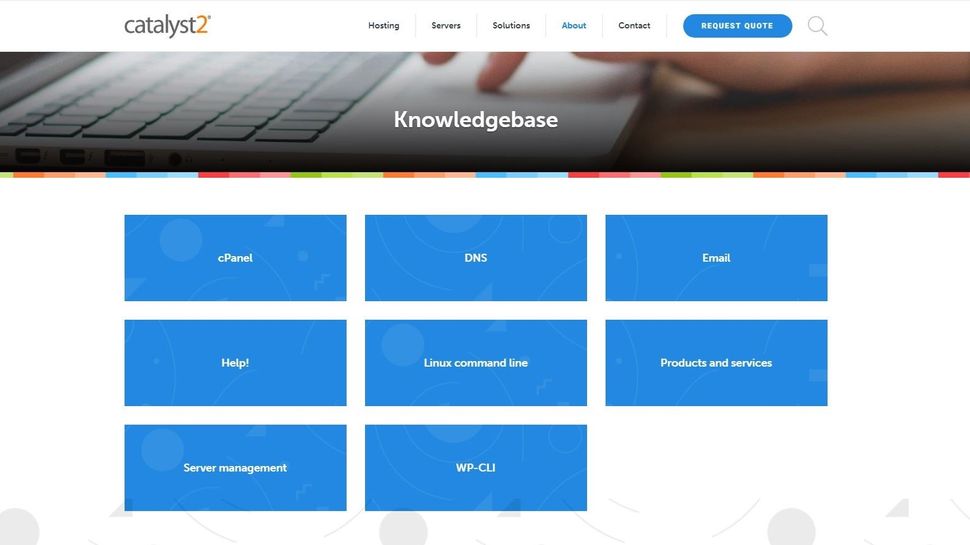 There is also an extensive knowledgebase, covering a wide variety of common issues and questions, with in-depth guides to solving them. Their blog is an additional source of tips, tricks, and general advice that can't be classified as a guide - like how to choose the right domain name ending.
The competition
Hostgator offers almost all of the same features at an extremely similar price to Catalyst2, but the price is only valid for the first three years and later sees a significant hike. Notably, Hostgator does not have many of the restrictions Catalyst2 does.
Similar to Hostgator, Bluehost also has a very low price only for the first 36 months of usage. They also include a free domain name for your first year, which Catalyst2 doesn't, but both providers have a 30-day money-back guarantee.
Both 123 Reg and Catalyst2 are UK-based providers, although the former has a wider range of options, including free or extremely cheap domain names and a 3-day trial. Their prices are similar, but Catalyst2 is much more straightforward, while most of 123 Reg discounts only apply if you pay for an annual plan.
Although in terms of features and prices, Cloudways comes out as the clear winner, they're also specifically geared towards users with more technical experience and knowhow, so Catalyst2 might be the better choice for newbies and websites with less traffic.
Final verdict
Catalyst2 offers great products and competitive prices, but their limits can be suffocating for larger businesses - but smaller ones may well find their forever home here. But if that's an obstacle to you, Hostgator offers unmetered bandwidth for almost the same price - although not unlimited, this is still more than at Catalyst2.