Kinsta is a cloud-based host from the USA specialized in providing high-end WordPress, web application, and database hosting solutions for projects and businesses of all sizes. Among the competition, it manages to stand out for its powerful performance, well thought-out and beginner-friendly hosting options. Unfortunately, it stands out with its sky-high prices as well.
Pros
+

Amazing self-help options

+

Automatic daily backups are included

+

Data centers all over the world

+

Excellent speed performance

+

Standard 30-day money-back guarantee

+

User-oriented and beginner-friendly approach
Cons
-

Above-average prices

-

Restrictions with storage, CDN and monthly visits

-

No domain registration services

-

Telephone support is not an option
Why you can trust TechRadar We spend hours testing every product or service we review, so you can be sure you're buying the best. Find out more about how we test.
When it comes to web hosting and website management, there is no shortage of options. The vast majority of companies out there offer affordable services that are good enough to get the job done.
Kinsta is a cloud-based hosting solution providing services for WordPress websites, web applications, and databases. It provides you with access to high-performance servers and effective tools such as staging environments, automatic backups, unlimited visitors and bandwidth, and more.
Kinsta also includes quality security features such as DDoS protection, SSL certificate, and malware scanning.
From the main website, you can access Kinsta's official blog. It's easy on the eye and filled with a myriad of articles, most of which are related to WordPress. Among these, you can find a number of easy-to-follow guides written in a meticulous manner. In addition to this, Kinsta offers a fresh and video-packed YouTube channel and relatively active presence on Instagram, Twitter and Facebook.
Kinsta features
Kinsta offers high-end CPUs, as well as global availability thanks to Google's C2 machines on its premium tier network. By using these top-of-the-line CPUs, you are guaranteed that your website will be up and running faster than ever before.
To further improve the speed of your website, Kinsta also offers a global content delivery network with over 275 locations around the world. This allows Kinsta to deliver fast pages and serve cached assets from your visitors' closest location.
Kinsta also comes with built-in application performance monitoring (APM), which is its custom-designed performance monitoring tool specifically for WordPress sites. We used this feature to identify any potential issues or bottlenecks slowing down our site during our test of the hosting service.
Kinsta's DevKinsata feature provides a comprehensive development environment that makes it easy to develop applications locally on your computer. DevKinsata includes many helpful features such as version control which allows developers to roll back to previous versions of their code if needed, easy debugging capabilities with Xdebug integration, and deployments to production servers with just one click.
With the new Kinsta Cloudflare integration, we took advantage of a wildcard SSL certificate which let us secure our subdomains with just one certificate. A wildcard SSL is an SSL certificate that secures both a root domain and its individual subdomains. This is in contrast to other types of certificates that require you to list each individual subdomain on the certificate.
As part of its Cloudflare integration, Kinsta offers customers a unique benefit - reserved IP addresses. Reserved IPs are unique IP addresses assigned to each Kinsta customer site. These IP addresses are reserved exclusively for use by that specific customer and ensure that the DNS A-record IP address will not be shared by other sites on Cloudflare's network. In some cases, this can cause problems if a service blocks a spam site that happens to share the same Cloudflare IP address as your site.
We were also impressed with the Kinsta Brotli Compression Tool (a lossless compression format that is supported by all major browsers and achieves better compression ratios than gzip).
Brotli compression works by compressing web content with a very large built-in static dictionary that contains various strings in multiple languages. By taking advantage of this feature, the Kinsta Brotli compression tool helped us optimize our page speed by reducing our website's page size by up to 45%.
Kinsta also released a tool called Edge Caching. This is an incredibly powerful tool for websites running WordPress that can significantly reduce the amount of time it takes to serve cached HTML to site visitors. Edge Caching is included free with all Kinsta plans, and no additional plugins are required.
Kinsta's Edge Caching tool works by saving your website/page cache to Cloudflare's global network of over 275 data centers. When site visitors load your website, cached responses will be delivered from the location closest to them, helping to reduce latency and ensure faster loading times.
For web hosting services in Australia, Kinsta CDN is in six Australian cities, including Adelaide, Brisbane, Canberra, Melbourne, Perth, and Sydney.
Is Kinsta easy to use?
We find Kinsta easy to use - from signing up to navigating through the dashboard. The web host provides you with an intuitive dashboard that makes hosting your website easy. The dashboard let us quickly access all the features and settings in one place, which makes it simple to manage our website's performance and security.
With Kinsta, you can also set up and manage multiple websites from one account, meaning you don't have to switch between different accounts every time you want to make changes or update your site.
Kinsta also has a number of helpful features that make managing your website easier. All these features are designed so that even those who aren't tech-savvy can easily manage their website without too much hassle.
Kinsta plans and pricing
Kinsta offers different plans, ranging from $35/month to $1700/month. All plans include free SSL, CDN, staging, and migrations. But what do you get when you purchase one of these plans? The Starter plan starts at $35/month and allows you to install 1 WordPress, 10 GB, and 25,000 visits per month. Moving up to the Pro plan ($70/month), you get 2 WordPress installs with 50,000 visits per month and 50 GB of storage. The Business 1 plan ($115/month) comes with fice WordPress installs, 30 GB of space, and 100,000 visits per month. The Business 2 plan ($225/month) includes ten WordPress installs with 250,000 visits per month and 50 GB of space.
Kinsta also offers the Business 3 plan which costs $340/month and includes 20 WordPress installs, 60 GB of space, and 400,000 visits. The Business 4 plan costs $450/month and includes 40 WordPress installs, 100 GB of space, and 600,000 visits.
Kinsta also offers the Enterprise Plans. For the Enterprise 1 plan, pricing starts at $675/month and includes 60 WordPress installs, 150 GB of space and one million visits. The Enterprise 2 plan is $1000/month and has 80 WordPress installs, 1.5 million visits, and 150 GB disk.
The Enterprise 3 plan is $1350/month and includes 120 WordPress installs, 2 million visits per month, and 200 GB disk space. Finally, the Enterprise 4 plan is $1700/month with 160 WordPress installs and three million visits per month along with 250 GB. All the above plans comes with a 30-day money back guarantee so you if are not satisfied with the service, you can request for a refund.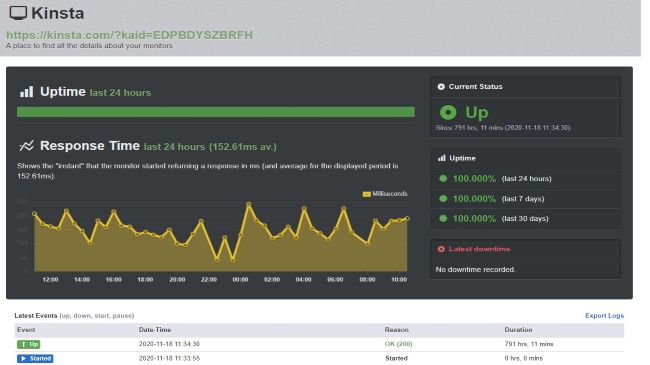 Kinsta speed and experience
Kinsta argues that it is almost a certainty that users will see "faster page load times, along with back-end (WordPress dashboard) speed" when hosting with them. Faster than what, we asked ourselves. Faster than the average speed, faster than lightning or faster than Superman?
In any case, GTmetrix (a tool we used to test the speed performance of Kinsta's main website) appears to agree with them given that it rated the performance of their website with an A (91%), which is not a result we often see. All major core metrics related to the speed were above the average, which looks pretty promising.
When it comes to uptime, Kinsta's technical team monitors all of its users' websites at all times, which means that they will be notified if any downtime occurs and lasts longer than five minutes, and, thus, prompt them to rush to resolve the issue. After monitoring Kinsta's main website for a month using UptimeRobot, we couldn't find a single trace of downtime, which does inspire confidence.
Kinsta security
Kinsta is one such provider that offers quality security measures (in our opinion) including SSL (Secure Sockets Layer) certificates. An SSL certificate is a type of digital certificate that provides encryption and authentication for data sent over the internet. It helps protect user information, like credit card numbers and passwords, from being accessed by malicious third parties.
An SSL certificate also helps verify the identity of a website so that users know they are connecting to the correct server and not a malicious one.
Kinsta uses "Let's Encrypt", an open-source Certificate Authority (CA), to provide its clients with 128-bit or higher encryption as well as 2048-bit RSA keys. Kinsta says its servers are also constantly monitored 24/7 for any signs of suspicious activity or hacking, which is good to know.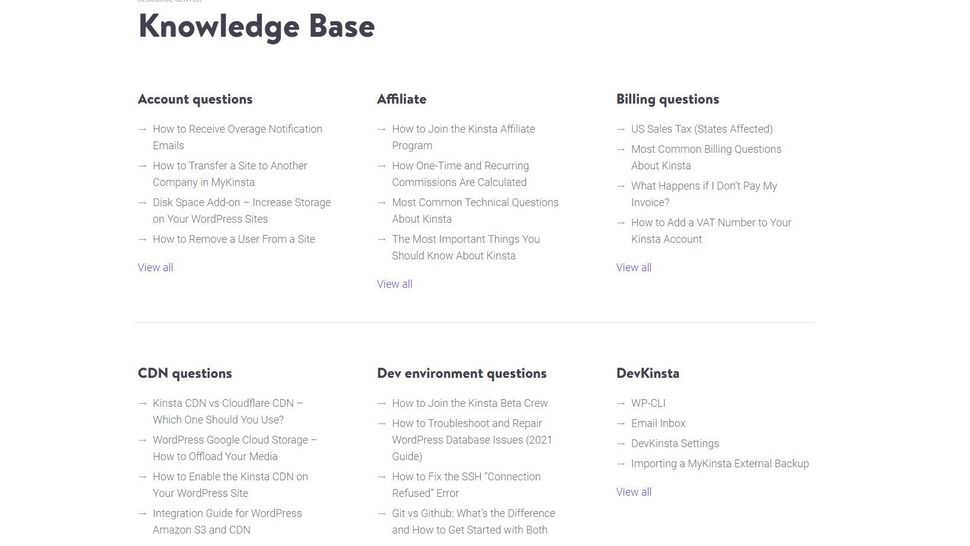 Customer support
Kinsta offers knowledgeable sales representatives who can help you find the hosting plan that best fits your website or project.
If you want a deeper dive into all of Kinsta's features, consider scheduling a personalized demo with one of its experts. This is an excellent way to get familiar with Kinsta's powerful dashboard and hosting features, as well as ask any questions that come up during the process.
We had a few questions about our website and contacted Kinsta through its question form on the website. They got back to us the next day with answers tailored specifically to our hosting dilemma.
Kinsta's support team is available 24/7 via live chat in the MyKinsta dashboard so that you can quickly receive help. You can also open up tickets here if there are ever any issues with your site.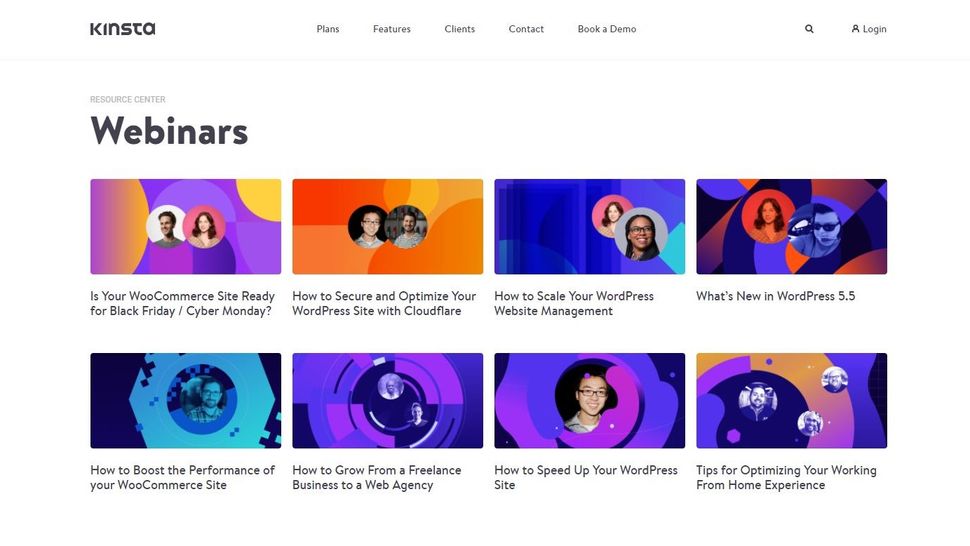 There are more than a few self-help option including rather regular knowledgebase, "Learn WordPress'' (series of written how-to guides), free e-books, free webinars, a newsletter and a blog we mentioned before, and everything is dedicated to bringing knowledge about WordPress to its users. In addition to this, Kinsta's YouTube channel is filled with step-by-step guides and the new ones are coming out on a week-to-week basis at the very least.
As an alternative, you can reach Kinsta's "timely and knowledgeable" support via telephone and chat, and if you are not in too much of a hurry, you can contact them via email as well.
Kinsta alternatives
Much like Kinsta, Flywheel is a fellow US-based host specialized in "top-of-the-line" managed WordPress hosting solutions. Both of them strive to be beginner-friendly, offer well-rounded, feature-packed packages and are on the high-priced side of the spectrum. However, Kinsta's least expensive solution starts at a whopping $30, half as much as what is offered by Flywheel. Therefore, if the price is the key criterion (since both hosts are competent) for you, you could save some bucks by going with Flywheel.
Bluehost is one of the most popular hosting options on the market today, even when it comes to managed WordPress hosting. In comparison with Kinsta, Bluehost has a myriad of hosting types and options besides WordPress and its WordPress plans are well-structured and suitable for newcomers. If you are, however, looking for premium managed WordPress options, you might find yourself at home with Kinsta.
DreamHost is a US-based provider supplying WordPress-optimized hosting solutions and related services, including a domain registration, which is something you won't get with Kinsta. Another thing they don't provide is a website builder and you'll have that as an option with DreamHost. What is more, in addition to offering more hosting options, DreamHost has more pocket-friendly plans, so you'll save some money as well.
Although HostGator does not specialize in WordPress hosting, it has a few rather attractive solutions on the offer. Nonetheless, if you are looking for a premium fully managed WordPress hosting (and you are ready to shell out the money) Kinsta might be a better pick. If you would rather have something simpler and more on the affordable side, HostGator is an excellent choice.
WP Engine is also a great alternative as it offers a wide range of services, from shared hosting to managed WordPress hosting and dedicated servers. WP Engine is known for its fast speeds and reliable uptime, as well as its excellent customer service and support team.
SiteGround is another great option if you're looking for an alternative to Kinsta. This provider offers a variety of hosting plans that range from shared hosting to VPS and cloud solutions. SiteGround also has excellent customer service and support, which makes it a great choice if you need help getting started or have questions about how to use their services.
Is Kinsta right for you?
Kinsta offers a range of features to help businesses get up and running quickly and easily, including automatic scaling, managed updates, automated daily backups, and 24/7 support.
Kinsta also offers comprehensive security features such as malware scanning, DDoS protection, IP whitelisting, SSL encryption, and more. These features allow you to protect your website from malicious attacks while ensuring customer data is kept safe and secure.
Kinsta also prides itself on its performance and reliability - It's caching technology ensures websites load faster than ever before; this helps keep visitors on your site longer which can lead to increased conversions.
Kinsta FAQs
Is Kinsta only for WordPress?
No! While Kinsta is an excellent choice for WordPress websites, that's not all it can do. It also supports static sites, application hosting, and database hosting.
Do I need a security plugin with Kinsta?
No - and that's one of the many advantages of using Kinsta hosting. The security at Kinsta is built into the platform itself; all accounts are automatically scanned daily for malicious code and activity and protected with regular backups as well as enterprise-grade DDOS protection.
Plus, every account includes free SSL/TLS encryption to protect your data in transit.
Ruby has been a freelance technology writer for over four years and has a passion for information technology and the Internet in its entirety. She has a wide range of specialities including web hosting, streaming (Firestick, Kodi, and APKs), VPN, information technology, and affiliate marketing. Ruby is a graduate of Bachelor of Science in Commerce from the University of the Philippines, and regularly codes in her free time.