Best data recovery service of 2023
Let your data recovery be handled by the professionals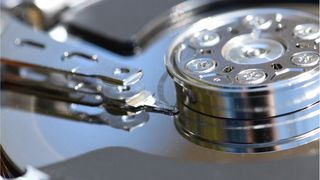 (Image credit: Pixabay)
No matter how careful you are about keeping backups, disaster sometimes strikes. Sometimes your backup software doesn't perform as expected.
If your external drive was close to your device come the fire/flood/break in, then sometimes backups are lost along with your original files. Even cloud storage isn't immune to failures.
And there's also the fact we're human beings and sometimes accidentally delete files we shouldn't.
All the above means you need to have a good data recovery solution, just in case. While there are plenty of data recovery software on the market (even free data recovery), this may not always be the answer.
Not all data recovery software is compatible with every device and file system. Unless you're a very experienced IT user, there's also a very real risk that you could accidentally overwrite the data you're trying to recover. If your drive is physically damaged, it also may need to be repaired before recovery can take place.
This is where data recovery services come in. These are organizations who have experienced engineers and advanced digital forensics software allowing you to recover your data quickly and easily.
In this guide, you'll read our roundup of the very best data recovery services currently available.
We've also listed the best disaster recovery services.
The best data recovery services of 2023 in full:
Why you can trust TechRadar We spend hours testing every product or service we review, so you can be sure you're buying the best. Find out more about how we test.
1. Stellar Data Recovery
Highly customizable
Reasons to buy
+
Advanced tools
+
Quick and efficient scans
Based in India, with a presence in the US and Europe, and over 30 years of experience, Stellar is a popular data recovery service.
Stellar is available for both Windows and Mac and provides the option to retrieve lost, deleted, or otherwise unobtainable files from pretty much any storage drive, including a hard drive, SSD drive, USB stick, and others.
The service supports virtual drive and RAID recovery as well, and if you have non-bootable or encrypted drives it can recover data from those too.
Speaking of pricing plans, apart from the free one that includes standard file recovery tools and retrieval of up to 1GB of data, there are three paid subscriptions available. The pricing starts at $59.99 per year while the most advanced plan costs $99.99. All plans have the ability to recover deleted photos, videos, and data from encrypted drives and formatted systems.
The more expensive pricing plans also have the ability to repair corrupt or distorted photos and videos, as well as data recovery from CD/DVD and lost partitions.
The service's "quick scan" ability detects lost files in a matter of seconds, and you have the option for a "deep scan" as well, which recovers way more data but it also lasts a lot longer, at least several hours.

2. DriveSavers
Best established data recovery
Reasons to buy
+
Priority data recovery
+
Manufacturer Authorization
+
ISO Certified Cleanrooms
DriveSavers have been around since 1985 and are one of the best known data recovery services on the market. They're partnered with a number of hard drive manufacturers, meaning they're authorised to carry out repairs on their devices without voiding your warranty.
They support recovery from a huge number of devices including regular hard drives, SSDs, RAID, Macs and iPhones.
DriveSavers offer free shipping for devices via a printable return label. They also state that in the unlikely event they can't recover any data there's no charge. Their website is full of testimonials (including from a number of celebrities) to say how satisfied users are with the product, although they don't list a percentage success rate for devices.
The company was also one of the first to recover data from the new M1 series of Apple Macs.
There are three pricing tiers for data recovery. These included a 'Standard' option where recovery is completed in normal business hours. DriveSavers claims this is the "fastest turnaround time in the industry" but as with recovery rates don't provide an average.
There's also a 'Priority' option, where DriveSavers will begin recovery immediately upon receipt of your drive, even on weekends and public holidays. If you need the files urgently, they can also make them available for download via FTP instead of mailing one of their "best-fit" external drives to you with the data.

3. Ontrack
Best data recovery for small businesses
Reasons to buy
+
Many devices supported
+
Flexible payment plans
Reasons to avoid
-
Priority service can take a week
If this names sounds familiar, it may be because these are the creators Ontrack Easyrecovery, an extremely powerful and useful file recovery tool.
If however, you're having no joy using data recovery software or don't want to chance it, the parent company also offers data recovery services.
Ontrack state on their website that they're able to recover data from any device or operating system including hard drives, SSDs, tapes, servers, RAID arrays, mobile devices, cloud storage and all Apple devices.
The company also claim to have been practicing data recovery for over 35 years and have performed over 600,000 recoveries to date.
There's a clear emphasis here on physical damage to devices, as Ontrack specifically state they can recover devices that have suffered liquid damage and/or mechanical failures. Shipping to their labs is free and payment plans are available via Affirm.
You can monitor job statuses via the customer portal at any time of day. The standard services takes 7-14 business days but you can pay extra for a priority service (2-5 business days) or emergency recovery (24 hours).
The fact that priority service can take up to a week seems to be pushing customers in a hurry to the emergency option. Still thanks to its partner program there are Ontrack data recovery providers in dozens of countries, so it's likely your device will get to your nearest center fast.

4. SalvageData
Very high recovery rate
Reasons to buy
+
Certified for Apple devices.
+
Very high recovery rate
SalvageData have been in business for over 20 years and claim a 96.7% success rate, which would make them one of the leading services in the data recovery industry.
They do offer their own free data recovery software but if your device is physically damaged or you don't want to take the chance of making it worse the support team are available 24/7 to provide a free estimate. They also have a "no data, no charge" policy, so you'll pay nothing if they can't recover any of your files.
The company has an ISO-5 certified Cleanroom for advanced data recovery. They're also an Apple Authorized Service Partner, so are capable of repairing and recovering data from all Apple devices.
SalvageData's "Standard" plan offers a turnaround time of 5 - 7 business days. Their "Eco" plan takes at least two weeks and doesn't include free storage media to return your lost data. There's also a 24/7 "Emergency" plan.
There are multiple locations around the USA and Canada, to which you can drop devices easily via Fedex but if you're outside North America, this may not be the ideal data recovery service if you're in a hurry.

5. SeaGate Data Recovery
Best for no fee with no recovery
Reasons to buy
+
Free for Seagate devices in warranty
+
No data, no fee
If you've bought a Seagate drive in the last few years, it most likely comes bundled with the manufacturer's own "Rescue Data Recovery Services". The companies claims this will defend you against "unexpected data loss for any mechanical, accidental, or natural disaster."
It's not clear here if this "unexpected loss" is just for physical damage or would take into account scenarios where your drive has been infected with malware or you've accidentally deleted data.
Upon payment of an evaluation fee, if recovery is successful you have two options to access to your files: Seagate will either create a secure cloud account from where you can download your files or they can return them to you on an encrypted drive.
They do not charge you if they're unable to recover your data (except for the evaluation fee, which is non-refundable). You also won't be charged if your Seagate device is still covered by the "Rescue Data Recovery Services" plan but you might want to check this first with Seagate. There's an online tool to check if your device is still under warranty.
The website states that only certain external and internal drives are supported. The plan also covers the game drive for the XBox.
After searching the website we couldn't find any pricing tiers for recovery turnaround time. This may be provided as part of Seagate's estimate.

6. CBL Data Recovery
Best for saving warrantees
Reasons to buy
+
High data recovery success rate
+
Multiple media supported
CBL have been in business for overy 30 years and have partnerships with manufacturers like Apple, Dell and IBM meaning they're certified to open sealed drive mechanisms without voiding the service warranty.
Their website is clearly laid out, explaining the data recovery process. You can call their hotline at any time to request a free evaluation. They also have a "No Data, No Charge" policy, in case they can't retrieve your files. This seems unlikely though, as CBL boasts a 90% recovery rate.
One aspect of the website we particularly enjoyed was a scroll menu which listed specifically which devices are supported including hard drives, RAIDs and servers, portable media, laptop drives and tablets/notebooks. The only device type missing was mobile devices like cellphones.
The website doesn't make any mention of turnaround times for recovering data. Beyond their partnerships with manufacturers, they also don't mention if they are ISO-certified, though they do mention they have access to a "clean room environment".

7. WeRecoverData
Uber Techs of Data Recovery
Reasons to buy
+
ISO certified
+
Fast turnaround time
Reasons to avoid
-
Free shipping only in North America
According to its website New York Magazine describes WeRecoverData as the "Uber Techs of Data Recovery".
They seem willing to back up this claim by offering a "No Data, No Charge" policy. Supported devices include hard drives, SSDs, RAID, portable media, tape, cellphones and memory cards.
They provide a free initial consultation as well as free overnight shipping for devices in North America. WeRecoverData claim also to have advanced proprietary data recovery tools as well as ISO 4 Class 10 and ISO 5 Class 100 certified Cleanrooms. They even claim to have recovered data from computers damaged by fire and flood in the past.
The website states that evaluations are usually completed in 24 hours and the recovery process takes "a day or two". There's also an "Emergency" data recovery service.
The company lists telephone numbers in the USA, Mexico, Spain, the Netherlands, France and Germany but there are outlets in many more locations such as Canada and Poland according to its contact page.

8. Disk Doctors
Free, same day evaluation
Reasons to buy
+
ISO-certified Cleanrooms
+
Free return shipping
Reasons to avoid
-
Long turnaround time for Standard service
Disk Doctors has been in the data recovery business since 1991. They provide free, same day evaluations and promise "No Data, No Charge" if they're unable to recover any of your files.
They have multiple locations throughout the USA, Canada and UK. You can generate a free Fedex shipping label via the Disk Doctors website to send your device to one of these. Return shipping is free too. You can also request "Remote Data Recovery", though for this you'll naturally need to have created a virtual 'image' of the disk from where you want to recover files.
Supported devices include hard disks (both PC and laptop), SSDs, RAID, portable media, cellphones, Tapes and even CDs/DVDs.
Disk Doctors use ISO-certified Class 100 Cleanrooms for data recovery. They offer a "Rush Service" to complete data recovery in 24-48 hours. There's also an "Emergency" 24/7 service. Their "Standard" service "normally takes around 10 business days".
---
How we tested for the best data recovery services
When evaluating a data recovery service, our first consideration was which which devices are supported by this service. Is this a service tailored to individual users, in which case we're likely to see data recovery services for portable media and handheld devices? Or is this a more business-oriented data recovery services which focuses mainly on hard drives, SSDs and RAID?
We also search to see if the data recovery service has published its success rate with devices. This is most helpful as a percentage of the overall number of devices they've been sent. If they're not certain to recover data from every device, then we also check to see if there's a "No Data, No Charge" policy in place to make sure customers don't have to pay even when the data recovery service comes up empty-handed.
Where possible we try to research how the shipping process works : does the service provider provide free shipping? If so, is there a mailing label. Are there multiple, convenient locations to which your device can be shipped in order to reduce turnaround time?
While data recovery times can vary we also check to see if there's any way to expedite the process, for instance through paying for priority or emergency service.
Given that any company can advertise itself as a data recovery service legally, we also checked the website of each service for their bona fides. In other words, are they authorized by manufacturers to open up their devices? If there's a 'CleanRoom' for data recovery, is it ISO certified? Has the data recovery service received any other certification or rewards.
Perhaps most importantly we check how long the data recovery service has been in business. If they've been successfully recovering data for over 30 years it shows they're doing something right.
Are you a pro? Subscribe to our newsletter
Sign up to the TechRadar Pro newsletter to get all the top news, opinion, features and guidance your business needs to succeed!
Nate Drake is a tech journalist specializing in cybersecurity and retro tech. He broke out from his cubicle at Apple 6 years ago and now spends his days sipping Earl Grey tea & writing elegant copy.