The best Carphone Warehouse iPhone 12 deals and contracts
The UK's ex-high street retailer has vouchers galore on the new iPhone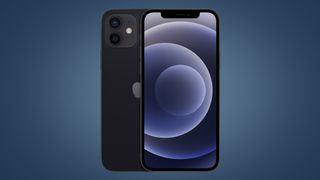 (Image credit: Future)
Apple's latest release is finally here and when it comes to the search for where to buy the phone, many in the UK will start their search with Carphone Warehouse iPhone 12 deals.
As one of the best known retailers around, Carphone is a great place to look for both the iPhone 12 and 12 Pro with a host of deals already available in the device's pre-order period.
Especially considering Carphone came out of the gates not only with some surprisingly cheap pricing but also with vouchers worth up to £60 on offer across most of their iPhone 12 contracts.

Head to Carphone Warehouse to see the brand's best iPhone 12 deals
However, after the news that Carphone cut ties with EE, the retailer is slightly limited in what it can offer. While it still has access to Virgin, iD Mobile and Vodafone, EE, Three and O2 contracts won't be available from Carphone.
With that in mind, the best Carphone Warehouse iPhone 12 deals seem to be on Vodafone with a host of big data plans and on iD Mobile where prices are a bit lower than other networks.
Below you can find all of the best Carphone Warehouse iPhone 12 deals so you can find the best contract for you. And if you can't see any prices that fit what you need, consult our iPhone 12 deals guide instead.
Carphone Warehouse iPhone 12 vouchers:
Compare Carphone Warehouse iPhone 12 deals:
What kind of iPhone 12 deals are other brands offering?
Carphone Warehouse isn't always the cheapest of retailers and with that in mind it is well worth seeing what prices other retailers are offering. Especially on new launches like the iPhone 12, it is well worth searching around to see what other brands can get you:
Who is Carphone Warehouse?
Carphone Warehouse is easily one of the best-known retailers in the UK and although it no longer has its UK high stores, it has committed to its online services.
Looking past the vouchers the brand is offering above, there is a number of factors that helps Carphone stand out. It offers up to £400 when you trade in for the new iPhone, free next day delivery and on a host of deals, Carphone will up the amount of data you're getting. And if you're unsure how to change your new number of set up your new device, Carphone will help you out there too.
Which network is the best value through Carphone?
Carphone is currently offering three networks - Vodafone, iD Mobile and Virgin. Of the three, iD Mobile seems to be offering the cheapest and best value plans, undercutting the other two networks in price most of the time.
However, for the majority of people Vodafone will be the network to go for. As the one network Carphone can still offer from the big four (O2, Vodafone, Three and EE), it arguably offers the best overall package.
Sign up to receive daily breaking news, reviews, opinion, analysis, deals and more from the world of tech.
Alex is a journalist who has written extensively about all things broadband, SIMs and phone contracts, as well as scouring the internet to land you the best prices on the very latest in gadgets and tech. Whether that be with the latest iPhones and Android handsets, breaking down how broadband works or revealing the cheapest SIM plans, he's in the know, and will help you land a bargain.