TechRadar Christmas wishlist: our team pick the very best tech for under your tree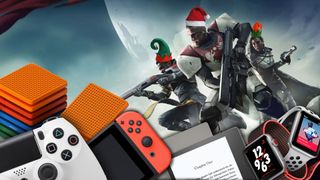 Hark the herald / TechRadar sings / Bring us some tech that truly blings!
We've been good girls and boys here at TechRadar, spending the last 12 months casting judgement over all that was good, bad and ugly in tech, so that you can spend your hard-earned cash on the truly lustworthy gadgets that have graced the store shelves over the past year.
And now it's our turn to get lusty. We've been noting down the things we've been most looking forward to seeing under our Christmas trees all year – and these are the fruits of that labor. So if you're lacking inspiration for what to put at the top of your own Christmas list, check out our editors' personalized selections based on the gadgets they most want this festive season.
Gerald Lynch: Associate Editor
Western Digital My Passport 4TB PS4 Hard Drive First things first: I need to sort out my overflowing PlayStation 4 library. Between mandatory disc installs, giant downloads and PlayStation Plus freebies, I'm now constantly juggling the games that I can have loaded up on my console at any one time. As I'm running a PS4 Pro and 4K textures are increasingly becoming more storage-hungry, its 1TB built-in drive just can't cut it. And as I can't be bothered going through the hassle of opening up my console and installing a bigger internal drive, this 4TB plug-and-play USB 3.0 option from Western Digital should be more than enough to satisfy my completist urges.
Jon Porter: UK Home Technology Writer
Nvidia GTX 1080 Ti graphics card I recently upgraded my monitor to a beautiful AOC Agon AG352UCG. It's an ultrawide beast, which means that I'm seeing more of my games than ever before. The problem, though, is that the massive increase in resolution from my old 1080p monitor means my old GTX 970 is struggling to put out enough frames to make the most of the monitor's 100Hz refresh rate. During a recent play-through of Wolfenstein 2 I even had to turn the settings down to 'low', heaven forbid.
So a new graphics card is on the... well... cards, and the pick of the bunch right now is the fantastic Nvidia GTX 1080 Ti. Now I just need to find a family member generous enough to afford its price tag.
John McCann: UK Phones Editor
Beasts of Balance This augmented reality kids game may look basic, but boy does it get really fun, really quickly. You're tasked with stacking up different animals, splicing them together via your iPad or Apple TV to make some highly entertaining hybrids.
It's a mix of Jenga and Tetris as you try to cram as many beasts onto the platform as possible, while you play havoc with their genetics. Oh, and you can go head-to-head with a friend or family member to see who can play God the best.
Phil Hall: Cameras Editor
Nikon D850 The last 12 months have seen some fabulous cameras pass through the TechRadar office, including the Fujifilm X100F, Sony Alpha A9 and Alpha A7R III, but my pick of the bunch has to be Nikon's D850.
It packs in a stunning 45.4MP full-frame sensor, and that amount of pixels normally suggests sluggish performance – but not with the D850. Nikon has equipped it with a highly sophisticated 153-point AF system and 7fps burst shooting speed, while the handling is sublime. It's pricey, so it might have to be a joint Christmas and birthday present, but the D850 is the most complete DSLR out there right now.
Joe Osborne: Senior Editor
iRobot Roomba 980 I want nothing more than to leave the world of sweeping and vacuuming behind me, and the smartest, most powerful Roomba yet would be the best way to do it. We had one in the TechRadar New York office for our Holiday Gift Guide photo shoot, and it proved a test of my willpower to not take it home and give it a whirl. Alas, like everyone else, I too must buy my own damn tech – but this thing costs nearly a grand. So, to the wish list it goes!
James Peckham: UK Phones and Wearables Writer
LG OLED E7 TV Money is no object in this list right? Currently ranked as our best TV in the world right now, the LG OLED E7 55-inch is my dream set thanks to its improved brightness, contrast-rich pictures and thin design. I'm currently sporting a simple 32-inch Samsung Full HD TV in my living room, and I feel this 55-inch would be a game-changing way to enter the world of 4K. Now, who wants to buy me one?
Cameron Faulkner: Associate Editor
Zotac Magnus EN1060 A chunk of my precious gaming time is spent deciding where I want to play: on the couch or at the computer desk?
One of my new year's resolutions for 2018 is to spend less time at the desk and more time on the couch, so to make that a success I'll be needing the Zotac Magnus EN1060 to set up my TV.
It's a small PC – far more compact than an Xbox One X or PS4 Pro, but I'd say just as capable, if not more so. With that, it's amazing that it can easily fit into just about any entertainment center, which will magnificently bring my entire gaming library into reach while I'm sprawled on the couch.
Cat Ellis: Downloads Editor
Cherry MX Board 6.0 I'm on track to finish the first draft of my novel before Christmas (yes, really!) so I'll be ringing in the new year with the first round of editing. A mechanical keyboard would make redrafting a pleasingly clacky experience, and this all-metal board's closely spaced keys make it great for long periods of typing. It would be ideal for gaming too, in the unlikely event that I have time for such frivolities.
Matt Hanson: Computing Editor
Alienware AW3418DW gaming monitor I've recently reviewed this brilliant 34-inch ultra-wide gaming monitor with G-Sync, and now I'm struggling to go back to my old 27-inch standard widescreen monitor that maxes out at 60Hz. Everything feels so cramped and sluggish. So I would really like one of these for myself, please Santa. I promise I'll be a good boy and clean up my desk.
Emma Boyle, Staff Writer
PS4 Pro: I know, talk about getting to the party late. But now that I've finally bought myself the Nintendo Switch I'd been after for so long I need another console to covet. My standard PS4 is now four years old, and although it's in pretty good shape I feel like I've had it for long enough to justify an upgrade; people have cars for less time. And since I bought a TV able to handle it in last year's Black Friday sales, why not go 4K? It may not be as powerful as the new Xbox One X, but I just can't bear to miss out on some of the PlayStation-exclusive games coming in 2018. Spider-Man in 4K is my New Year's resolution.
Andrew London, Staff Writer
LG C7 OLED Series (2017) Ever since OLED technology appeared on the scene it's been something I've hankered for. There's been many an afternoon when my wife has lost me in a department store, only to find me standing drooling over the blisteringly expensive OLED TVs. With the LG C7 OLED you not only get a 4K HDR picture, you get all the benefits of an OLED screen at a price that doesn't break the bank. I know wishlists aren't about scrimping, but there's a very good reason why the C7 is top of our best TV guide.
Marc Chacksfield, Global Managing Editor
Apple MacBook This is something I've had my eye on for a while, but because I use a MacBook Pro for work it's felt like one of those things that, if I bought it, wouldn't feel like an amazing 'new toy'. But the new MacBooks (not Pro) look superb – their design is super-sleek, and I don't need anything with too much grunt. With a new keyboard, updated processor and not-too shabby battery life I'm seriously tempted.
Sign up to receive daily breaking news, reviews, opinion, analysis, deals and more from the world of tech.
Gerald is Editor-in-Chief of iMore.com. Previously he was the Executive Editor for TechRadar, taking care of the site's home cinema, gaming, smart home, entertainment and audio output. He loves gaming, but don't expect him to play with you unless your console is hooked up to a 4K HDR screen and a 7.1 surround system. Before TechRadar, Gerald was Editor of Gizmodo UK. He is also the author of 'Get Technology: Upgrade Your Future', published by Aurum Press.